It's relatively easy to find toys for kids who are drawn to things with a specific theme. Maybe in your home, it's all things construction. Perhaps it's the flashing lights and sirens of emergency vehicles.
However, if your child adores garbage trucks, the gifting options can be limited. I feel your pain.
As the mom of a child who lives and breathes all things garbage truck themed, I've spent more time than most tracking down the quality items on this list of the best toy garbage trucks.
Image
Model
Product Comparison Table
Features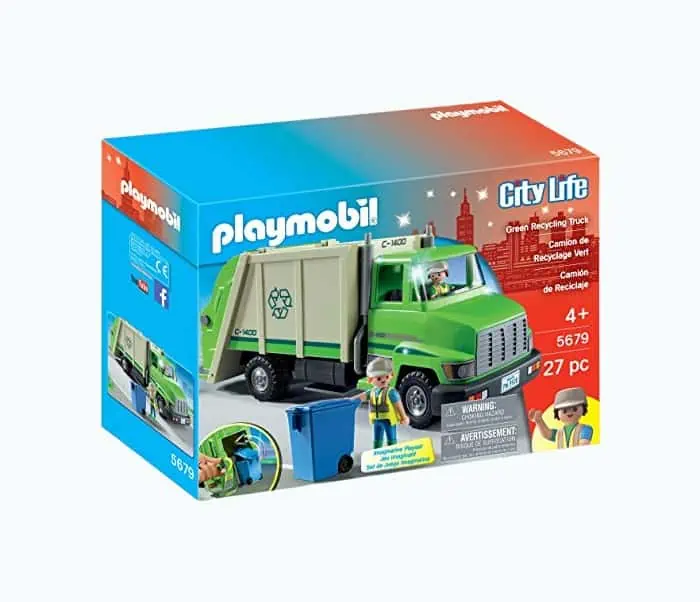 Best Recycling Toy Garbage Truck
PlayMobil Green Recycling Truck
Includes lots of accessories
Compatible with playmobil items
Teaches importance of recycling
Best With Compactor
Bruder Scania R-Series Garbage Truck
An incredible amount of detail
Doors open & close
Unbreakable windshield
Most Eco-Sensitive Garbage Truck
Green Toys Recycling Truck
Dishwasher safe
Can be used outside
Made from recycled milk jugs
Best Classic Toy Garbage Truck
Tonka Lights & Sounds Garbage Truck
Brightly colored
Strong construction
Doesn't eat up the batteries
Best Toy Garbage Truck for Toddlers
Matchbox Garbage Truck
Good for indoor & outdoor play
Realistic effects
Can be used with or without batteries installed
Best Large Toy Garbage Truck
Bruder Rear Loading Garbage Truck
Has a compactor mechanism
Smooth machinery
Built to last
Best Wooden Toy Garbage Truck
Brio Light & Sound Garbage Truck
Same scale as brio railway
Smooth, clean lines
All-wood construction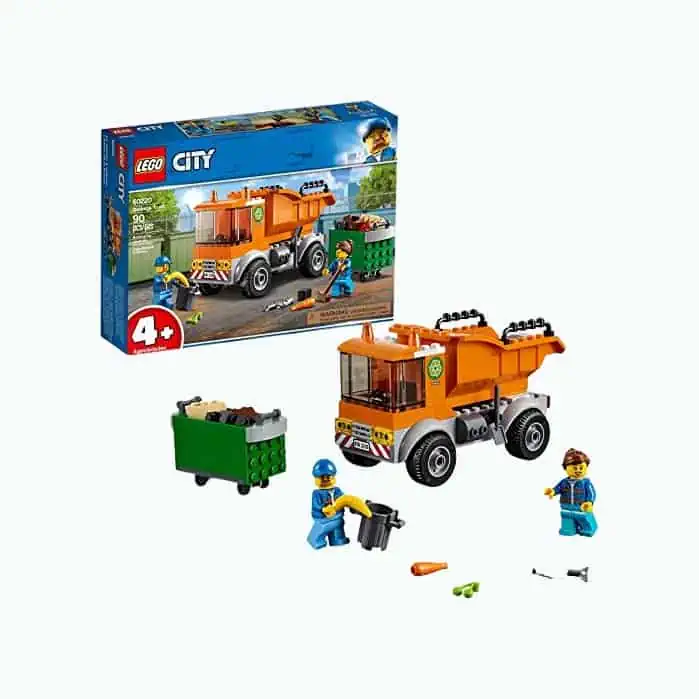 Best LEGO Toy Garbage Truck
LEGO CITY Garbage Truck
Comes with two mini-figures
Includes "garbage" pieces
Great introductory lego kit
Best Motorized Garbage Truck
Mighty Fleet Motorized
Working horn
Also has lights
Has motorized front power arm
Best Remote-Controlled Garbage Truck
Remote Control Garbage Truck
Officialy licensed
Designed to prevent frustration
Realistic lights and sounds
Review Methodology: At Mom Loves Best, we pride ourselves on providing you with thorough, hands-on assessments of the products we review. Our analysis of the best toy garbage trucks is grounded in extensive research, professional evaluation, and personal experience. We track performance and benchmark against key criteria such as durability, safety, and play value to rank each product. Our reviews are based on facts and data we've gathered from hands-on testing, to help you make an informed decision. We compare design choices and their effects on a child's play experience, and highlight unique features that set some products apart. Trust us when we say, we've done the homework so you don't have to.
---
---
The Best Toy Garbage Trucks of 2023
Here are the best garbage truck toys and gifts for kids of all ages and abilities.
PlayMobil Green Recycling Truck
Best Recycling Toy Garbage Truck
This well-built and sturdy Playmobil recycling truck comes with a recycling garbage can and lots of recyclables. There are also two figures who can stand and sit. They come with safety vests and rubber boots.
The garbage can be rolled onto the truck's lift. Then you turn the crank, and the can is tipped up, emptying the recycling into the back of the truck. The back of the truck opens easily to retrieve the recycling.
As the truck works with other items in the Playmobil line, it is easy to add extra items to "recycle" or replace lost ones.
Pros
Excellent for creative and imaginative play.
Lots of accessories.
Compatible with other Playmobil items.
It can help your child learn about the importance of recycling.
Cons
Small pieces of recycling can get lost.
Our Ratings
Community Feedback
My 4-year-old absolutely adores this garbage truck, and it has quickly become a staple in his toy collection. The truck is lightweight, yet durable, and the vibrant colors make it visually appealing. This toy has even taught my child about recycling, turning him into our household's little "recycling police officer." However, we did replace the small garbage pieces that came with the truck with larger Lego pieces to avoid any choking hazards.
---
Bruder Scania R-Series Garbage Truck
Best Toy Garbage Truck With Compactor
The 1:16 scale Scania is a big orange garbage truck made by Bruder, the German maker known for its high-quality toys.
The truck comes with two garbage cans. They can be placed on the tailgate, which can then be lifted, emptying your garbage into the rear compactor. Once the garbage is in the truck, use the compactor to squish it to the back, ready for the next load.
The truck can be emptied by lifting the rear, twisting the knob, and pushing the trash out of the back.
Other Bruder garbage cans of different colors and styles are available.
Pros
An incredible amount of detail.
Doors open and close.
Unbreakable polycarbonate windshield.
Our Ratings
Community Feedback
Love the size and durability of this massive truck! My 3-year-old is obsessed with it, even though it's a bit too advanced for him, as it's recommended for ages 4 and up. The toy has held up well, despite some rough handling from my child. It's important to follow the directions, as we experienced a minor issue when sand was put in the back, but it was easily resolved with mineral oil.
---
Green Toys Recycling Truck
Most Eco-Sensitive Garbage Truck
Made in the U.S., Green Toys uses recycled milk jugs made of HDPE #2 plastic to create the Big Green recycling truck. It is also free from phthalates, BPA, and PVC.
However, despite being made from plastic, it is a tough truck that stands up well to toddlers.
The truck body has three slots along each side, into which your child can sort the cardboard newspaper, bottles, and glass cut-outs. Once sorted, little ones can open up the back of the truck, tip up the body to empty it, and start again.
This is an excellent toy for practicing fine motor skills and learning how to sort the recycling.
Pros
Dishwasher safe.
Can be used outside.
It's a toy you can feel good about since it's made from recycled milk jugs.
Cons
The recycling items can be easily damaged.
Our Ratings
Community Feedback
Great toy for toddlers who love garbage trucks! This sturdy and well-designed toy has survived my toddler's rough play and still looks brand new. It's made from recycled materials and is easy to clean, which is a huge plus for me. I appreciate the little holes on the sides for depositing "recyclables" and the fact that it's made in the USA. The packaging even includes cutouts of pretend water bottles and pop cans for added play value, making it a fun and eco-friendly option.
---
Tonka Lights and Sounds Garbage Truck
Best Classic Toy Garbage Truck
With a light-up cab and realistic sound effects, the Tonka Lights and Sounds garbage truck is a modern classic. The generic garbage truck shape will work for most kids, no matter what the garbage trucks look like in their neighborhoods.
Press the buttons on the top of the garbage truck cab, and you'll hear engine noises, reversing beepers, and cute sayings. As a bonus for adults, when the button is pressed, the sound plays once and then turns off again. It requires two AAA batteries which are included in the package.
It's one of four light and sound vehicles with similar features. You can also buy a fire truck, police cruiser, and rescue chopper.
Pros
Brightly colored.
Strong construction.
Doesn't eat up the batteries.
Highly affordable.
Cons
Much smaller than the photos suggest.
Our Ratings
Community Feedback
This toy truck quickly became a hit with my child, who absolutely adores it, earning it a well-deserved 5-star rating. Although I initially thought it would be larger, the compact size turned out to be perfect for my son. The lights and sounds add a cute touch, making it even more enjoyable for toddlers. However, I did find the propellers and ladder to be less durable than expected, as the ladder broke after just a week of play. Despite this minor setback, replacing the batteries was a breeze, and the truck remains a beloved toy in our household.
---
Matchbox Garbage Truck
Best Toy Garbage Truck For Toddlers
Recommended for children aged 3 years and older, the Matchbox garbage truck is made for curious toddlers.
Your little one can use a hook mechanism to attach the garbage can onto the rear of the truck. Then they flip the lever and watch as the contents tumble out and into the back.
The big, bright blue garbage can is more the size and shape of a small dumpster, which makes this a realistic option for those who live in buildings with communal garbage systems.
Constructed from plastic and measuring 6.5 x 16 x 10 inches, this is a big, bold garbage truck made for fun.
Pros
Good for indoor and outdoor play.
Realistic effects.
Can be played with or without batteries installed.
Cons
Items arrived at doorsteps without a box but nevertheless it's working perfectly fine.
Our Ratings
Community Feedback
I recently purchased this garbage truck toy for my young grandchild, and it quickly became one of their favorite playthings. The realistic sound effects and easy-to-use lever for dumping small toys into the truck make it engaging and fun for hours on end. Though the included trash can can be a bit difficult for younger children to attach to the arm, the overall durability and entertainment value of this toy make it a fantastic addition to any child's collection.
---
Bruder Rear Loading Garbage Truck
Best Large Toy Garbage Truck
The second Bruder toy on our list, this Mack garbage truck comes with a pair of garbage cans to help clear up the trash. When the trash hits the back of the truck you can push it to the back of the vehicle and empty it when you get to the "landfill."
Opening doors, fold-back rearview mirrors, and rubber tread tires all provide realistic details. That will help your little pretender feel just like the real thing. A Bruder light and sound kit can be added to the truck for even more realism, and there is also a snowplow blade add-on available.
Pros
Has a compactor mechanism.
Smooth machinery.
Built to last.
Cons
A big investment, especially if you get the add ons.
Our Ratings
Community Feedback
I'm thrilled with how much these trucks have entertained my grandsons for over a year now. They are large, brightly colored, and have lifelike features that the kids can't get enough of. The garbage truck, in particular, is a huge hit because of its realistic trash mechanisms. However, I would advise using only paper or light cardboard for the garbage, as anything heavier might jam the mechanism.
---
Brio Light and Sound Garbage Truck
Best Wooden Toy Garbage Truck
The wooden garbage truck from the Brio "My Home Town" series is more than the basic garbage truck shaped vehicle you might expect.
Fitted with lights and sounds, the truck also comes with a stylized wooden driver and two wooden shapes that fit into holes in the rear.
Brio prides itself on the fact that it conducts over 1,000 safety tests on its toys every year. So, you can be sure you are giving the garbage truck fan in your life a gift that is as safe as it is fun.
Pros
Same scale as Brio railway.
Smooth, clean lines.
All-wood construction may be appreciated by plastic-hating parents.
Our Ratings
Community Feedback
As a parent, I've found this hometown series from Brio to be a fantastic addition to our toy collection. The high-quality plastic construction ensures durability, making it a long-lasting playtime companion for my child. My kiddo absolutely adores this truck, and the fact that there's no assembly required made it even more appealing. Although I discovered that the best deals for this product may not be found on certain online platforms, it is definitely worth searching for in the $15 USD price range. In summary, this truck from the Brio hometown series is a great investment for parents seeking a well-crafted and engaging toy for their children.
---
LEGO CITY Garbage Truck
Best LEGO Toy Garbage Truck
Although not specifically labeled as such, this 90-piece set is an excellent LEGO model for beginners.
While there is some requirement for classic LEGO building, at the same time, much of the model is made from larger, pre-formed components. As a result, the model can be put together by younger children with minimal, if any, adult help.
Once built, you can attach the garbage can to the lift at the rear of the truck and tip it to empty the garbage into the truck body.
Something that I particularly liked was that one of the garbage collectors is a smiling female figure.
Pros
Comes with two mini-figures.
Includes "garbage."
A great introductory LEGO kit for younger children.
Cons
Too basic for experienced builders.
Our Ratings
Community Feedback
This LEGO set is perfect for toddlers ages 4 and up, offering a fun and engaging addition to their growing collection. My child thoroughly enjoyed identifying the various pieces and assembling the truck, dumpster, and garbage can, though they needed a little help with the instructions. While not as intricate as standard LEGO sets, this "juniors" line serves as a great transition from Duplo to regular LEGO, with easier access for little hands to maneuver the minifigures. As a longtime LEGO fan, I appreciate the inclusion of both male and female minifigures in various roles. Parents, remember to monitor your little ones while they play, as there are many small pieces that could easily be lost or pose a choking hazard.
---
Mighty Fleet Motorized Garbage Truck
Best Motorized Garbage Truck
This garbage truck is unusual in that it has a reverse gear mechanism that lifts the dumpster up and over the front of the truck. The garbage then falls from the dumpster into the body of the truck through a large opening in the roof.
The lifting arm is motorized and controlled by a lever on the side of the truck. Our kids particularly enjoy pushing the truck up to the dumpster, then using the lever to make the lifting arm do its thing.
The truck empties via an easy-to-use rear door, and 3 AA batteries are included.
Pros
Working horn.
Also has lights.
Unlike many garbage trucks, it has a motorized front power arm.
Cons
The power arms move extremely slow, which slows down the action for kids.
Our Ratings
Community Feedback
I recently purchased this tow truck toy for my child, and while it is a nice, large tow truck with fun sounds, it arrived with some issues. The one we received had scratches and dings all over, as well as missing and broken parts. Despite the damages, the lights and winch still worked, so we decided to keep it. My son has been enjoying playing with it, especially towing other toys and even his self-made Lego car. The truck is lightweight, which is a plus for my child's playtime.
---
Double E Remote Control Garbage Truck
Best Remote-Controlled Garbage Truck
This remote-controlled car is duly licensed from the world's best selling car, Mercedes-Benz, and is made specifically for the little hands of garbage truck lovers.
The design is exquisitely crafted to simulate the real-life garbage truck. Along with the fine details, the addition of lights and sounds makes it realistic for each tot to play.
It has obtained certifications from both the American Society for Testing and Materials and European Committee for Standardization so you can be sure it's safe and durable for your baby to play.
Pros
Officialy licensed by Mercedes Benz.
Designed to prevent frustration.
Realistic lights and sounds.
Cons
It doesn't come with a full set of batteries.
Our Ratings
Community Feedback
My experience with this garbage truck toy has been a mix of satisfaction and slight annoyance. On one hand, my child absolutely loves playing with it, and the remote control feature makes it even more engaging. The truck is capable of dumping and "grinding" small items, which adds to the fun. On the other hand, the toy is incredibly loud, and there's no option to lower the volume or turn off the sound. Additionally, a few parts broke off easily, and the battery life could be better, as it requires frequent recharging.
---
Garbage Trucks Wall Decals
Best Garbage Truck Decor
These easy-to-apply garbage truck wall decals will brighten up any little one's room.
Included in the set are three different style garbage trucks, three square plastic style garbage cans, two traditional metal style garbage cans, one dumpster, and 15 feet of straight gray road.
Printed with odorless, water-based inks, the decals are made from fabric rather than the vinyl that is used for the majority of similar items.
The decals can be taken off of the wall and reused as many times as you like, and they do not leave any sticky residue or marks.
Pros
The decals are good sized at 16.8″ long and 7.7″ high.
Repositionable.
Peel and stick, so they are easy to apply.
Cons
Will not stay on textured walls well.
Our Ratings
Community Feedback
Best purchase I've made for my 3-year-old son who is obsessed with garbage trucks! These high-quality decals were a breeze to apply and reapply in his room, making them the perfect gift for his 3rd birthday. Not only did they instantly become a hit, but they also kept my son entertained the entire day. The fact that no heat is necessary for them to stick adds to their convenience. I'm extremely happy with this purchase and might even buy more to decorate his entire room.
---
Friction-Powered Garbage Truck
Best Toy Garbage Truck With Grabber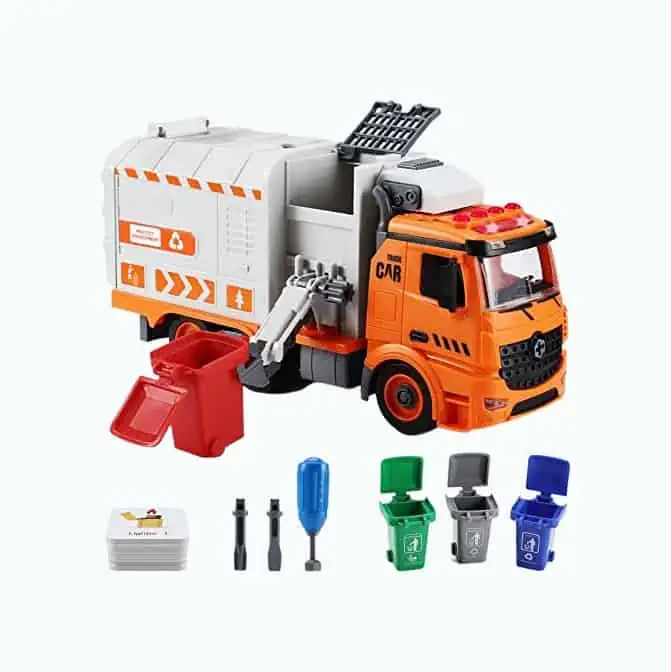 This friction-powered garbage truck comes as a kit, with a toy screwdriver so your child can put the truck together themselves.
The pieces are large, so the assembly is not complex, and there is an instruction book and a YouTube video to guide you through each step.
The kit has a deck of cards, each of which has a different waste item printed on it. These cards are then put into the different garbage cans, and if your child needs help sorting out the garbage and recycling, there is also a booklet to help them learn.
Pros
Working lights.
Functional grabber arm.
It can be a great educational tool because of the assembly that is required.
Cons
Some users mentioned that the item came assembled leaving no room for the assembling process but they could dismantle it themselves and re-assemble it back.
Our Ratings
Community Feedback
I'm thrilled to share my experience with this garbage truck toy, which has become a favorite for my little one. Although the initial assembly took about 20 minutes, it was enjoyable and allowed for some quality bonding time. The truck is sturdy and well-sized, but the lever mechanism for lifting the trash cans broke after a few uses. On the bright side, my child has learned about proper waste disposal using the cardboard pieces that come with the garbage cans. Unfortunately, the included batteries didn't last long, so be prepared to replace them. Despite these minor flaws, the toy continues to provide endless fun and imaginative play for my garbage truck-obsessed kiddo.
---
Joyin Take Apart Garbage Truck
Best Remote Control Toy Garbage Truck
A chunky plastic garbage truck designed for those over 3, this R/C model comes with a garbage truck and a power drill that can be assembled into four different types of vehicles.
The power drill can be controlled remotely as well. All the materials used for the construction of this toy were free from BPA and lead so you'd have peace of mind letting your precious one play with it. Moreover, it features playful sounds and sirens that are sure to attract tots.
Pros
Built-in music and sounds.
Also has lights.
BPA and lead-free material.
Cons
May seem too complicated to assemble for younger kids.
Our Ratings
Community Feedback
Great toy for keeping kids entertained, but it may require some initial adult guidance. I found that the truck works better on carpeted floors than hard ones. It can be a bit challenging for younger children, and you can only build one vehicle at a time. The remote control function could use some improvement, but overall, this product provides a fun and engaging experience for children.
How To Choose The Best Toy Garbage Truck
Even if you don't go shopping with a specific checklist, these are the things you should always keep in mind.
---
No Garbage Toys Here
You might have a toddler who'll enjoy the garbage truck shape-sorter. You may have a tween who'll get a kick out of the R/C model, or a grown "child" who needs a garbage truck for their LEGO city.
If you have a garbage truck fan in your household, any of the items on this list should likely be a hit.
Thank You For Your Feedback!
Thank You For Your Feedback!