Most kids love dogs and technology. Why not combine the two for the ultimate gift?
Robot dogs are wonderful toys for kids of all ages and interests. There are toys with a robot underneath and obvious robots for the tech lovers in your family. Some of these toys are made for passive kids to watch and enjoy, while others are great for the hands-on kiddos who like to explore and discover with their toys.
Selecting the best robot dog toys for your child isn't that complicated once you know what to look for, even if you're not great with tech.
Image
Model
Product Comparison Table
Features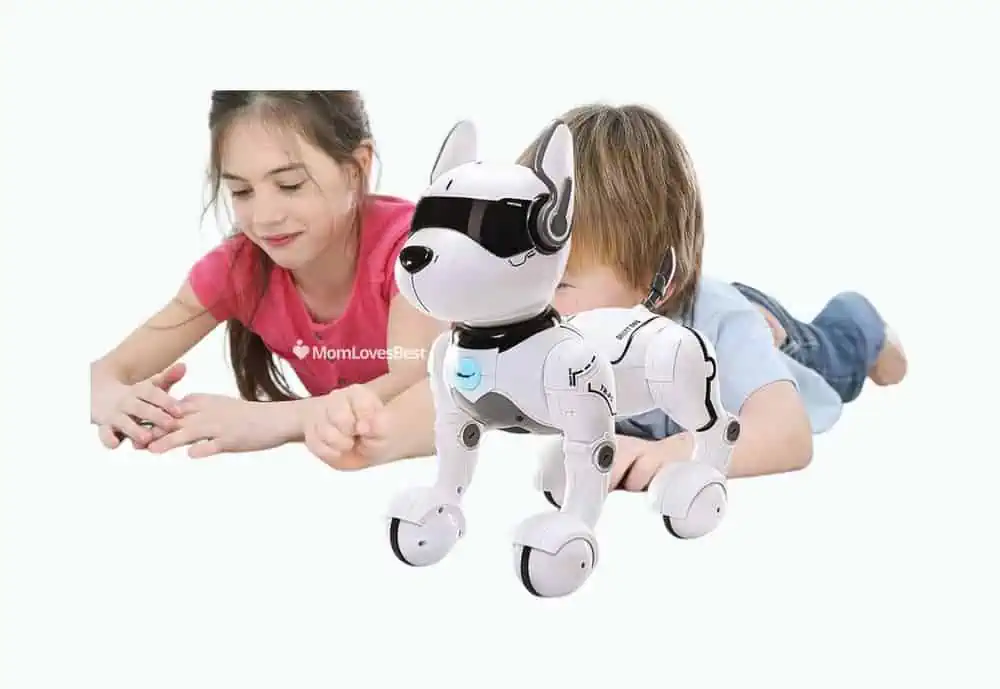 Best Dancing Robot Dog
Top Race Dancing Dog
Voice and remote-controlled
Imitates 10 animals
Highly programmable
Best Walking Robot Dog
FurReal Friends Pax My Poopin' Pup
Real pet feel
Happy puppy sounds
Comes with detachable leash
Best Looking Robot Dog
Zoomer Responsive Robotic Dog
Voice recognitioin
Interactive
Over 25 tricks
Best Budget Robot Dog
Harry Electronic Pet
Available in many colors
Has preprogrammed phrases
Available in spanish language
Best Plush Robot Dog
Joy for All Robotic Golden Dog
Turns its head towards your voice
Low volume
Easy to clean "fur"
Best Interactive Robot Dog
FurReal Friends Ricky
Comes with reusable treats
Larger size
Can poop out his treats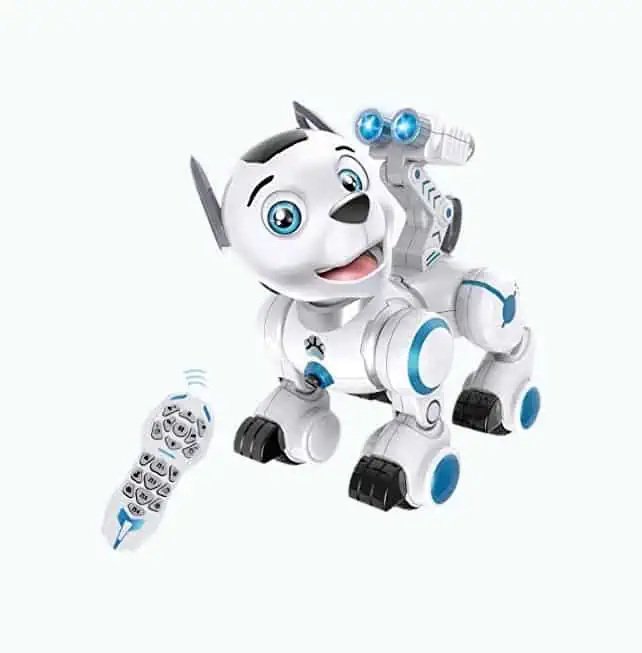 Best With Remote Control
Fisca RC Robotic Dog
Remote controlled
Rechargeable via usb
Expressive eyes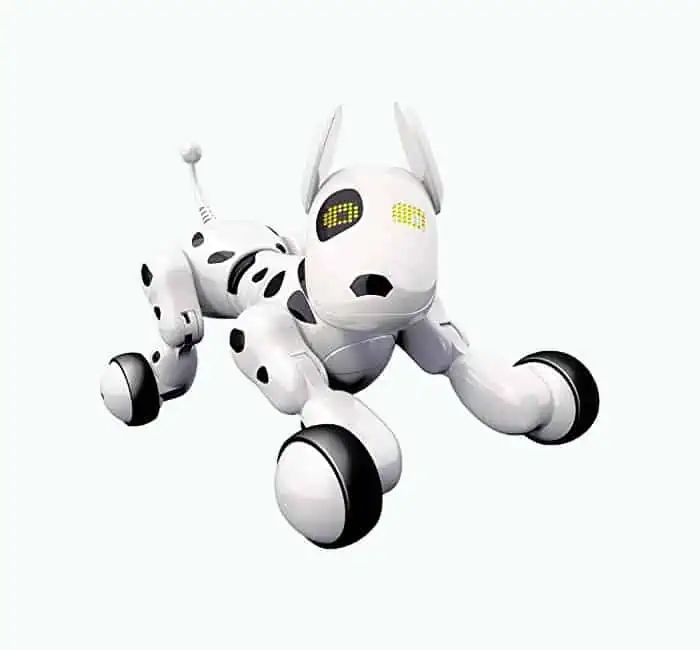 Best Durable Robot Dog
Dimple, The Interactive Robot Puppy
Plays four songs
Recharges via usb
Multiple modes of play
Best Realistic Looking Robot Dog
Perfect Petzzz Puppy
Made of synthetic hair
Makes breathing sounds
Battery included
Best for Toddlers
VTech Paw Patrol Treat Time Marshall
Customized for personal interaction
Has four play modes
Educational and fun
Review Methodology: At Mom Loves Best, we take a hands-on approach to analyze and assess the best robot dog toys on the market. Our experienced team conducts thorough research, tracking performance data and applying strict criteria to ensure that our findings are objective and accurate. We compare and rank each toy based on key factors such as durability, functionality, and user experience. From design choices that enhance playability, to unique features setting a product apart, we present you with hard facts and professional evaluation. We share our results and reviews so you can make an informed decision, confident in our evidence-backed recommendations.
---
---
The Best Robot Dog Toys of 2023
Here are what we consider to be the best robot dog toys.
You're bound to find one your child will like on this list.
Top Race Smart Dancing Dog
Best Dancing Robot Dog Toy
This dancing robot from Top Race uses both remote and voice to control, program, and interact. It can follow 12 different directives like sit down, stand up, or even dance bringing entertainment to you little ones.
What's more, it can imitate up to 10 animals making this a great choice if your child is begging for a pet pal.
Program stunt routines, sit back and watch your dog perform the dog dance to the beat of the music. The robot dog comes with a rechargeable battery and the remote uses two double A batteries.
Pros
Voice and remote controlled.
Imitates 10 animals.
Highly programmable.
Our Ratings
Community Feedback
After purchasing this dancing robot, I've found it to be a delightful and interactive toy for my little ones. The voice and remote controls make it easy to program and interact with, offering 12 different directives and the ability to imitate 10 animals. My children absolutely adore watching the robot perform entertaining stunts and dance routines, especially the dog dance to music. The rechargeable battery is a plus, while the remote requires two AA batteries. Though it may be a bit pricey, the joy and entertainment it provides are well worth the investment.
---
FurReal Friends Pax My Poopin' Pup
Best Walking Robot Dog Toy
At the opposite end of the robot dog spectrum, we have Pax My Poopin' Pup. Pax is a robot that has a soft, furry exterior. Use the leash to take your dog for a walk, but beware, you may need a dog poop bag to clean up afterward.
Yes, Pax comes with some solid "food" which you can place into your dog's mouth. Then, insert the leash and take your puppy for a walk and discover the downside of having a real dog — the clean-up!
Pax comes with a two-part detachable leash, nine reusable treats, and a cleanup bag to teach responsible dog ownership.
Pros
A stuffed dog looks for a real pet feel.
Happy puppy sounds.
The detachable leash gives floor and table-top play options.
Cons
Not everyone wants a toy that poops.
Could have a more realistic walking motion.
Our Ratings
Community Feedback
In my experience, this toy has been a hit with young children, especially those fascinated by the concept of a puppy that can "eat" and "poop." The toy is well-designed, with a detachable leash and realistic sounds, but there are a few drawbacks as well. The small size of the "treats" can be easily lost, and the hard outer material of the puppy has caused minor injuries among some children.
---
Zoomer Responsive Robotic Dog
Best-Looking Robot Dog Toy
We love the look of Zoomer, the responsive robot dog because he is halfway between futuristic robot and cute, cuddly dog. The manufacturers achieve this by building a robot that is made from molded plastic.
Zoomer also has big, round eyes rather than digitized screen eyes, although they do light up, dim, and even change color in response to your actions.
Zoomer can perform the tricks of other robot dogs, but he is also responsive to touch and sounds.
Pros
Responds to voice controls.
Performs 25 tricks.
Interactive and fun to be with.
Cons
Batteries may need constant charging for long hours of playtime.
Our Ratings
Community Feedback
Definitely an educational and entertaining toy, the Lego Boost combines the joy of building with the excitement of learning to code. My son and I spent hours assembling the Vernie robot, and he was thrilled when it introduced itself. The Lego Boost app guides users through coding activities, fostering creativity and problem-solving skills. One downside is the lack of obstacle-sensing sensors on the back of the robot.
---
Electronic Pet Dog Harry
Best Budget Robot Dog Toy
Harry is an adorable little barking puppy with a cute, cartoon-like dalmatian look. When you touch the sensor on the top of his head, you can watch him sing, dance, and run around the room.
A bonus is the bump and turns function, which means that when Harry bumps into an obstacle he will turn and run in another direction.
Additional sensors in Harry's body allow you to interact in other ways. Touch his bottom and he will say "oops." If you grab hold of his tail, he'll say "Oh no, stop it" and try to wiggle away.
Pros
Available in black and white, or pink and white.
Has a variety of preprogrammed phrases.
Available in Spanish language version.
Cons
Runs on wheels rather than walking.
Rated for toddlers but still requires close supervision.
Our Ratings
Community Feedback
This interactive toy dog has delighted both my one-year-old grandson and me with its charming appearance and amusing activities. While the product claims to respond to touch, it's not as advanced as one might expect, with only a few push-buttons and the nose and tail as responsive areas. A minor drawback is that pulling the tail causes the dog to cry and stop its action, which my grandson seems to enjoy, potentially backfiring on the intended lesson of not pulling dogs' tails. Nevertheless, the toy has proven to be durable and entertaining, making it a worthwhile addition to our playtime.
---
Joy for All Robotic Golden Dog
Best Plush Robot Dog Toy
This toy was designed specifically to act as a companion animal. Primarily marketed to families who have a senior in need of a company, the Joy For All robotic golden dog should be the robot dog of choice if you're looking for a puppy to love.
Although seniors can benefit from it, children will likely love it too.
You can play with the dog in a standing or sitting position, and it will react to your touch with gentle, puppy-like sounds. Joy For All has a soft heartbeat that can be heard and felt — wonderful for the child who wants to snuggle up and sleep with a life-like puppy.
Pros
Turns its head towards your voice.
Low volume prevents your child from being startled by the barking.
Easy to clean "fur."
Cons
Not the most affordable option.
Our Ratings
Community Feedback
This robotic dog has been an amazing companion for my elderly mother with dementia. When I visit her, we both engage in conversations with the dog, and seeing her smile and interact with it is heartwarming. Although a bit pricey, the happiness it brings to my loved one is worth every penny. The lifelike movements, barking, and even the heartbeat sound makes it feel like a real pet. However, it does require frequent battery changes, but that's a small price to pay for the comfort and joy it provides.
---
FurReal Friends Ricky
Best Interactive Robot Dog Toy
If your child would like a trick-performing robot dog, then Ricky from FurReal Friends may be your speed.
Ricky can balance his bone on his nose, shake paws, and he will even "lick" your face or hands in response to having his cheeks pet. Watch Ricky as he shuffles his paws with excitement at the prospect of being played with or marvel at the more than 100 sound and movement combinations he can do.
Unlike some other robot dogs, Ricky can be manually posed, an option that is fabulous if you have a child who wants their dog to stand or sit in a particular way.
Pros
Comes with treat box, bone, and reusable treats.
Larger than many of the robot dogs on the market.
Can poop out his treats.
Cons
Not suitable for younger children as the treats are quite small.
Our Ratings
Community Feedback
Excellent toy for children, this interactive dog has been a hit with my kids and even impressed their grandparents. My son takes it to school for show and tell, and it accompanies us on family trips, making it a beloved companion. The fact that it doesn't walk but is posable and offers many other features makes it worth the price. Although the treats can be easily lost and the holder is difficult for small hands to open, the overall experience with this toy has been delightful. It has brought countless smiles and laughter to our household, making it a great addition to our family.
---
Fisca Remote Control Robotic Dog
Best Robot Dog Toy With Remote Control
This robot dog from Fisca is both a remote control toy and one that responds to touch. Pat the dog on the top of its head and it will blink, turn its head from left to right, walk, run, and much more.
This puppy performs cute musical numbers — singing, dancing, and displaying a fabulous light show. It provides your child with their own dance party pal.
Use the remote to program your dog and it will perform a series of movements in the order you choose. The power-saving function turns the dog off after 100 seconds of inaction.
Pros
The remote control has a range of up to 20 feet.
The dog is rechargeable via USB.
Expressive eyes.
Cons
The remote control requires batteries.
Our Ratings
Community Feedback
If you're looking for a perfect alternative to a real pet for your little ones, this robot dog is an excellent choice. I've personally seen how it can bring joy and laughter to children, with its easy-to-use presets and adorable dance moves. The remote control with volume control is a great bonus, making it a fun and engaging toy for kids who are not yet ready for the responsibility of a real pet.
---
Dimple, The Interactive Robot Puppy
Best Durable Robot Dog Toy
Dimple is an adorable remote control puppy that talks, sings, and dances. It has a remote so your child can interact and control their toy from up to 35 feet away.
This dog is not just a toy — it also has educational modes. One of Dimple's eyes is a display screen and when this puppy sings the ABC song, it displays each letter as it is sung. This allows your child to become familiar with the order of the alphabet and to learn to recognize what each letter looks like.
Pros
Four songs, including B.I.N.G.O. and ABC.
Recharges via USB, so there are no batteries to buy.
Multiple modes of play.
Cons
One charge only lasts about 30 minutes.
Our Ratings
Community Feedback
When I first introduced this toy dog to my children, I was impressed with its detailed design and engaging features. My younger child, around 1.5 years old, especially adored interacting with its expressive eyes and dancing along to the limited, yet catchy tunes. However, the lack of volume control and a somewhat confusing remote made it difficult for my older child to fully enjoy and connect with this fun and educational toy.
---
Perfect Petzzz Puppy
Best Realistic Looking Robot Dog Toy
Perfect Petzzz has six realistic-looking robot dogs, each of which comes curled in a sleeping position. When you activate the dog, the chest rises and falls to give the impression it is breathing. That can make it a soothing little sleeping buddy for your child.
These cute little dogs are great for the kiddo who may want the feel of a living, breathing companion, but is not concerned about their toy walking, performing tricks, or being active in any other way. The dog comes with a bed, grooming brush, collar, name tag, an adoption certificate, and a kennel box for easy storage and transport.
Pros
Synthetic "hair" for kids with fur allergies.
Makes breathing sounds.
Battery included.
Cons
It does nothing but sleep realistically.
Our Ratings
Community Feedback
Love this realistic-looking King Charles Cavalier Cocker Spaniel! It's comforting to see it "breathe," and I even personalized it with a custom name tag for my mom's birthday. However, the battery life is short and replacing it may require cutting some fabric. Despite that, it's a sweet reminder of our beloved pet and has even helped our other dog cope with the loss.
---
VTech Paw Patrol Treat Time Marshall
Best Robot Dog Toy For Toddlers
It's tough to find a good robot dog toy for toddlers. Although many of the ones we looked at had toddlers in their marketing blurb and photos, few of them had a recommended age range that included those under 3 years old.
VTech's Treat Time Marshall is a Paw Patrol favorite that comes with a selection of bones that are stored in his belly. Put one of the bones in his mouth and Marshall will share fascinating facts about the alphabet, phonetics, and the world of rescue.
Marshall's eyes move from side to side and his ears flap up and down in response to play, and he also has a handy carry handle on his back.
Pros
It can be customized for a more personal interaction.
It has four play modes, including storytime.
This dog is educational as well as fun.
Cons
Depending on how much your toddler uses it, it might burn quickly through the batteries.
Our Ratings
Community Feedback
I'm thrilled with this Paw Patrol toy as it has sparked my three-year-old's interest in learning the alphabet. The toy is engaging and has served as an effective learning tool for my child, who loves searching for letters to feed Marshall. However, a couple of drawbacks include the storage door falling off easily and the small dog bone pieces, which are prone to getting lost. Despite these minor issues, this interactive toy has created a fun and educational experience for my little one.
What Can Robot Dogs Do?
There is such a wide variety of robot dogs it would be impossible to give a catch-all answer to this question. However, robot dogs can do one or more of the following, in a variety of combinations:
Walk.
Bark.
Wag their tails.
Do tricks, such as sitting and begging.
Dance.
Play music.
Be programmed to perform functions in a particular order.
Some dogs respond to your voice. For others, you use remote control. There are others you simply switch on and watch them go.
Since there are so many differences between the best robot dogs, it's critical you read the details of any product you're considering.
How to Choose the Best Robot Dog Toys
When finding one you want to buy, there are some basic features to review.
You should consider whether you want a dog that looks like a robot, or if you want one that looks like a soft toy and also happens to have some robotic capabilities.
In addition to your child's preferences, there are health, safety, and practical considerations. The Consumer Product Safety Commission monitors toys made or imported into the U.S., but it is also up to us as parents to ensure the products we buy for our children are safe.
---
A Pet Without The Downsides
While even the best robot dog toys can't love you like a real dog, they can provide fun and interaction. If your child is desperate for a pet and a fur baby is not an option, consider a battery-powered alternative.
You won't have the mess of a live animal, and the ongoing running costs are a lot less too. Batteries are a lot more affordable than dog food and vet bills, aren't they?
Thank You For Your Feedback!
Thank You For Your Feedback!