If you have an outdoor playhouse, it was probably one of your favorite spots when you were a child. It was a place where you could dream, act, imagine, and cut loose.
There is a delicate balance between overly structuring your child's play and providing play opportunities with some structure.
The best outdoor playhouses provide children with a safe play opportunity where they can create their own games and play experiences.
Image
Model
Product Comparison Table
Features
Best Plastic Playhouse
Little Tikes Build-a-House
Rebuildable design
Easy assembly
Taller structure
Best Wooden Playhouse
Backyard Discovery Sweetwater
Includes accessories
Wood can be painted
Secure screws
Best Tent Playhouse
Kiddie Play Tent, Candy Playhouse
Pole and sleeve design
Optional floor
Affordable playhouse
Best Floored Playhouse
Step2 Playhouse
Realistic amenities
Real working doorbell
Built-in floor
Best for Toddlers
Simplay3 Discovery Playhouse
Two-level playhouse
Durable material
Made in the USA
Best With Slide
Backyard Discovery Beacon Heights
Two-story home
Bright & vivid primary colors
Comes with slide
Best for Older Kids
Backyard Discovery Skyfort II
Has a small porch
Includes accessories and great features
Accommodates up to six children at a time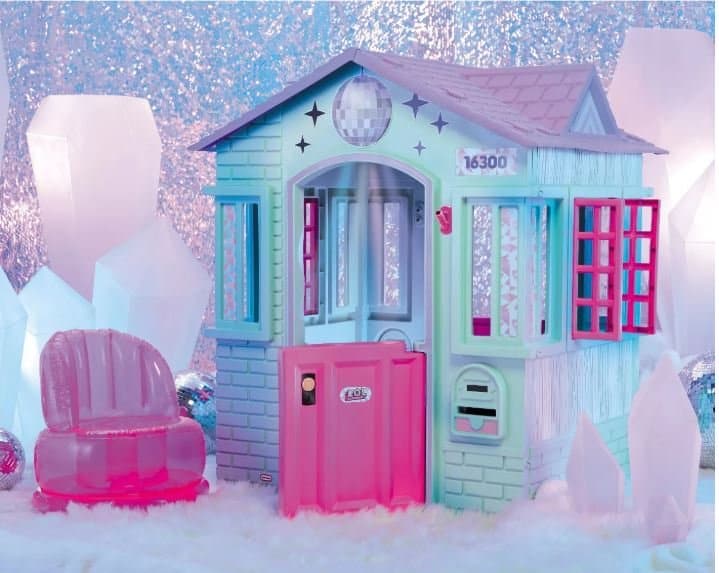 Best for Girls
L.O.L. Surprise! Winter Disco Cottage
Comes with light-up disco ball
Can be used indoors or out
Fun-enhancing features
Best for Boys
Little Tikes Cape Cottage
Two working doors
Brickwork detail
Lightweight and simple
Best Unique Playhouse
KidKraft Modern Wooden Playhouse
Integrated outdoor grill
Comes with a mailbox
Includes built-in picnic table
---
Why Kids Need Outdoor Playhouses
Like any other skill, we learn to be adults by observing others and practicing. This is where playhouses come in. In a playhouse, children can practice being "grown-up" without any of the associated dangers or consequences of adult situations.
In addition to that learning opportunity, a playhouse provides a place for your child to:
Enjoy some privacy, which conveys that you trust them to play alone.
Experience independent decision-making which helps to build self-confidence.
Work through their emotions without worrying about how you will react.
Learn how to amuse themselves and become more self-sufficient (1).
How to Choose the Best Outdoor Playhouses
There are numerous factors that go into choosing the top outdoor playhouses, including the age of your child, the climate where you live, and your budget. Let's take a look at them in detail.
Material
The majority of the best outdoor playhouses are made from wood or plastic, but even within those options you have a wide variety of quality. Some wooden playhouses for kids are made of high quality, treated hardwood that will last for many years, while others may be made of flimsier materials.
Neither wood nor plastic is inherently better than the other. It is more of a question of making sure the playhouse is well made out of high-quality materials.
Child's Age
The age recommendation on a playhouse will not only indicate whether it is appropriate from a developmental point of view, but it will also take into consideration the size of your child. So, consider your child's size and not just their age.
Also, ask yourself, "Do I want a playhouse that will be appropriate for a year or two, or do I want something in which my kids can play for many years to come?"
Aesthetic
Does how the playhouse will look in your yard matter to you? Will a brightly colored plastic playhouse clash with your garden? Or perhaps a gingerbread wooden playhouse will look out of place in your chic modern yard?
So, when deciding which of the best outdoor playhouses made our list, we have tried to include something for every style and taste.
Floors
One of the features many parents forget when choosing an outdoor playhouse is whether it has a floor. It can come as a surprise that a large number of outdoor playhouses do not.
A floor is more important if you do not have a safe surface to place your playhouse. If you have a child-safe area of lawn or sand, it is less important.
A floor can also make it easier to keep the inside of the playhouse and anything inside it, clean and dry. This can be especially important if you live in a damp or humid location.
Features
Some outdoor playhouses are basic boxes with a couple of openings as doorways and windows. These playhouses are open to the elements as well as any critters in your area. If you choose an open style outdoor playhouse, check for potentially dangerous debris, animal damage, or animal excrement each day, before your child plays.
Windows will provide more light for your child and a closable door allows little ones to shut out the outside world and indulge in important imaginative play.
Speaking of imaginative play, some playhouses are styled to look like specific buildings or have additional features such as stove tops, chairs, and tables. These can provide important play ideas. Or, you may prefer a blank canvas that allows your child to mix it up a little more and create their own games (2).
You should also thoroughly read any online listing for an outdoor playhouse. While reading through hundreds of products and reviews, it became clear that some images show playhouses with features such as decks and railings, but these were add-on items that had to be bought separately.
Durability
Choose an outdoor playhouse that will stand up to your child's play and the climate in which you live.
A polyester tent playhouse can be a great option for summer or a warm, dry climate, but it will not stand up to a cold winter outside. Likewise, some plastic playhouses will fade and even become brittle relatively quickly in a hot, dry location.
Ease of Cleaning
Plastic outdoor playhouses are easily cleaned with a quick hose down. So if your little one is a particularly mucky kid, this might be the best choice for you. Wooden playhouses are not as easy to wash down.
Floor Drain
If you choose a playhouse with a floor, it is worth checking to see if it has a drain hole. This is useful for avoiding standing water during the winter as well as for cleaning the playhouse.
---
The Best Outdoor Playhouses of 2022
Here is our list of the best outdoor playhouses for kids.
1. Little Tikes Build-a-House
Best Plastic Outdoor Playhouse
This novel plastic playhouse from Little Tikes has 25 customizable panels, and a kids' toy drill set.
An adult builds the frame and then either the adult or the kids can affix the plastic panels, windows, and door, in a configuration of their choosing.
The panels can be removed and reconfigured as many times as your child wishes.
Pros
The rebuildable design of the playhouse provides additional opportunities for imaginative and active play.
The frame can also be quickly assembled and unassembled making it easy to store or move the playhouse indoors if you wish.
It's one of the taller outdoor playhouses at 51 inches.
Cons
Some reviewers say the playhouse is not as sturdy as they expected it to be.
Some also said they would have preferred it to have felt heavier.
Product Specs
| | |
| --- | --- |
| Height | 51 inches |
| Footprint | 47 x 47 inches |
| Material | Metal frame and plastic panels |
| Age Range | 3 to 10 years |
| Accessories | Children's drill, screwdriver, and toy plastic "hardware" for affixing panels |
---
2. Backyard Discovery Sweetwater All Cedar Wooden Playhouse
Best Wooden Outdoor Playhouse
This is a well-constructed cedar wood playhouse with large window openings and lots of play-enhancing accessories.
Inside, there is a cute, toy stove-top, sink with knobs that twist, and a toy telephone.
Outside there are two cute plastic plant pot shelves in which you can place real flowers or plants in flower pots.
Pros
Lots of accessories that provide added play value.
The wood can be painted, but it does come already treated with a child and pet-friendly stain.
The screws are designed to resist loosening and have rounded heads so they will not catch on clothes or cause scratches.
Cons
Some people have said they feel they are competent DIY-ers and this playhouse still took them up to two hours to assemble.
Product Specs
| | |
| --- | --- |
| Height | 55.12 inches |
| Footprint | 42.13 x 46.06 inches |
| Material | Wood – cedar |
| Age Range | 2 to 6 years |
| Accessories | Sink, stove-top, telephone, plant pot holders |
---
3. Kiddie Play Tent, Candy Playhouse
Best Tent Playhouse
This is a fabulous playhouse tent that is printed to resemble a brightly colored candy store.
The door is a two-flap style entryway so smaller children do not have to work out how to unlatch or unzip a door.
A "server's hatch" enhances the store feel, allowing children inside the playhouse to serve people outside.
Pros
The pole and sleeve design make this playhouse exceptionally easy to assemble either indoors or outside, move it between the two, or store when not in use.
This playhouse has an optional floor, which is included. This gives the flexibility to use it outside with the floor and then move it inside with the floor removed, saving your home from mud, grass, and other debris.
It's an affordable playhouse option.
Cons
Smaller than most of the other playhouses, so there is a limit to how long this will be a viable place for your kids to play.
Product Specs
| | |
| --- | --- |
| Height | 40.3 inches |
| Footprint | 28 x 36.5 inches |
| Material | 100 percent polyester fabric shell and plastic poles |
| Age Range | Up to 4 years |
| Accessories | Removable floor insert |
---
4. Step2 Neat & Tidy Playhouse
Best Floored Outdoor Playhouse
The Step2 playhouse provides a basic plastic structure with working windows and a full-height door which allows you to keep the critters out when the playhouse is not in use.
This playhouse features many realistic amenities to encourage imaginative play. For example, it comes with a real working doorbell and mailbox. But what keeps this playhouse an advantageous purchase compared to others is that it has a built-in floor that's easy to clean and maintain.
Pros
Realistic amenities that encourages imaginative play.
Real working doorbell.
Built-in floor.
Cons
Batteries for doorbell not included upon purchase.
Product Specs
| | |
| --- | --- |
| Height | 46.46 inches |
| Footprint | 45 x 35.04 inches |
| Material | Plastic |
| Age Range | 18 months to 10 years |
| Accessories | Kitchen table, faucet, seat, and grill space |
---
5. Simplay3 Young Explorers Discovery Playhouse
Best Outdoor Playhouse for Toddlers
This two-level playhouse incorporates a range of activities your child can play upon such as a ramp, a ladder, and a hand holds providing a wealth of additional play opportunities.
The US-made material is waterproof allowing your kids to play even during rainy days. Aside from that, it is weather-resistant that sure will last for years.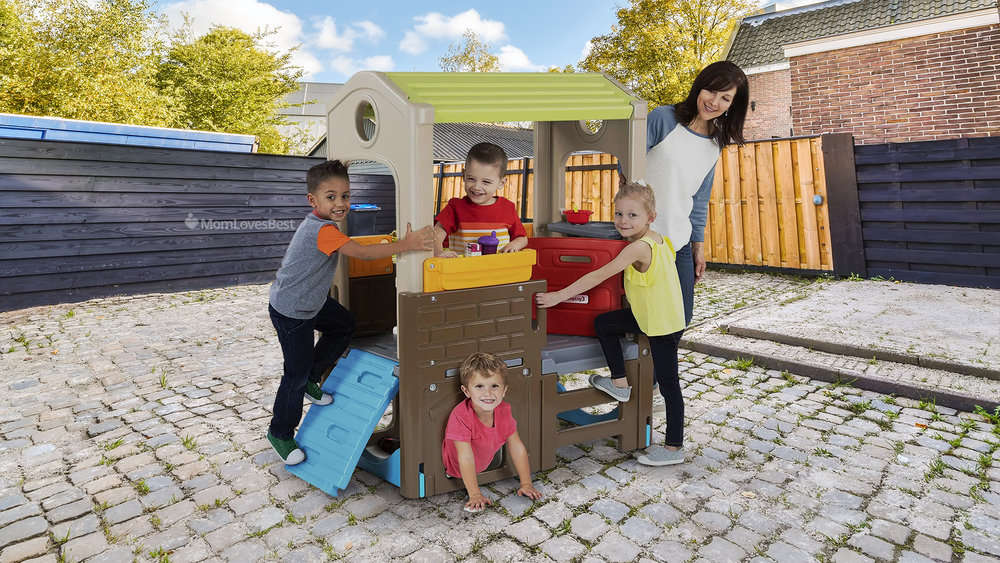 Pros
Has a variety of activities to facilitate endless fun for kids.
Made in USA.
Two-level playhouse.
Cons
Needs two person to assemble.
Product Specs
| | |
| --- | --- |
| Height | 58.25 inches |
| Footprint | 29.5 x 57.75 inches |
| Material | Plastic |
| Age Range | 18 months to 6 years |
| Accessories | None |
---
6. Backyard Discovery Beacon Heights Elevated Playhouse
Best Outdoor Playhouse With a Slide
Most of the playhouses really look like houses. This playhouse looks like a real welcoming house making it enticing for children who want to explore beyond the stars.
Part climbing frame, part playhouse, and part imagination stimulator, your kids' friends will be inviting themselves over to play with this unique option.
Pros
This two-story home with a slide is fun and might be a big hit with imaginative children.
Bright, vivid primary colors make this an appealing option.
The slide gives this playhouse an additional layer of play value.
Cons
Users have mentioned how difficult it may get during the assembly of the unit. Others mentioned it would require two to three persons to assemble it.
Product Specs
| | |
| --- | --- |
| Height | 91.25 inches |
| Footprint | 450 square feet |
| Material | Cedar |
| Age Range | 36 months to 10 years |
| Accessories | Appliances |
---
7. Backyard Discovery Skyfort II
Best Outdoor Playhouse for Older Kids
The Backyard Discovery Skyfort II stands out because it is taller than most. This makes it an excellent option for families with children in multiple age groups. The additional height gives older children room to play comfortably with their younger siblings.
The upper deck comes with a roof, trimmed windows, a covered upper porch, bay windows, and a sun deck while the lower deck has a snack stand and picnic table as well as a sandbox area. To make it more realistic, it has monkey bars, a swing beam, and a rock wall to facilitate outdoor play. Nothing to worry about its durability as it meets ASTM standards.
Pros
This playhouse has a small porch, a bay window, and an integral bench.
It has a huge number of accessories and great features.
It can accommodate up to six children at a time, and the additional height makes it great if you have a taller child or for play with older siblings.
Cons
The bay window is excellent for play, but does mean the inside of the house is open to the elements and to animals.
Product Specs
| | |
| --- | --- |
| Height | 149.6 inches |
| Footprint | 263.78 x 200.79 inches |
| Material | Wood – cedar |
| Age Range | 36 months to 10 years |
| Accessories | Snack stand and picnic table. |
---
8. L.O.L. Surprise! Winter Disco Cottage Playhouse
Best Outdoor Playhouse for Girls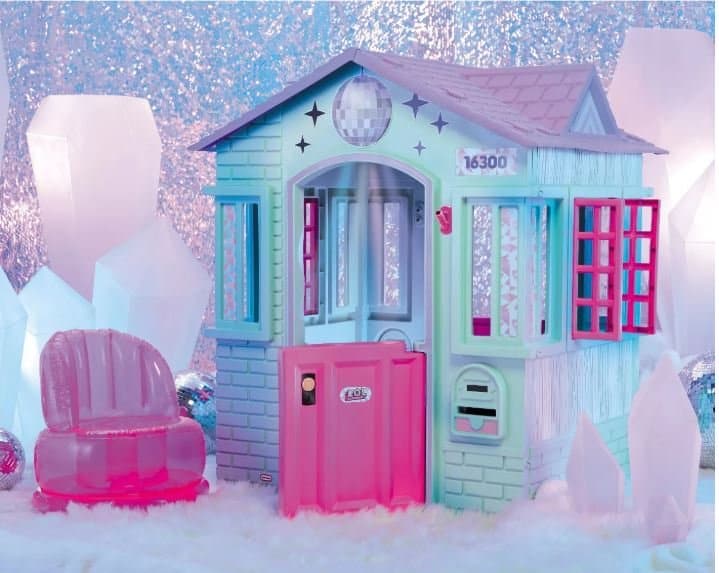 The L.O.L. Surprise! cottage is an award-winning playhouse for kids. Girls might like the decor, lights, and lack of kitchen stuff. Not all girls strive to be a domestic goddess.
Likely to be the headquarters for kids who enjoy lights, music, and dance, this cottage doesn't have a sink or stovetop in sight.
Unique to this playhouse is the accompanying inflatable chair where your little one can collapse after a hard day's play!
Pros
A light-up disco ball on the inside of the house will provide your dancing divas with a fun and funky accompaniment to their music.
It can be used indoors or out and is designed to be easily assembled, disassembled, and stored, making this an extremely versatile playhouse.
It has plenty of fun-enhancing features such as a mail slot, house number decals, a flag holder, and shutters.
Cons
A lack of floor, a half door, and windows with frames, but no glass or plastic to fill them, leaves the interior of this playhouse open to the elements.
Product Specs
| | |
| --- | --- |
| Height | 49 inches |
| Footprint | 35 x 42.75 inches |
| Material | Plastic |
| Age Range | 2 to 10 years |
| Accessories | Disco light, inflatable chair |
---
9. Little Tikes Cape Cottage - Blue
Best Outdoor Playhouse for Boys
A fun and funky pad for the child with discerning taste, this Little Tikes cottage evokes lake country style that will look good in any garden or home.
There are number decals for you to personalize your house, a crucial detail if you want to receive your play mail through the mail slot. To further personalize your cottage, you can use any standard flag pole and hoist a flag of your choosing by your door.
Pros
Two working doors.
The house is molded to resemble brickwork — a cute detail to differentiate this from other playhouses.
Lightweight and simple enough to be assembled and moved by one person.
Cons
It does not have any play accessories, or a floor.
Product Specs
| | |
| --- | --- |
| Height | 49 inches |
| Footprint | 39 x 42.75 inches |
| Material | Plastic |
| Age Range | 2 to 10 years |
| Accessories | None |
---
10. KidKraft Modern Outdoor Wooden Playhouse with Picnic Table
Best Unique Outdoor Playhouse
If you are looking for a playhouse with some unusual additional features, then the KidKraft wooden playhouse may be what you're after.
It would be more accurate to describe it as a playhouse with a sturdy picnic table attached. This comes with some preassembled components to save time and almost instantaneous play. It has multifarious features such as an outdoor grill with a removable lid, a mailbox with a flag, and an expresso picnic table with two wooden benches attached on the side.
There is also a wide window opening with fabric curtains so you can play shop, catering van, or any other game that requires a pass-through.
Pros
Integrated built-in picnic table, so the kids, or small adults have somewhere to sit during playtime.
There's a mailbox with a red flag.
Exemplary aesthetics with spacious area.
Cons
May require reconditioning of roof panels after several months.
Requires at least two person to fully assemble.
Product Specs
| | |
| --- | --- |
| Height | 62.25 inches |
| Footprint | 70.9 x 48.9 inches |
| Material | Wooden cedar and plastic |
| Age Range | 36 months to 8 years |
| Accessories | Picnic table and two benches |
---
---
The Gift Of Play
When you give your child a playhouse, you're not just giving them somewhere to play. You are also providing the framework for pretend play that will allow them to pretend to be adults.
Thinking of them as adults may give you a slight panic attack. But don't worry, after their long day of play, they'll still be ready for your snuggles and will enjoy being a kid for years to come.
Thank You For Your Feedback!
Thank You For Your Feedback!