Choosing the right breast pump for you can drastically improve your breastfeeding experience. Pumping frees you up and allows other people to share in the joy of feeding your little one.
We've worked hard to learn all the information you need about the Freemie breast pump and are sharing it in this review so you can focus on deciding whether or not it's a good fit for you.
---
Product Overview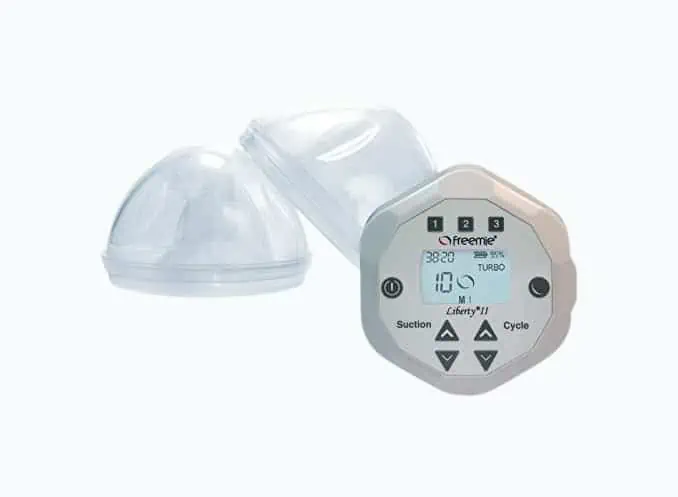 The Freemie Liberty II is a hands-free pump that collects milk via two attached funnels. You can pop it inside your bra and wear it on the go. The pump is only around the size of your palm, so it's very portable and slim enough to hide under clothing.
Included in the box are the following:
One wearable pump
Carrying bag
Pump clothing bag
Four breast flanges (two sizes)
Two standard cup parts
Two L-connectors
Two barriers
Two valve bases
Two valves
One Y-connector
Three tubing pieces
One USB charging cable
With each cup, you can collect eight ounces of milk. Pour that into your milk bag or bottle, clean the cups and reuse them again and again.
Pros
LCD screen lets you see your chosen settings.
Works for single or double-pumping.
Ultra-lightweight and concealable for pumping on the go.
280mmHg suction power that you can control. The memory button will recall your settings.
FDA-approved, food-safe, medical-grade plastic cups.
Cons
The cups will leak if you bend over while wearing them.
The battery doesn't last very long; you may only get 1-2 sessions from it.
---
Key Features and Benefits
Hands-Free Design Allows for More Flexibility
This pump gives moms the option to keep their hands free while they pump. Whether you need to pump at work, while holding your baby, or relaxing in the evening, this unit allows that. As a busy mom, I appreciate that this gives moms a lot more flexibility and freedom.
LCD Screen Keeps You Informed
With a clear LCD screen, you can see how long you've been pumping, which mode you're on, and set a memory function. You'll also know when it's running out of battery. Thankfully, this is easy to charge quickly with a USB charger.
Food Grade Plastic Collection Cups
You know your milk doesn't get contaminated with these high-quality breast pump collection cups. They're also very easy to clean. The seal maintains its quality, ensuring you get great suction every time you pump.

Can Help Increase Milk Supply
Many moms found they got more milk from this pump compared to other brands. Due to the fact that you're hands-free, you're more relaxed. A relaxed mom can produce more milk!
Also, the suction is great, which helps empty the breasts and increase supply. If you're struggling with your milk supply, this pump might help.
Not Too Loud or Distracting
Sometimes, we have to pump in the middle of the night while the baby sleeps. With this pump, you aren't at a huge risk of waking them up. This pump is a quiet option. While the decibel rating isn't specified, customers note it is quiet.
If you already have white noise in the bedroom, this will further muffle the sound of your breast pump, ensuring your little bundle of joy stays asleep.
Double or Single Pumping
Whether you have to express milk from both sides or need to quickly pump on the side your baby neglected, this breast pump allows. It is made for either double or single pumping, which is great for a range of situations.
---
How Do They Compare?
Moms who want their breast milk pumped on the double may prefer the Pump In Style, which has extremely powerful suction. This pump can help time-strapped moms express milk in just a few minutes. Those saved minutes really add up when you consider how many times a day women typically pump.
Moms who don't want to be stuck sitting or standing next to an outlet every time they pump will like that they can use batteries with the Spectra S2. Sometimes finding an open outlet can be a pain.
Moms who are worried about any discomfort they might feel with breastfeeding may want to go for the Philips AVENT Double Breast Pump. It has massaging cushions to help get your breast milk flowing. Plus, it offers three different expression settings and a stimulation mode.
The Purely Yours double electric pump may be a better choice for moms who are struggling with their finances. Sometimes, women need to go with a cheaper option, like the Purely Yours, because it can be the difference between putting groceries on the table that week or going without.
---
Who Should Buy This Pump?
It doesn't have the best battery life, and it might leak when you bend over, but this is a great hands-free option that moms love.
Since you get to walk around hands-free while using this pump, it gives moms their life back a little bit. You can work, eat, cook, and read a book all while using this pump. In fact, your friends and family might not even know about it if you have some music on in the background!
If discretion, a reasonable price tag, and a more relaxed pumping experience are important to you, then the Freemie Liberty II Deluxe pump system is an excellent choice.
Thank You For Your Feedback!
Thank You For Your Feedback!