Are you looking for a cloth diaper sprayer that's easy to install, gets your diapers clean without leaving unsightly residue, and doesn't splash your baby's poop back at you?
We've put a lot of time and effort into finding the best cloth diaper sprayers that will serve their purpose — making it easier for you to clean your cloth diapers without any hassle.
In our hunt, we found some duds, but we also discovered some really great products you're sure to love. We'll review those here and explain why these bidet-like devices are invaluable for cleaning cloth diapers. We'll even give you some tips to help make your choice easier.
If the thought of cleaning poopy cloth diapers has been keeping you from switching to cloth, read on to learn how cloth diaper sprayers can save your sanity and your stomach!
Image
Model
Product Comparison Table
Features
Best Sprayer with Splash Guard
Aquaus SprayMate
Certified backflow preventer
Splash guard for rinsing diapers
Interchangable spray plates
Best for Storage
Spray Pal
Adjustable high-pressure diaper sprayer
Foldable spray shield
Easy to use and install
Multifunctional
Withstands high water pressure
Stretchable sprayer hose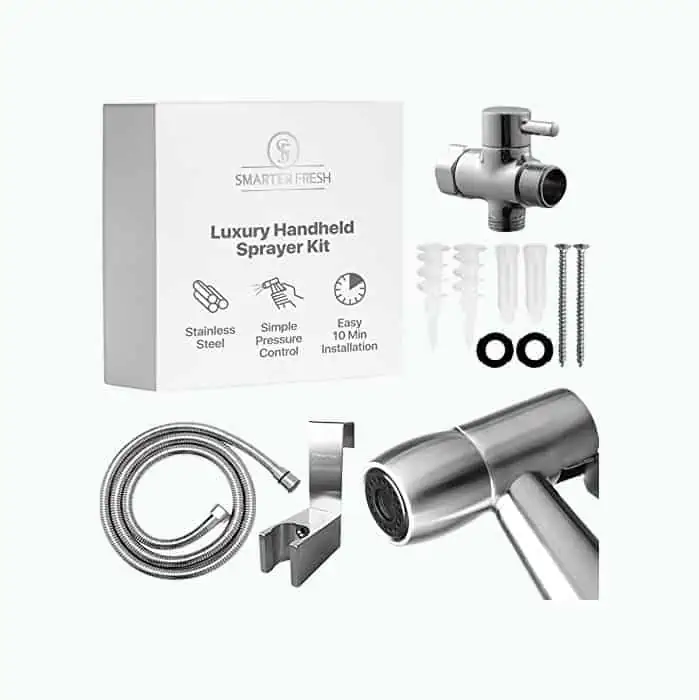 Best Trigger Control
SmarterFresh
Strong water stream
Simple and quick to install
Adjustable pressure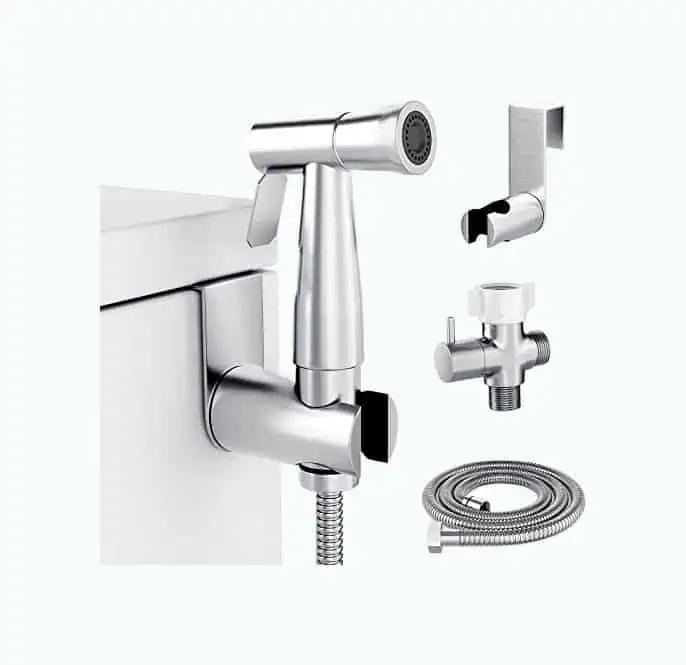 Pressure at Your Fingertips
Purrfectzone Luxury Spray
Rust-resistant stainless steel
Wall and toilet mount
Five-minute installation
Easiest to Hold
Easy Giggles Handheld Bidet
Versatile uses
Comfortable, durable handle
Stainless steel material
Easy to Fit
Handheld Bidet Sprayer
Quick and easy to fit
Brushed nickel finish
Adjustable water pressure
---
---
The Best Diaper Sprayers of 2023
Here are our favorite diaper sprayers on the market.
Aquaus SprayMate & Aquaus 360 Premium Diaper Sprayer
Best Diaper Sprayer with Splash Guard
The Aquaus Spraymate is a higher-end diaper sprayer. However, the five-piece package is worth the investment. It comes with a sprayer with multiple spray heads, a splash guard, diaper clips, a drip tray, and a handy tool to move the diaper as you rinse it.
You don't need to touch the diaper once it's clipped to the guard, which looks like a small garbage bin with legs. The legs fit perfectly over the rim of the toilet, and there is a drain at the bottom. This allows the water and poop to escape down the sloped sides and into the toilet bowl.
The sprayer is manufactured from corrosion-free polymers, which are strong and resist impact. The valve core is brass and has ceramic seals. It is available in four different nozzle lengths, from 3.75 inches to 11 inches, and multiple spray heads and spray plates.
The provided drip tray sits underneath the splash guard when it's not in use to catch any water that might be left in it.
The water pressure is easily controlled with your thumb and is sufficient to deal with the most obstinate poop.
Pros
Splash guard to protect from unwanted back spray.
A handy tool to move diapers 360 degrees.
Drip tray to catch leftover water.
Clips to attach diapers to the splash guard.
Cons
Price may be prohibitive for some.
Some find the splash guard uses up too much bathroom space.
Our Ratings
---
Spray Pal Cloth Diaper Sprayer and Splatter Shield
Best for Storage
This patented splatter shield comes complete with a diaper sprayer. The sprayer has a four-foot hose encased in stainless steel. The T-connector that attaches to the water supply is made from brass.
The spray pressure can be adjusted using the trigger-style lever, which lets you rinse diapers easily.
The clever thing in this package is the spray shield. To use it, you open the sides to form a bucket-type shape when you close the poppers on the outer edges.
To spray the diaper, clip it on with the strong clip, place the unit in the toilet bowl, and fire the jet of water at the poop. The shield is easy to clean and is BPA- and PVC-free. When the diaper is clean, pop the shield open and fold the sides to press out excess water.
Once you are done, the sprayer fits into a supplied handle that you attach to the toilet, and the shield folds for storage in a wet bag.
Pros
Adjustable high-pressure diaper sprayer.
Foldable spray shield to prevent splash-backs.
You can store the shield easily in a wet bag.
Cons
Some find the spray pressure hard to control.
The shield might not fit in some toilets.
Our Ratings
---
SonTiy Cloth Diaper Toilet Sprayer
Easiest to Install
This offering from SonTiy is probably the easiest cloth diaper sprayer to install as it takes just a little less than five minutes and doesn't require any tools.
Its ergonomic solid brass spray wand and T-valve manage both the water flow and pressure. Many bidet sprayers comprise only a spring, which is not durable and is prone to leaking — especially when left under high pressure. However, this bidet from SonTiy has a complex brass valve core that is safe and high-pressure-resistant, surpassing 15 years of usage.
The hose is quick and easy to fit and is made of stainless steel with a capacity to be stretched to 60 inches. It has an adjustable T-valve that controls water flow and pressure without the need to turn it off.
Pros
Multifunctional.
Withstands high water pressure.
Stretchable sprayer hose.
Cons
Priced in the mid-range of the market, some may find it expensive.
Installation can be a little more complicated than some other brands.
Our Ratings
---
SmarterFresh Cloth Diaper Sprayer
Best Trigger Control
This stainless steel diaper sprayer comes with a long hose and a holder that can be hooked onto the toilet or mounted on the wall. This gives you some flexibility in where you place your sprayer. It is slim and stylish and won't look out of place in any bathroom.
The included brass T-valve adapter makes the connection to your existing toilet water supply quick and easy. You can set it up in about 10 minutes. If you do need extra parts, such as a flexible toilet connector, they are available from your nearest hardware store.
You can adjust the spray pressure to supply a gentle rinse or a much stronger jet. It is controlled via the trigger handle on the showerhead. The available pressure and easy control ensure that even the most stubborn solids will be removed from the diaper.
The water supply can be turned off when not in use, meaning no leaks on the bathroom floor. This sprayer has no splash guard, so controlling the pressure is key to avoiding splash back and a messy cleanup.
The company offers a one-year warranty on this product.
Pros
Strong water stream to remove poop easily.
Simple and quick to install.
Adjustable pressure.
Cons
Water pressure control takes a little practice.
You'll need to make sure it's turned off to prevent leaks.
Our Ratings
---
Purrfectzone Luxury Handheld Sprayer Kit
Pressure at Your Fingertips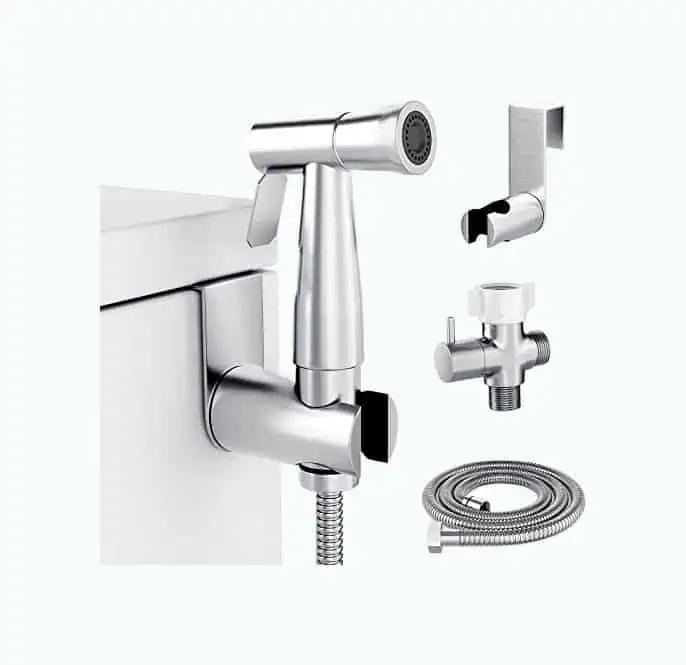 Purrfectzone brings us this diaper spray with two pressure options, soft or jet spray. Simply adjust the lever to set how much pressure you need to remove the poop from your child's diaper.
You can use the slow spray for lightly soiled diapers and give it a blast with high power for the stubborn cling-ons.
The showerhead and hose casing are made from stainless steel. This makes them durable, plus they look pretty good next to other silver colors in your bathroom.
There are two options for hanging the hose, either on the toilet tank or the wall. This makes it convenient to place it where it suits you best. The hose is quite long, so depending on where you position it, you might be able to use it to rinse your bathtub and washbasin too.
The company stands behind its product, offering a "no questions asked" one-year warranty.
Pros
Two settings for water pressure.
Wall and toilet mount for ease of positioning.
Easy and speedy fitting.
One-year warranty.
Rust-resistant stainless steel.
Cons
If you want to prevent leaks, you'll need to turn the valve off when not in use.
Our Ratings
---
Easy Giggles Handheld Bidet Spray
Easiest to Hold
This sprayer is an ergonomic and comfortable design. The spray button is very accessible, so you can trigger it while holding the sprayer, making it easy to turn on and off. It's made with stainless steel, is rust-resistant and very durable, and is easy to clean.
It takes ten minutes to install this sprayer, and then you can get to cleaning! The powerful spray can remove excess baby poop, no matter how sticky, so you can put the diapers and clothes into the wash mostly clean — no more hand-scrubbing diapers or picking off poop before washing.
We love that you can adjust the water pressure by how hard you squeeze the trigger. You can also mount this sprayer on the wall or toilet tank for easy access.
The Easy Giggles cloth diaper sprayer cleans more than baby poop. Use it for personal hygiene, cleaning the toilets, bathing pets, and much more.
Pros
Versatile uses.
Comfortable and durable handle.
Stainless steel material.
Two mounting options.
Our Ratings
---
Handheld Bidet Sprayer Set
Easy to Fit
This cloth diaper sprayer is one of the more affordable ones. The sprayer hose delivers strong pressure letting you wash away the stinky mess your little one has left for you. No more dunking and swishing to clean diapers; the mess goes where it should, down the drain and not all over you.
The sprayer fits onto your toilet tank with a mounting hook. The hose stretches to 5 feet long. Both the hose and the spray head have a brushed nickel finish, matching most bathroom decor.
The fitting can take less than five minutes using the T-valve adapter that is suitable for a 7/8 toilet water supply hose. There's no need to call the plumber. You can do it yourself by following the easy-to-read instructions.
You can adjust the pressure by turning the lever on the T-valve. A comfortable grip handle makes rinsing off the messiest diapers a breeze.
However, you'll need to turn the valve off and empty any remaining water from the hose when not in use. This will prevent a puddle from forming on your bathroom floor.
Pros
Quick and easy to fit.
Attractive brushed nickel finish.
Adjustable water pressure.
Cons
The spray nozzle sometimes unscrews itself, causing the water to leak.
The toilet holder does not appear to fit all tanks and is prone to moving around.
Our Ratings
Why Consider Buying a Diaper Sprayer?
Europe, the Middle East, and many other nations are way ahead of us on this one. They generally have a bidet attached to every toilet. These sprayers are sometimes referred to as "bum guns" (which gives you an idea of what they are used for), but they are also perfect for washing poop off diapers.
Fear not; while we are not so quick at catching on as our foreign counterparts, you can purchase a sprayer that can easily be attached to the side of your toilet.
If you are exclusively breastfeeding (EBF), the remnants of the deposits from your bundle of joy can be washed straight off in the machine. But when you are using formula or when you start feeding solids, the consistency of the poop changes.
Formula poop can be harder to remove and needs some pre-wash consideration. You can use tissue or even a spatula to move the residue into the toilet. But sometimes, it's like sticky peanut butter and won't go anywhere.
Following that, you need to dunk and swish to get off the remnants. However, I like to keep my hands clean and avoid sticking them in a toilet whenever possible.
I also don't like the idea of doing it in the sink, as that's where I clean my teeth.
A diaper sprayer saved my sanity when I switched. It's effective enough to remove even the most stubborn excretions and leaves my treasured cloth diapers ready for the laundry.
How to Choose the Best Diaper Sprayer
So, what is it about a diaper sprayer that makes it the ideal choice for removing solid waste from cloth diapers?
Here are some key features to keep in mind.
---
Thank You For Your Feedback!
Thank You For Your Feedback!