Staying active is essential, even for children, but it's often easier said than done in our world full of smartphones and tablets (1). It's time for some creative ideas to make exercise a priority, and one of these is laser tag.
We've seen plenty of new options popping up in stores, but it can be challenging to determine which are the best laser tag guns for kids. Some are easily broken or have such a limited range that they aren't very fun.
We've spent hours researching all the options to find quality, durable laser tag guns with the best range and design — for kids of all ages and groups of all sizes.
Get ready to battle with these home laser tag guns.
Image
Model
Product Comparison Table
Features
Best Laser Tag Guns Overall
Kidzlane Infrared Laser Tag Guns
Team play
Four gun settings
Built-in receiver
Most Authentic Laser Tag Guns
ArmoGear Infrared Laser Tag Blasters
Authentic set
Various modes including stealth
Game play for four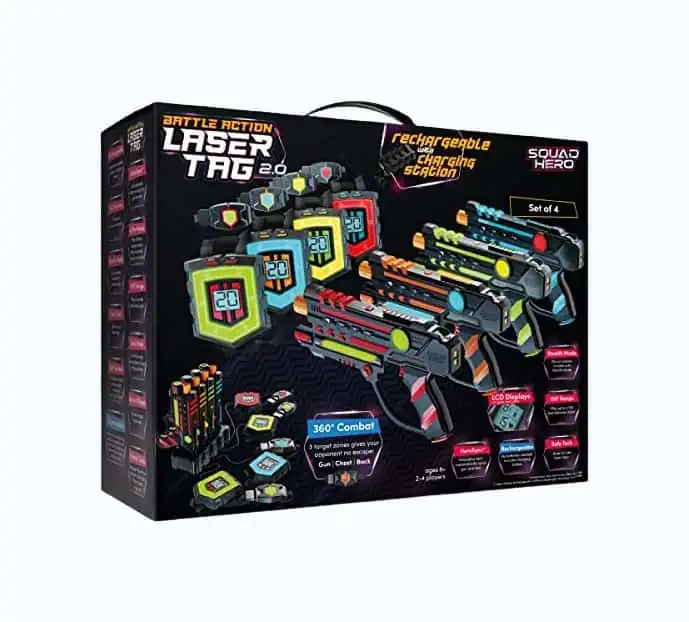 Best Set for Group Fun
Squad Hero Rechargeable
8 games per charge
LCD screens
Customizable
Best Interactive Laser Tag
Laser X 88016
Long range
Voice coach
Great bonding activity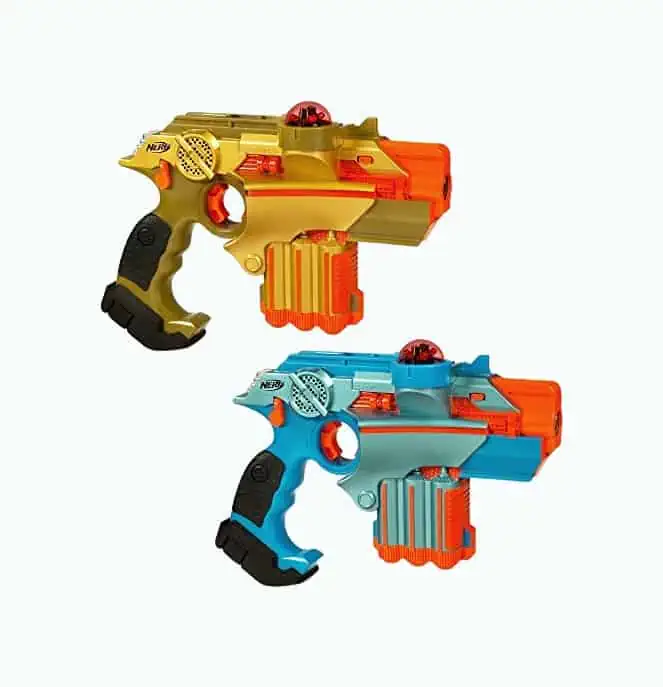 Best for Older Children
Nerf Official: Phoenix LTX Tagger
Great for advanced players & newbies
Play indoors and outdoors
Fantastic effects
Review Methodology: At Mom Loves Best, we conduct thorough research and hands-on assessment of the best laser tag guns in the market. We evaluate each product from a user's perspective, considering key decision-making factors such as performance, durability, safety, and user-friendliness. Our analysis is based on criteria such as range, accuracy, and battery life, which we measure, compare, and rank. We also review design choices and their effect on users. Our professional experience and data-driven approach allow us to provide informed recommendations, backed by factual evidence, on what sets a product apart from its competitors. Trust our findings to guide you in choosing the best laser tag gun for your needs.
---
---
The Best Laser Tag Guns of 2023
Here are our favorite laser tag toys on the market.
Kidzlane Infrared Laser Tag Guns
Best Laser Tag Guns Overall
To start our list, we have this great set of laser guns from Kidzlane. It's a pack of four different colored guns with a lot to offer.
The pack promotes team play while inhibiting players from shooting their team members. Each player has various modes and colors to choose from. While playing, the guns create sound and light effects.
We love this set mainly because it allows anyone of any size to join in on the fun. It's suitable for any laser tag fanatic above the age of 8, and with a broad range, you can play both inside and out.
What We Like
Team Play
Playing laser tag becomes more fun when several people can join in. One of the reasons we chose this as the best is because it's a pack of four different colored guns.
Your child can play with friends and choose which team they want to be on. Each gun has a "selector" button to pick which color to play for. The colors include green, blue, white, and red.
Four Gun Settings
Once everyone has selected their team, it's time to pick a gun type. A gun settings button near the selector allows players to switch between gun modes.
They can choose between four variations:
Shotgun.
Pistol.
Rocket.
Submarine gun.
Each has a different amount of available shots and lives taken per shot. What's more, cool sound and light effects also change between the four settings.
Built-In Receiver
Typically, laser tag guns require the players to wear a vest with a receiver, which acts as a target. However, Kidzlane included built-in receivers inside the guns, eliminating the need for vests. This also allows anyone to play, regardless of their size.
Each gun has nine lives. You can track your lives using the lives bar on the gun.
Large Range
You can use these laser tag guns both indoors and outdoors; however, they're perfect for large areas. They have a range of up to 130 feet, so you have a lot of room to play.
As a side note, avoid playing in direct sunlight. The guns utilize infrared light, which can be impaired by the sun.
What We Don't Like
Restart to Reload
Once you've used up all your lives, the guns require you to restart them before you can reload. Some users said this was a bit time-consuming.
Product Specs
| | |
| --- | --- |
| Recommended age | 8 years and up |
| Number of guns | 4 |
| Vest required | No |
| Gun range | 130 feet |
| Gun modes available | Yes |
Our Ratings
Community Feedback
For a fun and engaging family activity, these laser tag guns hit the mark. I purchased two sets to expand our collection, and both kids and adults love playing with them indoors and outdoors. The different settings and team options add variety to our games, but be aware that the lack of a setting lock down can lead to some sneaky cheating. Despite this minor flaw, these laser tag guns are durable, easy to use, and provide endless entertainment for our whole family.
---
ArmoGear Infrared Laser Tag Blasters and Vests
Most Authentic Laser Tag Guns
If you're looking for a set identical to what you're used to at the arcade, this is it. The set includes four blasters and four vests that each player must wear.
These blasters have many features. For starters, the player can switch between gun modes. There's also a sneak-attack feature, which is great fun for carrying out a stealthy ambush.
Moreover, playing in dark or dimly lit areas is no problem — each blaster has a built-in flashlight. The lasers have a long range, making them perfect for outdoors, and they're suitable for anyone aged 8 and up.
The blasters are ergonomically designed, making them comfortable to hold with a solid grip. And they're safe, even for young children. The infrared signal emission is at 0.9 mW.
What We Like
Authentic Set
The set from ArmoGear is close to the authentic arcade laser tag games. Each player will have to wear a vest that works as a target for their opponents.
Up to four teams can play with an unlimited number of members. As long as there's a gun for each person, you're good to go. Plus, you'll have a range of 150 feet.
Various Gun Modes
Once you get the game started, you can switch between four gun modes. These are:
Machine gun.
Rocket.
Shotgun.
Pistol.
Each set has different amounts of preloaded ammo and points taken per shot.
Stealth Mode
The set has a lot going on — including a stealth mode. This invisibility mode gives the player 15 seconds to make a secret ambush or reload. During those 15 seconds, the vest can't take any hits.
Night Vision Flashlight
You can also play in the dark or a dimly lit battleground. The guns have a night vision flashlight with a powerful LED light. It shoots out from the top of the gun, enabling you to navigate easier in the dark.
What We Don't Like
Short-Range Aims Aren't Optimal
A few users complained that when firing close to the target, you get a hit no matter where you aim. Some even stated that players could hit the target even while shooting standing back-to-back. However, the issue resolves itself when playing in a larger area.
Product Specs
| | |
| --- | --- |
| Recommended age | 8 years and up |
| Number of guns | 4 |
| Vest required | Yes |
| Gun range | 150 feet |
| Gun modes available | Yes |
Our Ratings
Community Feedback
Excellent laser tag set for family fun and entertainment. I appreciate that this set can be expanded, making it versatile for gatherings of all sizes. The laser guns have different weapon options, and the "invisible" mode adds an extra layer of excitement to the games. However, the chest straps were a bit too big for young children, so we had to make some adjustments. It's important to note that this set requires a significant number of batteries (24 AAA), but they have lasted for quite some time without needing replacement.
---
Squad Hero Rechargeable Laser Tag Set
Best Laser Tag Set for Group Fun
This is a fantastic laser tag set for group fun. Your kids can invite their friends over or even get their parents involved in an awesome game of laser tag. There is equipment for four players, including four guns and four vests.
Thanks to the remarkable features, this set can provide an intense but friendly game of laser tag. The guns have a team light, cool sound effects, a flashlight, an infrared sensor, and a life indicator.
You can even choose between weapon modes to make each game unique. The options are pistol, laser, rocket, and automatic.
What We Like
Eight Games Per Charge
With a long battery life, no game is interrupted. In fact, you can play eight games of laser tag per charge. The guns and vests are rechargeable, making it easy to charge everything at once.
LCD Screens on Guns and Vests
With LCD screens on the equipment, keeping track of the score is easier than ever. The lives and team data automatically sync between everyone's guns and vests. You can check on this quickly, even during the most intense battle.
Customize Each Game
No two games of laser tag need to be the same. You can switch up any of the features.
Firstly, choose your gun — there are four color options. You can also change how many lives each player gets per game. Choose from stealth mode, infrared emission, night light, or 150-foot reach. You can even add more guns and vests when you buy another set. So if you're having a big birthday party, get a few more kits!
What We Don't Like
Single Sensor Problems
There is only one sensor on the vest at the front. So you can't shoot people from behind. This makes for a less exciting game and also some cheating. It would be better if there were extra sensors. There's not even one on the gun, which means kids can cover their chest sensor with their gun to make it nearly impossible to get hit.
Product Specs
| | |
| --- | --- |
| Recommended age | 8 years and up |
| Number of guns | 4 |
| Vest required | Yes |
| Gun range | 150 feet |
| Gun modes available | Yes |
Our Ratings
Community Feedback
This laser tag set is incredibly well-built and offers a variety of gun types to choose from, such as single shot, multiple round blast, alien laser, and bazooka. I've played with it outside in the sun, and it works perfectly even at distances of around 20 feet. The rechargeable batteries last a long time, making it suitable for extended play sessions. It's durable and can withstand rough play, so it's great for kids of all ages, as well as adults who want to join in on the fun.
---
Laser X 88016 Two Player Laser Gaming Set
Best Interactive Laser Tag Set
This two-player game is ideal for rainy days indoors or dry days outdoors. While you can definitely go rogue and make your own game, this set comes with instructions for a more logical game. This provides hours of competitive fun! Not just for kids but for parents (and grandparents), too.
This game includes two laser guns and two receiver vests. The full-color lighting effects help you track shots and hits, so you always know who is in the lead! There is also an interactive voice coach that can help you out during the game. Just plug in your headphones to experience the soundtrack and sound effects.
This set is compatible with all other Laser X sets. So while this set is good for two players, you can easily add more!
What We Like
Long Range
This is the ideal game whether you want to play indoors, in close proximity, or outdoors in a park. The laser guns work up to 200 feet apart, so you can make a big obstacle course in the backyard and have hours of fun.
Voice Coach
The added voice coach makes for a more dramatic experience. It plays atmospheric music and gives you coaching tips and tricks as you go. Plus, you can't hear your opponents while wearing the headphones, which increases the tension.
Bonding Activity
Parents and grandparents are so thankful they bought this toy. Not only do siblings get tons of use out of it, but it's perfect for bonding with your kids. Grab a laser gun and join in on the fun!

What We Don't Like
Not Discreet
If you want a laser gun game where you can hide and jump out at your opponents, this isn't the ideal one. The flashing lights are really bright, so if you're hiding in a dark room, you're going to get discovered pretty quickly. There is also a pointless beep that occurs every couple of seconds. It can't be switched off, so it ruins your hiding places and has no purpose.
Headphones Required
While the headphones make the game more exciting, not everybody enjoys wearing them as they run through the park. But unfortunately, you can't experience the sound effects unless you're wearing them.

Product Specs
| | |
| --- | --- |
| Recommended age | 6 years and up |
| Number of guns | 2 |
| Vest required | Yes |
| Gun range | 200 feet |
| Gun modes available | Yes |
Our Ratings
Community Feedback
Best laser tag game I've purchased for my family! This game has provided endless fun, with an excellent range and the ability to add more players easily. The new version is easier to use, but one downside is the lack of a sensor for the back, so kids sometimes shoot over their shoulders to avoid getting hit.
---
Nerf Official: Lazer Tag Phoenix LTX Tagger
Best for Older Children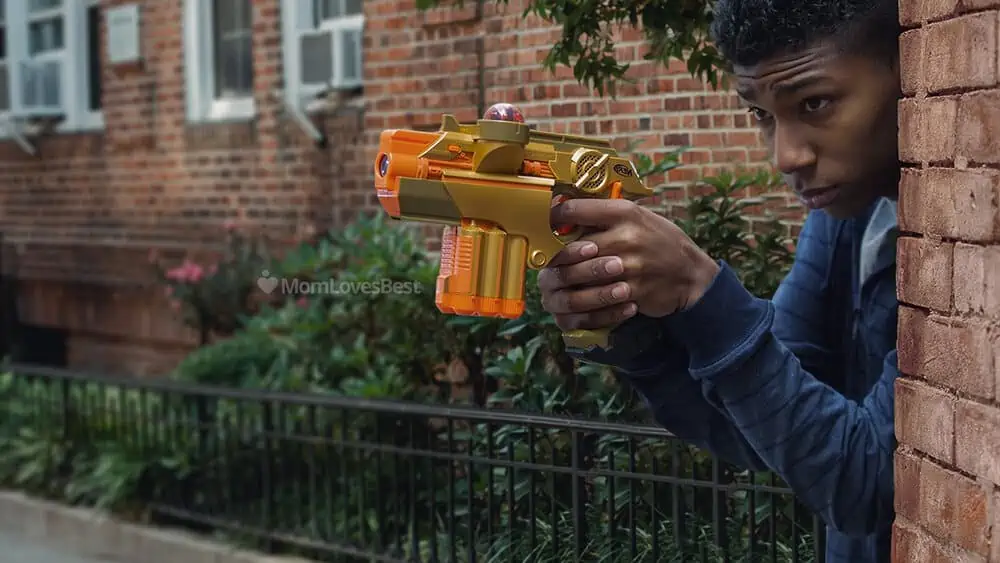 Hasbro has brought us an Amazon-exclusive Nerf laser tag gun. It's excellent for beginner to advanced laser tag players above the age of 8.
This is a smaller set consisting of two guns. However, more players can join in on the fun with compatible sets.
The guns are great fun! They react to hits and even have an automatic reload feature. You can play indoors or outdoors. With sounds, lights, and vibrations, they keep players engaged in the game.
What We Like
Great for Advanced Players and Newbies
These guns provide an even playing field for newbies and advanced laser tag players. Different play settings can make the game as fun or challenging as desired.
With each gun, the individual player can set either ten or 25 lives. Nerf recommends 25 lives for beginners, and then the advanced players will only have ten. This way, all players will have an even chance.
Play Indoors and Outdoors
The guns work indoors and outdoors, so you can easily create the ultimate battlefield. Although the range isn't stated, reviewers say it's pretty large. You can have as many players as you want, but remember to purchase compatible guns.
Fantastic Effects
The guns are super cool and filled with various effects. When you get hit, the gun lights up, creates sounds, and vibrates. Every time you fire, the gun recoils and creates more sounds and vibrations.
Another fantastic feature is the ammo reload. Your children can truly get into character without risking a failing gun.
What We Don't Like
The Sounds Are Loud
A few parents complained there wasn't a stealth mode or volume control. The loud guns can become annoying to listen to for hours.
Product Specs
| | |
| --- | --- |
| Recommended age | 8 years and up |
| Number of guns | 2 |
| Vest required | No |
| Gun range | Not stated |
| Gun modes available | N/A |
Our Ratings
Community Feedback
I'm thrilled with these laser tag blasters for several reasons. First, they're all-in-one, meaning you don't need to wear anything since the sensors are on top of the blasters. Second, they work well both indoors and outdoors, in any weather or temperature, and can be used for various team combinations. Lastly, they are fairly sturdy and well worth the $20-30 per blaster, providing endless fun and exercise for the whole family.
---
How to Choose the Best Laser Tag Gun
Our research shows that these are the best features to look for in a laser tag gun.
---
Appropriate Ages for Laser Tag
Friendly laser tag games at home generally have a recommended age — the youngest we came across was for 5-year-olds, but most say for ages 8 years and up.
Think Twice
Although any child can play laser tag, it doesn't mean they should. Players should know how to use the guns and understand the rules.
Is Laser Tag Safe for Children?
Laser tag toys are relatively safe for children to use. Most are regulated to ensure they aren't harmful (2).
Laser tag guns utilize mild infrared lights. Always teach your children not to point it directly into other people's eyes.
Know The Risks
Lasers can cause eye damage when misused. Your child should be aware that aiming it directly into the eyes can have serious consequences
(3)
.
---
Thank You For Your Feedback!
Thank You For Your Feedback!