If you still love to get down with a good exercise DVD while you're pregnant, you're not the only one! You can find a wide range of DVDs and streaming services geared to this purpose. But not all exercise programs are safe to use during pregnancy.
So how do you know which videos are safe to try and which to avoid?
We got our butts in gear — literally — as we hunted to find the best prenatal exercise DVDs on the market. We had a lot of fun and came up with this list of ten great videos.
With a range of exercise styles, from yoga to aerobics to strength training, belly dance, and more, you're sure to find one — or a few — to help you get your groove on and work your way to a strong and healthy pregnant body.
We'll answer all your questions about exercising during pregnancy and help you find the perfect program to see you through to delivery and beyond.
Image
Model
Product Comparison Table
Features
Best Prenatal Yoga
Gentle Yoga With Jessica Smith
Four 20-minute yoga practices
Customizable menu
Easy to follow and effective
Best Dance Workout
Rhythm For Life
Variety of low-impact dances
Enjoyable exercise
Gradual transition of exercises
Best Pilates
10 Minute Prenatal Pilates
5 dynamic body band workouts
Compact and ultra-efficient
Tones and reshapes the whole body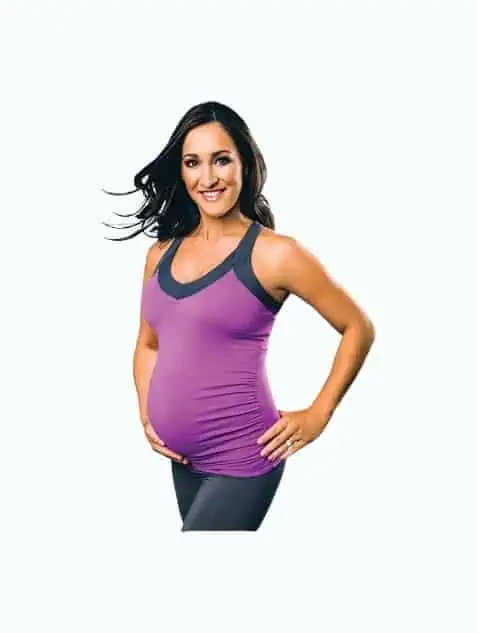 Best for All Trimesters
Fit and Sleek Prenatal Physique
Includes a variety of styles
Gradual progress based on fitness level
Offers workout plans for beginners
Best for Toning
Prenatal Barre Workout
Integrates strength, cardio and flexibility
Well-rounded workout
Featuring 4 powerful segments
Best for Beginners
Complete Pregnancy Workout
Complete pregnancy workout set
Program based on trimester
Includes free calendar download
Best Aerobics
Denise Austin: Fit & Firm
Energy-boosting program
Adapted for all three trimesters
Challenging without being too difficult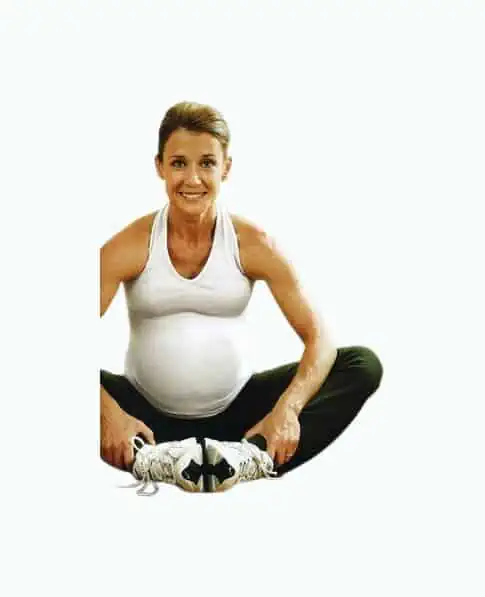 Best for Strength Training
Prenatal Fitness Fix
Fun, invigorating workout
Focused on cardio and toning
Intimate, non intimidating approach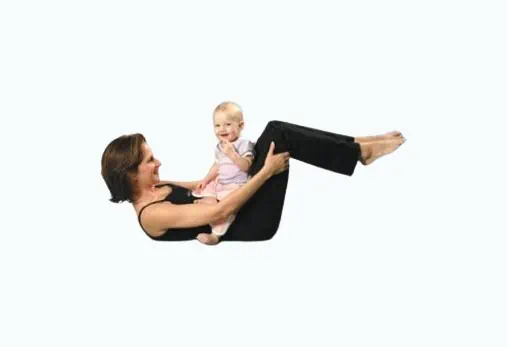 Best After Pregnancy
Power Pilates Post Baby
Gentle yet effective and challenging
Especially effective for new mothers
Includes private instruction section
Best for Weight Loss
Fabulously Fit Moms
With a sculpting workout
Designed for lower body workout
Super affordable
Review Methodology: At Mom Loves Best, our thorough analysis and hands-on evaluation of the best pregnancy exercise DVDs are based on trusted criteria and data collected from professional and personal experiences. We compare and rank these DVDs by examining factors such as safety, effectiveness, and ease of use. Our assessment covers key decision-making factors like workout variety, instructor qualifications, and suitability for different trimesters. By sharing evidence-based findings, performance measurements, and reviews of design choices, we help you identify the ideal DVD that sets itself apart from its competitors. Trust Mom Loves Best to provide an unbiased, user-focused review to guide you in choosing the perfect pregnancy exercise DVD for your needs.
---
---
The Best Prenatal Exercise DVDs of 2023
Here are our favorite prenatal exercise DVDs on the market.
Gentle Yoga With Jessica Smith
Best Pregnancy Yoga DVD
Prenatal yoga is designed for pregnant women. The gentle stretches allow you to focus on your changing body, relaxation, and breathing techniques.
This DVD has exercises for women of all experience levels. Choose between four 20-minute programs which focus on the hips, knees, back, chest, neck, shoulders, and your total body.
The yoga poses and exercises help improve your balance, flexibility, mobility, and relaxation. Who wouldn't welcome a calmer mind during their pregnancy?
If you are looking for a gentle way to stay active while also learning techniques to benefit you during labor, then a prenatal yoga DVD is an excellent selection for you.
Community Feedback
Bought this Gentle Yoga DVD and I've found it to be perfect for my needs. As a 60-year-old on a weight loss and exercise journey, this workout is gentle and easy to follow. The instructor guides you through four 20-minute sessions, which is great for getting back into a workout routine. While there is more focus on stretching than balance, I still find it beneficial. I appreciate that the video is divided into sections, allowing me to focus on specific areas like my neck or lower back when needed.
---
Suzanne Caesar's Rhythm For Life
Best Pregnancy Dance Workout DVD
This fun DVD offers a variety of dances. The low-impact workouts won't take a toll on your body. But at 50 minutes long, it's probably as long as you'll want to work out in one session.
In addition to the dances, there are also brief breathing and kegel exercise demonstrations.
Many users enjoy using this DVD on their own or with friends — pregnant or not. But beginners should be aware that it includes some terminology that may be unfamiliar to those without previous dance experience.
Overall, this DVD is a perfect solution for pregnant moms wanting to stay active in a fun and inviting way.
Community Feedback
My experience with this workout video has been fantastic, even as a non-pregnant individual! The combination of breathing exercises, cardio, and salsa fusion kept me engaged and challenged, while the stretches left me feeling relaxed before bed. Although it may take some time to grasp the dance moves if you're not familiar with them, the short and sweet sections make it easy to fit a fun and effective workout into any schedule.
---
10 Minute Prenatal Pilates DVD
Best Pregnancy Pilates DVD
Pilates is an excellent method of working out when you are pregnant. This DVD includes five exercise routines that target many areas of your body.
If you're looking for exercises that will increase flexibility, strength, balance, and stamina, then this DVD is perfect for you. It includes an exercise that focuses on each of these areas.
Many expectant mothers struggle to find the energy to complete daily tasks, so exercise might seem impossible. If you can dedicate at least 10 minutes to one of the routines on this DVD, you should notice an increase in your overall mental and physical well-being.
There is also a bonus postnatal workout for moms who want to bounce back right after delivery. This DVD offers many options, all quick and easy to complete.
Community Feedback
I recently purchased several pregnancy workout videos to help maintain my fitness and prepare my body for labor. Among my favorites were Amira's Bellydance and Yoga for Pregnancy and 10 Minute Solutions Prenatal Pilates. Both videos offered stretching, strengthening, and relaxation exercises suitable for pregnant bodies. On the other hand, Perfect Pregnancy Workout vol. 1 was too strenuous for me, while Summer Sanders' Prenatal Workout was good but not my favorite.
---
Fit and Sleek Prenatal Physique DVD
Best for All Trimesters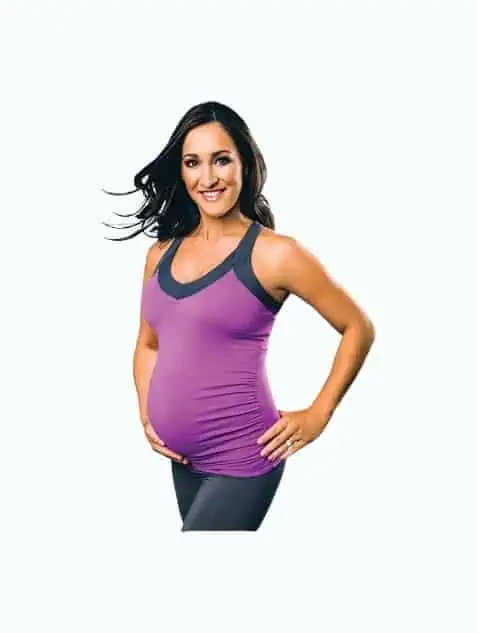 This comprehensive training DVD gives you the freedom to choose specific exercises throughout all three trimesters of your pregnancy.
The routines offered are of various lengths, ranging from five to 15 minutes, to fit within any busy mom's schedule.
There are seven workout aspects you can choose from. This DVD is a great option for the pregnant woman looking to focus on her entire body rather than just core areas.
This is a full-body workout, so it is best performed by those used to higher levels of exercise.
Beginners can still benefit from this DVD if they view each routine as a segment rather than completing all of them as a whole.
Community Feedback
I've been using this workout DVD throughout my pregnancy and it has been a fantastic addition to my fitness routine. This prenatal workout is more upbeat than traditional prenatal yoga and offers a great mix of cardio and sculpting exercises. Sarago, the instructor, is very pleasant and keeps the exercises challenging but adaptable for varying intensity levels. My personal favorite is the upper body cardio sculpt, which has helped define my arms while still being manageable during pregnancy. However, I do wish there was slightly more low-intensity cardio included, as I don't have space for a treadmill or elliptical at home. Additionally, the dance-beat music can get annoying after a while, but overall, this workout DVD has been a great way to stay active and healthy during my pregnancy.
---
Suzanne Bowen's Prenatal Barre Workout
Best Slim and Toned Prenatal Workout DVD
This pregnancy exercise DVD is best for women looking for a little more out of their prenatal exercises. It's especially useful for women who were physically active before becoming pregnant and want to maintain their strength, flexibility, and stamina.
You will have the opportunity to complete four workouts instructed by your own personal fitness expert.
The routines focus on a lean lower body, slim upper body, cardio sculpt, and aligned stretch.
All the included routines are safe for pregnancy and continue to be effective in the postnatal stages. With this pick, you can invest in an exercise DVD that can accommodate your entire pregnancy journey.
Community Feedback
I began using Suzanne Bowen's Slim & Toned DVD during my pregnancy and found it to be an effective and enjoyable workout. The DVD helped me maintain my fitness level without being overly strenuous or difficult, especially as my pregnancy progressed. The instructor provided clear guidance on proper form and offered modifications to increase or decrease the challenge.
---
Complete Pregnancy Workout for Beginners with Lindsay Brin
Best Pregnancy Workout DVD for Beginners
This workout DVD is perfect for all expectant mothers — especially those new to exercise — because it includes detailed instructions for each trimester.
Users have the choice of doing moderate or advanced workouts. So, newbies can begin with moderate and maybe transition to advanced after some time.
There are three to four workouts on each of the three discs, and they all vary in length. A typical disc will have workouts focusing on toning, cardio, and the upper and lower body.
As a bonus, each DVD includes a yoga and flexibility segment many moms enjoy.
If you are hesitant about working out or unsure where to begin, this set is a great choice. You can embark on your pregnancy fitness journey while having your own personal trainer by your side for each trimester.
Community Feedback
As a fairly fit individual who enjoys a variety of workouts, I found these prenatal DVDs to have their pros and cons. On the positive side, the workouts are easy to follow, with good pacing and basic moves that don't require excessive explanation. However, the DVDs fall short in some aspects, such as the advanced level being simply a repetition of the moderate level, and the lack of variety and challenge in the exercises. Additionally, the production value could be improved, and the warm-ups and cool-downs feel incomplete, leaving me somewhat dissatisfied after completing a workout.
---
Denise Austin: Fit & Firm Pregnancy DVD
Best Pregnancy Aerobics DVD
It is hard to find one DVD that covers all months of pregnancy, but this DVD includes workouts for all three trimesters.
There are five different routines with sessions lasting 5-minutes, 10-minutes, or 20-minutes. All exercises follow the guidelines of the American College of Obstetricians and Gynecologists, so they are safe for pregnancy.
The included exercises will help soothe sore muscles and maintain your core strength.
This might be a good choice of DVD if you are looking for one DVD to last you the duration of your pregnancy. It's especially helpful if you want to maintain your core strength and cardio.
Community Feedback
I'm thrilled with these prenatal workout DVDs as they've provided me with a variety of exercises throughout my pregnancy, catering to my different energy levels and needs. Fit and Firm Pregnancy, in particular, is great for those days when I'm not feeling up to a strenuous workout but still want to stay active, with its 20-minute cardio or toning sessions for each trimester. While not overly challenging, it's been a fun, energetic, and helpful addition to my pregnancy exercise routine, keeping me comfortable and helping me maintain a healthy weight.
---
Prenatal Fitness Fix DVD With Erin O'Brien
Best Pregnancy Strength Training DVD
Erin O'Brien is a certified prenatal exercise specialist, so you can trust that these exercises are safe for pregnancy.
You will find fun and challenging workouts designed for fitness newbies and enthusiasts alike.
The disc includes a 40-minute cardio/toning workout and a 20-minute partner workout that allows your significant other to get in on the fun.
The exercises are safe and fun and will keep you fit and firm during pregnancy.
If you are looking for an exercise DVD that focuses on cardio, strength, balance training, controlled weight gain, and assistance in relieving tension, this is a great solution.
Community Feedback
Excellent prenatal workout DVD that caters to various fitness levels and pregnancy stages. I started using this DVD during my pregnancy and found the exercises to be well-paced, challenging, yet safe and comfortable. The production quality may resemble a home video, but it doesn't take away from the effectiveness of the workout. Just be prepared to play your own music, as the background tunes are not the best, and you'll have a great home workout experience.
---
Power Pilates Post Baby Workout DVD
Best Workout DVD for After Pregnancy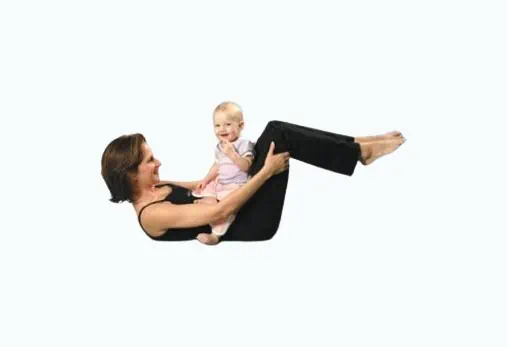 The exercises in this video are gentle yet effective and challenging. They have been adapted to meet postpartum moms' specific needs.
The video includes modifications for each move if your body isn't quite ready.
You control your session's length, and it can last anywhere from 15 to 47 minutes. You can save the longer workouts for days you're feeling more energetic and power through shorter workouts on those days you just want to sit on the couch.
Pilates is a great postpartum exercise because it helps you strengthen and tone your abdominal and back muscles that have been supporting your little one over the past nine months.
Community Feedback
After incorporating this Pilates DVD into my daily routine, I have noticed a significant improvement in my abdominal and back muscles. The two programs offered are short and manageable, even with a busy schedule, and can be combined for a longer workout if desired. While the instruction is clear and effective, the presentation and instructor's style can be a bit monotonous, lacking the excitement or creativity found in some other exercise videos. Although this DVD does not feature any background music or a spiritual element like yoga videos, it still provides a solid workout for those looking to supplement their Pilates practice at home.
---
Fabulously Fit Moms: Lower Body Burn
Best Weight Loss DVD for Post Pregnancy
Many moms will tell you that no matter what they do, they just can't seem to lose the baby weight.
This DVD is designed to target your abdominal area and help tighten, tone, and sculpt your waist.
It's not a very challenging workout, but it will push you. Each workout emphasizes your abdominal area and helps tone your legs and glutes.
If you recently had a baby and are looking for something to help you shed a couple of inches from your waistline, this DVD is a good pick. The instructor is a mother of two who has seen incredible results using this program.
It is possible to get that pre-baby body back, and this workout DVD can help you begin to lose some of that weight.
Community Feedback
This workout is fantastic for targeting the lower body and is super easy to follow along. I've noticed a change in my body after incorporating it into my routine, and it fits perfectly into my busy schedule. Although it's not very challenging, you'll definitely feel the burn and see great results, like the 10 lbs I lost using this video. The variety of moves keeps it fun and engaging, while still being effective for toning those thighs and buns. If you're looking for a lower body workout that's both enjoyable and efficient, give this one a try!
How Will Prenatal Exercise Benefit You?
Prenatal exercise can seem daunting when you're tired, nauseous, and struggling with moodiness. But the benefits are worth any effort you put in. These are some of the best benefits of prenatal exercise:
Increases stamina and strength: Pregnancy and labor can take a toll on your body, but exercising can help target those troubled areas that may need more support.
Improves balance: When you're pregnant, your center of gravity seems to shift more and more every day. Exercises like yoga can help you improve your balance and become well adjusted to your new body (1).
Relaxes your body: The deep breathing associated with working out can help you become relaxed and clear your mind.
Prepares you for labor: Yoga requires you to have good breathing techniques, as does labor. You will learn techniques to work through the tension that will help you when you go into labor. Some mothers view yoga as practice breathing sessions for labor.
Increases circulation: When you exercise, you increase your circulation, which can help decrease a significant amount of that pregnancy-induced swelling.
Gives you nurturing time: Exercise allows you to have a designated time to focus solely on your body and your developing baby. This is a great way to increase your maternal bond and become more accustomed to your changing body.
Better sleep: Some pregnant women find that exercising helps them sleep better and significantly reduces their stress and anxiety.
Prenatal Exercise DVD vs. Classes
Some expectant mothers may have trouble choosing between a prenatal exercise class or a video, but both have benefits.
It might be best if you visit a class at least once so you can learn firsthand how to do certain positions or workouts and receive some useful input. A class also allows you to meet other pregnant moms and broaden your support system.
A prenatal exercise DVD or online video is perfect for the woman who wants to work out but doesn't want to leave her house. A DVD allows you the freedom to exercise at any given time and in the comfort of your own home.
Strike While The Iron Is Hot
When you're pregnant, you will have highs and lows when it comes to your energy levels. You can pop a DVD in whenever you're feeling motivated. With a class, it's not that easy — you could be hitting a wave of exhaustion right as it is getting ready to start.
Qualities You Need in a DVD
You have to find a prenatal exercise DVD you will be comfortable with. Some DVDs are designed for the beginning of pregnancy, while some may be targeted for the third trimester.
Some prenatal exercise DVDs have more advanced routines, so you should try to find one similar to your experience level. You can still partake in prenatal exercise if you weren't regularly exercising before becoming pregnant, but you should always ask your doctor for a stamp of approval before you begin.
Routine lengths vary between programs. Choose a video that fits your desired workout time. You can always stop in the middle of a long routine, but you can't add minutes to a short routine.
---
What Does Prenatal Exercise Involve?
Prenatal exercise is typically a modified version of regular exercise. It does not involve strenuous activity but rather low-impact and gentle exercises. The most important part about prenatal exercise is that your baby's safety comes first.
Some components of prenatal exercise include:
Breathing.
Posture.
Gentle workout.
Cooldown.
Relaxation.
Risks Associated With Prenatal Exercise
If you have a high-risk pregnancy or are at risk for premature labor, you shouldn't partake in prenatal exercise without the green light from your doctor. All women should consult their doctor before beginning any prenatal exercise routine to ensure maximum safety.
Prenatal exercise is designed to be safe during pregnancy, but certain positions can become dangerous later on in pregnancy. Some stretches that are safe in the first trimester may not be safe in the third trimester. You should find a DVD that coordinates with your current trimester.
To keep you and your baby safe, you should follow these guidelines:
Consult your doctor: Seek your doctor's approval before beginning an exercise regime.
Keep your goals realistic: Pregnancy isn't a time to push yourself and try to prove that you can be Wonder Woman. If you are tired, stop. You don't have to complete a whole routine each time.
Pace yourself: Prenatal exercise is supposed to help you stay active and relax. You don't have to try to rush through a routine quickly. Take it slow, and enjoy the process.
Keep cool and hydrated: It can be dangerous if you overheat and become dehydrated when you are pregnant, so it is important you try to keep yourself cool and drink plenty of water.
Avoid certain positions: If your workout requires a position that makes you uncomfortable, don't do it. Also, you should always bend from your hips and not your back. Stay away from twisting positions that put pressure on your belly and positions that require lying on your back or belly. However, these positions are sometimes safe in the first trimester.
Don't overdo it: You know your limits, and you should stick to them. There is no shame in not being able to complete a routine. Some days you may exercise for 30 minutes, and other days it may simply be 10.
---
The Bottom Line
Our top pick for the best pregnancy yoga DVD is Gentle Yoga with Jessica Smith.
The DVD is great for all expectant moms regardless of experience level, and it is designed specifically for pregnancy.
Yoga is an excellent exercise method, and not only does it help the expectant mom stay active, but it also helps teach relaxation and breathing techniques to use during labor.
Thank You For Your Feedback!
Thank You For Your Feedback!