With so many prenatal vitamins on the market, it's hard to know which one to choose. What are the must-have components in any prenatal vitamins? We've done the research — and countless hours of it.
After in-depth research, reading customer reviews, and scouring drug labels, we've selected the best prenatal vitamins you can get over the counter. These picks will help make your body the perfect host for your unborn child and get your pregnancy off to a smooth start.
Image
Model
Product Comparison Table
Features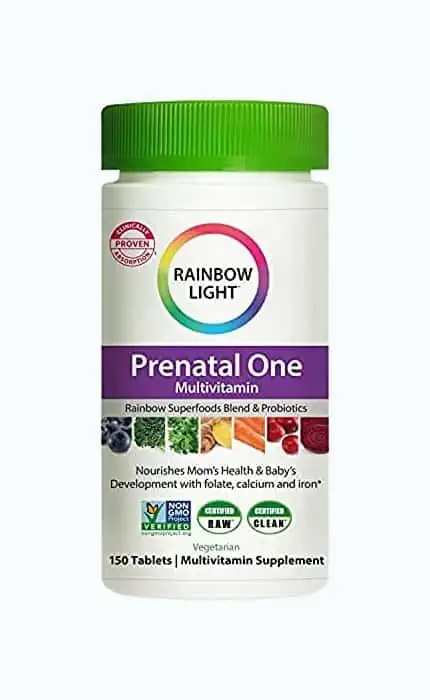 Best Once-A-Day
Rainbow Light Prenatal
No artificial sweeteners or preservatives
Affordable
Well-rounded nutrition
Best Organic
New Chapter Prenatal
Made from quality ingredients
Won't upset your stomach
Whole-food vitamin
Best Wholefood
Megafood Prenatal
Can be taken on an empty stomach
Kosher, non-GMO and gluten-free
Tested for pesticide residues
Best Gummies
Garden of Life Organics
Easy-to-chew gummies
Made from 9 organic fruits
Easy on the stomach
Best With Probiotics
Garden of Life Prenatal
Taken on an empty stomach
With naturally occurring folate
Includes ginger to ease nausea
Best for Vegans
Deva Prenatal
Very inexpensive and has DHA
Taken once a day
Vegan-friendly
Best with Natural B12
Mama Bird Prenatal
High amount of natural folate
Contains natural B12
Whole food sources
Best DHA Supplement
Spectrum Essentials DHA
No dreaded "fish burps"
Easy-to-swallow softgels
Affordable
Best for Before, During and After Pregnancy
Pink Stork
Easy to open one-handed
Made in America
Good for mom and baby
Best with DHA
Enfamom Prenatal Vitamins
No artificial flavors
Minimalist ingredient list
Sugar free
Review Methodology: At Mom Loves Best, our goal is to provide you with a comprehensive analysis and assessment of the best prenatal vitamins on the market. Our experienced team conducts extensive research, comparing various products using a set of criteria and benchmarks to ensure you make an informed decision. We evaluate each product from a user's perspective, sharing data on performance, key decision-making factors, and design choices that set them apart from competitors. Through our hands-on experience and professional evaluations, we rank, review, and score each prenatal vitamin based on factors such as ingredients, effectiveness, safety, and ease of use. Our results offer you the evidence needed to confidently choose the best prenatal vitamin for your needs.
---
---
The Best Prenatal Vitamins of 2023
Here are 10 great prenatal vitamins to consider.
Rainbow Light Prenatal One Multivitamin
Best Once-a-Day Prenatal Vitamin
Moms-to-be who have a hard time remembering to take pills will like that this one only has to be taken once a day. Rainbow Light Prenatal uses superfood extracts as a base for its nutrients and has high standards of manufacture.
For moms who struggle with unpleasant side effects from iron supplements, this one uses an iron source called iron amino acid chelate, which is meant to be gentler and non-constipating.
In addition to folic acid and iron, this supplement also contains a broad spectrum of other vitamins, including a citrus bioflavonoid complex, choline, inositol, and boron.
Moms who struggle with allergies will be happy to know that this vitamin doesn't contain wheat, gluten, sugar, dairy or lactose, nuts, soy, shellfish or yeast. It also doesn't contain any animal ingredients and has no artificial flavors, colors, sweeteners, additives or preservatives.
Product Specs
Nutrition Label
| | |
| --- | --- |
| Folic Acid | 800 mcg. |
| Iron | 27 mg. |
| Calcium | 50 mg. |
| Iodine | 290 mcg. |
Our Ratings
Pros
You only have to take one pill a day.
Affordable.
Well-rounded nutrition with the four main nutrients.
Cons
Doesn't contain DHA.
It doesn't contain enough calcium, so you'll need to make sure to get it elsewhere.
The pills are quite large and may be difficult to swallow.
Community Feedback
I recently started using these prenatal vitamins and they've been great so far, providing all the essential vitamins I need at an affordable price. The pill size is manageable and doesn't have a fishy smell, but it does have an earthy scent and a metallic aftertaste. Despite this, I've noticed that these vitamins are gentle on my stomach and have even helped regulate my iron levels, making them a worthwhile choice for me.
---
New Chapter Perfect Prenatal Vitamins
Best Organic Prenatal Vitamin
These vitamins are pricier than some other brands, but they have some features that may make them worth the money to health-conscious women.
Because of the way these vitamins are prepared and fermented, they're a lot more digestible, and you could even take them on an empty stomach. They're made with organic ingredients and a broad range of whole-food, non-GMO vitamins to support you and your growing baby.
For women who are worried about allergens, this vitamin does contain fermented wheat and fermented soy. But they're gluten-free, sugar-free, appropriate for vegetarians, and they don't contain animal gelatin.
Product Specs
Nutrition Label
| | |
| --- | --- |
| Folic Acid | 600 mcg. |
| Iron | 27 mg. |
| Calcium | 75 mg. |
| Iodine | 150 mcg. |
Our Ratings
Pros
Made from quality ingredients.
Won't upset your stomach and non-constipating.
Low on synthetics.
Also an excellent vitamin for those trying to conceive.
Cons
Pricey.
They don't contain DHA, or enough calcium or iodine, so you'll need an additional supplement for those.
You have to take them three times a day.
The new formula contains folic acid and not the superior folate.
Community Feedback
Definitely impressed with these prenatal vitamins, as they are made from real food and have a split dose for better absorption. Although the smell and taste might not be the most appealing, I found it manageable and was able to swallow the tablets without any issues. I appreciate that the dosage can be adjusted according to personal needs and dietary habits. While I noticed some initial side effects, they disappeared after a week or so, and overall, I feel great using this product. However, I do wish it included DHA, as I had to supplement with a separate product for that.
---
Megafood Prenatal and Postnatal Supplement
Best Whole Food Prenatal Vitamin
Megafood is a company that goes out of its way to provide supplements that are as close to eating natural food as possible.
They contain a full vitamin profile, all from whole plant sources, and minerals bound to brewer's yeast.
This company is part of a growing trend of vitamin manufacturers who really care about the bigger picture. They're a "certified B corporation," which means they're committed to business practices that are socially and environmentally sound.
Product Specs
Nutrition Label
| | |
| --- | --- |
| Folic Acid | 600 mcg. |
| Iron | 18 mg. |
| Calcium | N/A. |
| Iodine | 150 mcg. |
Our Ratings
Pros
Can be taken on an empty stomach.
Kosher, non-GMO and gluten-free.
Tested for pesticide residues.
Cons
Pills are very large and need to be taken 2 times a day.
Requires refrigeration.
It contains yeast extract which you may want to avoid if you are allergic to it.
Community Feedback
My experience with these prenatal vitamins has been overwhelmingly positive, as they have noticeably improved the health of my skin, nails, and hair. Initially, I was hesitant about having to take four tablets daily, but it has become a manageable routine with two in the morning and two with dinner. The taste was a bit off-putting at first, but taking them with flavored drinks like orange juice or Gatorade made it easier.
---
Garden of Life Organics Prenatal Chew Gummies
Best Gummy Prenatal Vitamin
These vitamins are an affordable option for moms-to-be. For women who are adamant about having folate in their vitamin, Garden of Life has it – a full 600 mcg in each serving. The vitamins are derived from organic fruits, which could be a plus if you're worried about the harmful effects of lower-quality supplements.
They come in berry flavor and the gummies are a good choice for those who have problems swallowing giant pills whole.
Moms who are on the lookout for allergen information will be glad to know that there are no artificial flavors, colorings, gluten, kosher, preservatives.
Product Specs
Nutrition Label
| | |
| --- | --- |
| Folic Acid | 600 mcg. |
| Iron | None |
| Calcium | None |
| Iodine | None. |
Our Ratings
Pros
Contains folate.
Inexpensive.
Easy on the stomach.
Cons
Doesn't contain any iron or calcium.
Molds may accumulate upon long storage.
The taste might not be to everyone's liking.
Community Feedback
Excellent organic gummy vitamins that my husband and I both enjoy for their natural fruit taste and absence of aftertaste. I switched to the Garden of Life prenatal vitamins a couple of months ago and noticed I have more energy throughout the day, even while pregnant. These vitamins have made a significant difference in the health of my hair, skin, and nails. The only downside is that sometimes the number of gummies in the container is inconsistent, causing me to occasionally take fewer than the recommended 4 gummies per day. Despite this minor issue, I found that these gummies were especially helpful during pregnancy, as they didn't cause any morning sickness or aggravate my gluten/dairy intolerance.
---
Garden of Life Vitamin Code Prenatal Vitamin
Best Prenatal Vitamin With Probiotics
This product is made from raw whole foods and designed for both pregnancy and lactation. They contain a broad spectrum of vitamins, plus ginger, which may help with morning sickness and may be soothing for digestive issues.
The probiotics in these vitamins are great not only for the baby's development but to support your gut health, too. Garden of Life Vitamin Code also contains 23 organic fruits and vegetables and all the antioxidants and vitamins contained in them.
There are no synthetic binders, fillers, flavors, colors, additives or sweeteners. Plus, the manufacturing process doesn't use high heat that could denature any active enzymes. The iron used in this product comes from all-natural food sources which should help cut down on nausea or constipation. Finally, everything is GMO-free.
Product Specs
Nutrition Label
| | |
| --- | --- |
| Folic Acid | 800 mcg. |
| Iron | 18 mg. |
| Calcium | 125 mg. |
| Iodine | 150 mcg. |
Our Ratings
Pros
Can be taken on an empty stomach.
Contains naturally occurring folate, rather than synthetic folic acid.
It's a good choice for moms who are worried about clean ingredients.
Cons
A little pricey compared to some other brands.
You have to take these three times a day.
Contains no DHA, and not enough calcium.
Community Feedback
I started using these prenatal vitamins after experiencing nausea with other brands, and I must say, these didn't make me feel sick at all! I appreciate that they are raw and contain great ingredients. Although the pills have a slightly odd flavor, I found that taking them with juice helped mask the taste. One downside is that these vitamins don't provide all the nutrients needed for a healthy pregnancy, so I had to supplement with additional vitamins and minerals.
---
DEVA Prenatal Vitamins One Daily
Best Vegan Prenatal Vitamin
This product is inexpensive, very easy on the stomach and contains 90 vitamins all derived from plant sources. The ingredients list also makes it a godsend for those women with allergies to soy, gelatin or fish.
These don't use artificial colors or preservatives, and they're gluten-free. They contain a full complement of essential vitamins and minerals, including vitamin C, vitamin D and B vitamins, which are essential for maintaining energy levels. High amounts of B12 are great for mom and baby, and the tablets don't have any strong taste or smell.
Product Specs
Nutrition Label
| | |
| --- | --- |
| Folic Acid | 550 mcg |
| Iron | 21 mg. |
| Calcium | 100 mg. |
| Iodine | 150 mcg. |
Our Ratings
Pros
Very inexpensive.
Unlike many other brands, they contain DHA.
You only have to take them once a day.
Vegan-friendly.
Cons
Some people have complained of black spots forming on the pills after some time.
Can cause nausea.
Contains chamomile flower, which may be unsafe for pregnancy.
Community Feedback
Definitely one of the best prenatal vitamins I've tried, these vegetarian-friendly pills provide an excellent range of nutrients for those on a plant-based diet. I noticed improvements in my hair and nail growth, which was a great bonus. One drawback is the smell and occasional aftertaste, but it's manageable and doesn't cause any nausea like other prenatals I've tried. Be prepared for the possibility of bright yellow urine, but drinking plenty of water clears that up quickly. Just make sure to take these vitamins with a full stomach and plenty of water for the best experience.
---
Mama Bird Prenatal Vitamin
Best Vegan Prenatal Vitamin with Natural B12
Methylcobalamin is the natural form of B12 your body uses from the diet, and though it's absorbed less thoroughly than the synthetic kind, more of it tends to stay in the body. Research is unresolved on which is the best kind, but if you're a vegan/vegetarian and want to play it safe, Mama Bird makes their product with natural B12.
These vitamins also contain probiotics and digestive enzymes, so even though they don't have DHA or much calcium, they're still an excellent all-round vitamin with high-quality ingredients. Even if you're not a vegan or vegetarian, you might enjoy that every ingredient in these vitamins has been carefully sourced from high-quality synthetics or whole foods where possible.
Product Specs
Nutrition Label
| | |
| --- | --- |
| Folic Acid | 800 mcg. |
| Iron | 18 mg. |
| Calcium | 100 mg. |
| Iodine | 150 mcg. |
Our Ratings
Pros
A high amount of natural folate.
Vegan.
Whole food sources.
Cons
No DHA.
Not enough calcium.
The tablets are quite large.
Community Feedback
I'm really pleased with these prenatal vitamins as they were recommended by my obgyn and I've been taking them for various stages of my pregnancy journey. This particular vitamin has a great combination of essential vitamins and minerals, and taking only one pill a day ensures my body is absorbing all the necessary nutrients. However, the smell of these vitamins is quite strong and can leave an unpleasant aftertaste, so be prepared for that. On the plus side, they contain the methylated form of folate, which is perfect for those with the MTHFR gene mutation, and they don't cause indigestion like some other brands. The only downside is the constant price increase, but overall, I believe these vitamins have contributed positively to my health and well-being.
---
Spectrum Essentials Prenatal DHA
Best DHA Prenatal Supplement
This supplement from Spectrum is exclusively designed to fill the biggest gap you'd get from taking an ordinary prenatal vitamin: your DHA. It's not a multivitamin so it doesn't contain any of the other essential vitamins and minerals; you'll need to take a broad-spectrum multivitamin for that.
Nobody would argue about the health benefits of eating oily fish or taking fish oil supplements, but the sad truth is that you can often end up consuming more than just Omega 3s when you eat fish or fish oil today. Heavy metals such as mercury and other ocean contaminants can accumulate in fish, making lower quality fish oils a potential risk for you or your baby.
A non-fish oil source of DHA is the safer option. These vitamins give you a good portion of DHA plus 240 mg of Omega 3 fatty acids, which are both vital for brain and eye development in your baby (1).
Product Specs
Nutrition Label
| | |
| --- | --- |
| Omega-3 fatty acids | 240 mg. |
| DHA | 200 mg. |
Our Ratings
Pros
No dreaded "fish burps."
Truly complete nutrition.
Affordable.
Cons
Some women have complained that the company frequently ships soon-to-expire products.
It can cause nausea.
The smell may be off-putting.
Community Feedback
These DHA supplements have been a fantastic addition to my prenatal routine. As someone who struggled with nausea from other DHA-containing prenatal vitamins, I found that these softgels are easy to swallow and have no unpleasant taste or aftertaste. I've been taking them for over a year throughout my fertility treatments and now during my pregnancy, and even my doctor recommends them. The gel pills don't get chalky or dissolve too quickly in my mouth, and they are smaller than other DHA supplements I've seen. The only downside is that they come in packs of 60, but using a subscription service has made that a non-issue for me.
---
Pink Stork Total Prenatal Vitamins
Best for Before, During and After Pregnancy
Let your vitamins do more with the Pink Stork Total. They are ideal for before, during and after pregnancy so your body can find something it loves and stick with it.
These vitamins are doctor-formulated with 100 percent of your daily values needed for pregnancy. Simply take two per day and enjoy the benefits.
These vitamins are formulated with all the good stuff and none of the stuff you're trying to avoid. No gluten, sugars, sweeteners, wheat, dairy, soy or other genetically modified ingredients.
Product Specs
Nutrition Label
| | |
| --- | --- |
| Folic Acid | 600 mcg. |
| Iron | 27 mg. |
| Calcium | 195 mg. |
| Iodine | 290 mcg. |
Our Ratings
Pros
Good for mom and baby, providing healthy development and immune support.
The flip-top design of the bottle is easy to open one-handed.
Vegan and vegetarian friendly.
Suitable for before, during and after pregnancy.
Cons
A few women experienced headaches after taking these.
The smell and taste made some women feel unwell.
Community Feedback
I've been using Pink Stork prenatal vitamins and postpartum mood support for a while now, and they've made a significant difference in my overall well-being. The vitamins smell great, do not cause constipation, and have given me more energy while preventing hair loss. However, I did notice a change in the scent of the pills and the addition of a new ingredient, choline, which caused some heartburn, but overall, these products have been beneficial to my health during pregnancy and postpartum.
---
Enfamom Prenatal Vitamins
Best Prenatal Vitamin with DHA
This pack from Enfamom was made with this very issue in mind. It's easy to purchase one box and know that you're getting everything you need, even if not exactly in the same pill.
These vitamins are very high in both iron and calcium and provide a hefty dose of folic acid. They also contain an impressive amount of vitamin D and vitamin C. If you're not interested in deciphering vitamin bottle labels and taking a handful of giant pills every morning, this prenatal duo covers all your bases with one simple purchase.
Product Specs
Nutrition Label
| | |
| --- | --- |
| Folate | 595 mcg. |
| Iron | 28 mg. |
| Calcium | 250 mg. |
| Iodine | 150 mcg. |
Our Ratings
Pros
No artificial flavors.
Truly complete nutrition.
Sugar free.
Cons
Some may find that the size of the capsule is a bit bigger.
Community Feedback
My experience with these prenatal vitamins has been mostly positive. They contain all the essential nutrients recommended by my fertility doctor, including iron, and they don't upset my stomach like some other options. The only downside is that the pills are rather large, making them a bit difficult to swallow. However, I've found that taking them after eating helps to prevent nausea and vomiting. While they may not be perfect, these vitamins have supported my pregnancy journey so far, and I appreciate their quality and effectiveness.
The Different Types of Prenatal Vitamins
Building a baby is hard work. When you consider that your growing child is relying exclusively on you to support them as they grow, you can appreciate how important it is to take in enough of the right nutrients. Though a healthy diet will go a long way, most of us will need a little help from a supplement to make sure we're ticking all the boxes.
Your healthcare provider may prescribe a prenatal vitamin, particularly if you have unique nutritional requirements. But if you're in good health and more focused on just covering your nutritional bases, you can easily buy vitamins over the counter without a prescription.
Broadly, there are two main types:
Synthetic vitamins
You'll have probably seen these for sale at drugstores or supermarkets. These are an excellent, affordable choice for the woman who doesn't want to get a chemistry degree just to choose a vitamin. These can also have an impressive ingredients list but beware: not all prenatal vitamins are created equal.
Synthetic vitamins are isolated, single nutrients manufactured artificially, and come in pill, powder, capsule or liquid form. The cheaper brands may be of variable quality. A high quantity of a certain vitamin on the label is less impressive if you know your body never absorbs half of it.
Pros
Usually one pill a day, so it's easy to take.
Inexpensive, and no extra cost if you were already taking an OTC vitamin. Simply switch to the prenatal one.
Comprehensive vitamin intake all in one pill.
Popular and readily available.
Cons
Some brands will have higher standards and quality control than others.
Synthetics are generally less biologically active than real food and may be harder to digest, absorb and retain.
Food-based vitamins
Understandably, many moms are dedicated to going as natural as possible during those all-important early months of pregnancy. It can feel strange to follow a healthy, whole-food diet every day but then pop a pill that was synthesized in a lab. Though synthetic vitamins are chemically identical to ones found naturally in the diet, our bodies don't always react to them the same way.
This is because when you eat real food, you also take in a whole symphony of vitamins, as well as enzymes, minerals and cofactors that support proper absorption. Food-based supplements try to mimic this. Though it depends on which vitamin you're talking about, most are better absorbed when they're part of a whole-food diet or a food-based supplement.
Pros
Easier on digestion.
A less risky alternative than synthetics, some of which can be dangerous in higher doses.
Are probably manufactured to a more rigorous standard.
More likely to include the essential nutrients not found in synthetic OTC pills.
Cons
More expensive than synthetics.
The research is still ongoing as to whether food-based vitamins are always a benefit, or always better than synthetics.
What to Look for in the Best Prenatal Vitamins
Prenatal vitamins contain many vitamins and essential nutrients, but there are 4 key components that pregnant women need to look for. If your vitamin doesn't contain one of these nutrients, you'll want to keep searching until you find one or supplement with a second vitamin that specifically addresses that need.
The essential components of a prenatal vitamin and their recommended dosages are:
Folic acid – 500mcg: One of the first nutrients you'll want in your vitamin is folic acid because it's non-negotiable when it comes to preventing birth defects.
Iron – 17mg: You'll need to ramp up your iron consumption during pregnancy (2). For one thing, you'll need more iron for your baby, but you'll also have more blood in your body while you're pregnant, and you'll need the extra iron to make hemoglobin.
Calcium – 200 to 300mg: Your baby needs calcium to grow their bones from scratch, but if you don't have enough in your system, your bones will suffer the deficit (3).
Iodine – 150mcg: Your baby needs iodine for brain and nervous system development. Every prenatal vitamin should have iodine in it (4).
Other important vitamins and minerals to look for are:
Vitamin B1 (thiamine) – 3mg: Helps prevent fatigue and is responsible for eye, brain, and respiratory fetal development.
Vitamin B2 (riboflavin) – 2mg: Responsible for healthy skin and eye development in your baby.
Vitamin B3 (niacin) – 20mg: Helps ease pregnancy nausea and maintain healthy digestion.
Vitamin B12 – 6mcg: Promotes healthy fetal neurological development and lowers the risk of neural tube defects, intrauterine growth retardation, and early miscarriage.
Vitamin C – 70mg: Being pregnant will put your body under more stress than usual. Vitamin C protects against stress and helps you better absorb iron (5).
Vitamin D – 400iu: If you're pregnant during the winter, or you don't spend any time in the sun, supplementing vitamin D will help strengthen you and your baby's teeth and bones, as well as help your body use calcium and phosphorus.
Vitamin E – 10mg: Can help reduce the risk of miscarriages.
Zinc – 15mg: Helps support nerve and muscle function while maintaining a healthy fluid balance in your body.
---
When Should I Start Taking a Prenatal Vitamin?
Ideally, you want to start taking one long before you try to conceive your baby. Why so early? Prenatal vitamins contain folic acid, which can help prevent birth defects like spina bifida (6).
But for them to give your baby all the protection he needs, you'll need to have folic acid in your system during conception. Babies grow at a rapid rate in the first few weeks – long before you even know you're pregnant.
What Time of Day Should I Take Prenatal Vitamins?
Take your multivitamin at whatever time you want as long as you can remember to take it consistently daily. If you suffer from morning sickness, you might want to take it later in the day or with a meal. If it's easiest for you to take it right before bed, you can do that as well.
When I was pregnant, I made sure to take mine with something to eat. If I didn't and I took it on an empty stomach, I felt nauseous for a couple of hours afterward.
Do Prenatal Vitamins Have Side Effects?
Just because something is good for you doesn't mean you can take it without any side effects. Your system may be a little more delicate when you're pregnant, and this could mean that certain ingredients in a multivitamin don't agree with you. However, almost all side effects are not dangerous, so much as uncomfortable.
Try to push through any discomfort for a few days but don't feel bad about switching if a pill isn't working for you. If one brand of vitamins doesn't suit you, another one will.
Some of the more common side effects are:
Constipation: Pregnant women often struggle with constipation – it's just one item on a laundry list of complaints women have about pregnancy. The iron in your vitamin may be making things much worse in this department.
Weird colored poop: Once again, iron proves to be a double-edged sword. Yes, you need it to remain healthy throughout your pregnancy, but it can also cause some issues. If you see green or extremely dark stool, iron is likely to blame. However, you should still check with your doctor to make sure.
Nausea: A lot of things can make pregnant women feel nauseous, including smells, food, and even prenatal vitamins (7). If you are struggling with a sick feeling when you take your vitamin, you might want to switch brands to one that doesn't contain quite as much iron, or try taking your vitamin with food to see if that helps.
Loss of appetite: Pregnant women may not be as hungry as usual in the first trimester of pregnancy because of morning sickness. But your lack of hunger might be caused by your vitamin as well (8). Prenatal vitamins can cause your appetite to take a nosedive, especially if accompanied by nausea.
What About Other Side Effects?
When taking prenatal vitamins, many women report experiencing trouble with:
Could the vitamins be to blame for these nasty side effects?
It's important to remember that prenatal vitamins are much like ordinary vitamins, only with some key additions to make them more suited to a pregnant woman's needs. They have high folic acid and iron, but typically less vitamin A, for example. So, any side effects will likely be related to their high content of the nutrients pregnant women need, for example, iron.
Though you may start noticing some unwanted side effects when you begin taking one, you can't be sure if these effects are from the vitamins or from merely being pregnant. Your body is undergoing massive changes. Experiencing acne during pregnancy, fatigue, anxiety, or changes in appetite are all quite common as your body adjusts to its new hormonal state.
If your side effects are bothering you, switch vitamins and see if things improve. If your symptoms persist, it's time to consult your doctor, as it's likely not your vitamins that are the cause.
How Do I Know Which Vitamin I Need the Most?
During pregnancy, all nutrients are important for your health and the health of your growing baby. The most important ones are iodine, iron, folic acid, DHA, calcium, and vitamin D.
If you're generally in good health, a quality over-the-counter vitamin will be more than enough to make sure you don't develop any dangerous deficiencies during pregnancy. However, you might like to pay special attention if you have any known deficiencies to begin with or have unique nutritional needs.
Women with absorption problems, digestive difficulties or those following diet restrictions might like to check with their doctors if there are any extra supplements they can take. If necessary, your doctor will prescribe a vitamin unique to your needs.
Prenatal Vitamin FAQs
---
Thank You For Your Feedback!
Thank You For Your Feedback!