Is your child into motorsports? Or perhaps you enjoy taking weekend trips to the desert to burn some rubber, and want your children to join in, too? But maybe your child is still too small for a motorcycle and too big for a ride-on toy car.
It may sound extreme, but ATVs, or all-terrain vehicles, are a good introduction to motorized vehicles.
Kids' ATVs include safety features, such as speed limiting. We've done your homework for you by finding the seven best ATVs for kids.
Image
Model
Product Comparison Table
Features
Best Baby Shark Bike
Dynacraft Quad Bike
Easy accelerator
Cool decal
Durable wheels
Best for Small Children
Peg Perego Polaris Outlaw Citrus
Low speed
All-terrain tires
Great look
Best for Children Over 10 Years
Razor Dirt Quad Off-Road ATV
Sturdy construction
Suitable for any terrain
Hand-controlled throttle
Best for Boys
Kid Trax Spiderman Battery-Powered ATV
Foot-controlled throttle
Multiple speeds
Traction tires
Best Onboard Features
Costzon Kids Ride On ATV
Trendy and realistic
ASTM certified
Durable wheels
Best for Beginners
Uenjoy Kid Electric Ride-On ATV
Remote control
Three-speed motor
Good suspension
Best for Girls
Kid Motorz Quad Pink
Super fun
Sturdy construction
Long riding time
---
---
The Best ATV for Kids of 2023
After spending the week looking through user reviews and expert sites, we finally found the best ATVs for kids.
Here are our top seven picks:
Dynacraft Baby Shark 6V Quad Bike ATV
Best Baby Shark Bike
Is your child obsessed with Baby Shark? Can't stop singing the song? Then they will love this Dynacraft Baby Shark quad bike. It'll be a dream come true for them to finally feel part of the song in a whole new way!
The bike even sings a part of the song with the push button on the handlebars. Okay, it might drive parents nuts, but it'll make your little one happy so why not?
Parents love it for their kids. The raving reviews sing praises to this bike, suitable for kids between 18 months and four years old. Parents also love how easy it is to assemble. If you've bought this as a present for your little one, it'll be up and running in no time after arrival.
What We Like
Cool Decal
The custom decal on this bike makes it extra exciting. Kids will love pointing out the different characters. It keeps them occupied even if the bike is charging! Plus, the Baby Shark song coming from the speakers ties everything together to make this the number one choice for fans of the Baby Shark movement!
Easy Accelerator
This bike is very easy to use. It is suitable for kids as young as 18 months and parents say they have not struggled to get the hang of it. In fact, most kids use this every single day — as it's just that much fun! To accelerate, all kids need to do is push the button at the front and off they go! To brake, simply release the button.
2.5 Miles Per Hour
This bike goes at a good pace of 2.5 miles per hour. Not as slow as some other options, so it's perfect for more adventurous children. At the same time, it's good for parents as they don't need to worry about their little ones going too fast.
What We Don't Like
For Certain Terrains
Parents found that this wasn't suitable for all terrains. It was good for carpets and concrete, but not so great on other indoor types of flooring. It absolutely does not work for grass, so if you want a bike you can take to the back yard, consider a different option.
Product Specs
| | |
| --- | --- |
| Recommended age | 18 months to 4 years |
| Maximum weight | 60 pounds |
| ATV weight | 17.3 pounds |
| Motor | 6-volt battery motor |
| Top speed | 2.5 miles per hour |
Our Ratings
---
Peg Perego Polaris Outlaw Citrus ATV
Best ATV for Small Children
If you're looking for an ATV for your 3- to 7-year-old, then the Polaris from Peg Perego is a great candidate. It's eye-catching and fun-looking, while also having essential safety features.
With a low top-speed and parental speed control, you can set it to suit your child's level of experience. For smaller children, the ATV can go as slow as 2.5 miles per hour.
It has all the fun components children look for, giving it a real quad look. Parent reviews praise the wheels, saying how smoothly they go over various terrains.
With a rechargeable battery and reverse mode, your little one should love riding this.
What We Like
Low Speed
For small children, you don't want anything that can go too fast by accidentally pushing the throttle too hard. This Peg Perego unit will help keep your little one safe. The Polaris Outlaw has a top speed of 5 miles per hour — perfect for small kiddos.
It also allows parents to lock the gears. This will prevent the rider from shifting into second gear, keeping them at a speed of 2.5 miles per hour.
All-Terrain Tires
Your little one can follow alongside you on the dirt roads or through the grass in the backyard. The ATV is suited with four all-terrain knobby tires, providing outstanding grip on various surfaces.
With a thorough suspension system, the ride becomes smooth and comfortable. It helps the driver keep focused on driving, too.
Great Look
In addition to its slow speeds, the Polaris sports a child-friendly look. It has a popping citrus color with stickers all around. Still, Peg Perego included some realistic details like fenders and shocks, among others.
Reverse Mode
When it's time to back up, your child can put the vehicle into reverse mode. It's fairly straightforward but will require some practice for young riders.
What We Don't Like
Long Charging Time
Some parents complained that the charging time is long. Peg Perego doesn't state anywhere how long it should take, but a few parents noted it took over ten hours. The manufacturer does offer another charger capable of charging the ATV in two hours.
Product Specs
| | |
| --- | --- |
| Recommended age | 3 to 7 years |
| Maximum weight | 85 pounds |
| ATV weight | 41.5 pounds |
| Motor | 12-volt battery motor |
| Top speed | 5 miles per hour |
Our Ratings
---
Razor Dirt Quad Off-Road ATV
Best ATV for Children Over 10 Years
For children 10 years and older who have more experience, we recommend considering this ATV from Razor. The Dirt Quad is built for tough environments — the sturdy construction and all-terrain tires make it perfect for going off-road. Parents mentioned it worked best on off-road surfaces.
Your child should have a great time riding this. Everything is controlled from the handles, but there's no reverse mode.
This four-wheeler is great for taking with you on trips. It's relatively compact and easy to store. Your child can also choose from three attractive colors, suited for both girls and boys.
What We Like
Sturdy Construction
The Dirt Quad ATV from Razor is built to conquer tough roads and trails. It has a front brush bar as well as adjustable riser handlebars. The coil shock suspension ensures a smooth ride over bumps.
Suitable for Any Terrain
Your youngster can ride across an assortment of terrains. The ATV is suited with four 13-inch pneumatic knobby tires. They grip onto the surface, keeping the vehicle steady, even during high speeds.
Rear Carry Handle
Although this isn't exactly pocket-sized, Razor included a carry handle at the back of the ATV. This allows you to store it vertically over winter if needed or to fit better into a trailer when going on a road trip.
Hand-Controlled Throttle
The Dirt Quad is no toy — it has a high torque motor and gearing. Your child operates it all from the twist-grip, twist-throttle control, allowing them to shift gears and speed up. On the other handle, you'll find the hand brake, which activates the rear disc brake.
What We Don't Like
Short Battery Life
This ATV uses up a lot of power and will go through a battery every 40 minutes. Some parents said they used an additional battery to make it last longer, but we don't recommend doing this.
No Reverse
A few parents complained that it didn't have a reverse mode. It is quite heavy, so every time the rider gets stuck, they must jump off and drag it backward.
Product Specs
| | |
| --- | --- |
| Recommended age | 8 years and up |
| Maximum weight | 120 pounds |
| ATV weight | N/A |
| Motor | 24-volt battery motor |
| Top speed | 8 miles per hour |
Our Ratings
---
Kid Trax Spiderman Battery-Powered ATV
Best ATV for Boys
For all the Spider-Man lovers, this ATV is a good choice. It features all the bells and whistles a Spidey mobile should, even the famous chest piece. It's suitable for children aged 3 to 7 years.
Your little one will love riding this, chasing evildoers and saving the day. The 4-wheeler has two speeds and a reverse mode for getting out of tight spaces. The rider controls the pace from the foot-powered throttle.
Going over different surfaces won't be an issue. The tires are sturdy and capable of gripping onto slippery grounds, ensuring a safe ride.
What We Like
Fun Theme
It's decked out from head to toe with the famous web-crawler's colors and details. The whole front represents Spider-Man's chest piece — then there are blue details on the seat, handlebar, and throttle area.
Foot-Controlled Throttle
Your little superhero can control the speed using the foot-controlled throttle. It's easy and gives a realistic feel to the whole experience. It's straightforward to push down, steadily increasing the speed.
Multiple Speeds
Your child can ride reasonably fast — the ATV can reach a top speed of 5 miles per hour. The lowest speed is 2.5 miles per hour, which is best for beginners or doing tight turns. Your little one can also reverse — while reversing, the ATV will go at a maximum of 2.5 miles per hour.
Traction Tires
The tires are capable of going over different surfaces. The wheels are made of durable plastic but have a power Trax rubber traction strip running around the center of each wheel. This prevents them from slipping and enables smooth travel.
What We Don't Like
Not Good Uphill
The battery isn't powerful enough to handle hills. Parents noted that the ATV slowed down significantly.
Battery Isn't Removable
There were a few complaints about the battery. You can't remove it from the four wheeler, meaning that when charging, you'd have to situate the whole machine close to the outlet.
It's also not ideal for winter storing as cold temperatures tend to ruin batteries. If you don't have an indoor space to spare, you might need a replacement during the spring.
Product Specs
| | |
| --- | --- |
| Recommended age | 3 to 7 years |
| Maximum weight | 95 pounds |
| ATV weight | 42 pounds |
| Motor | 12-volt battery motor |
| Top speed | 5 miles per hour |
Our Ratings
---
Costzon Kids Ride On ATV
Best Onboard Features
If you're searching for an ATV that has some fun features, this one is worth a look. Costzon includes a lot of features we haven't yet seen on today's list. These allow you to customize your little one's ride with something that they love.
In addition to the fun features, the vehicle is soundly constructed. It has puncture-proof tires and an outstanding suspension system, allowing your little one to ride almost anywhere. It also looks fantastic — resembling a real, full-sized ATV.
The machine is suitable for children aged 3 to 6 years. It's an excellent vehicle to start with, as it doesn't go extremely fast.
What We Like
Fun Features
Costzon's ATV has a fully functioning MP3 player, AUX input, and USB port. You can insert your child's favorite music or connect it to a personal device to play stories while your child is riding. Additionally, this ATV can honk and has working headlights.
Safe Design
To ensure a smooth and safe ride, the ATV features a spring suspension system, which minimizes vibrations. Its four rugged wheels are made of high-quality PE materials, with zero chance of bursting or leaking. They can go safely over different terrains like grass and gravel.
Easy to Ride
It's effortless for even the smallest rider to operate. Your little one controls the throttle and brake from the foot pedals, leaving the hands unoccupied to operate the steering.
What We Don't Like
Poor Instructions
The ATV requires some assembly before you can use it. A few buyers pointed out that the instructions are poorly written. Some parents also had a few leftover washers after construction.
Product Specs
| | |
| --- | --- |
| Recommended age | 3 to 6 years |
| Maximum weight | 55 pounds |
| ATV weight | 11 pounds |
| Motor | 6-volt battery motor |
| Top speed | 2 miles per hour |
Our Ratings
---
Uenjoy Kid Electric Ride-On ATV
Best ATV for Beginners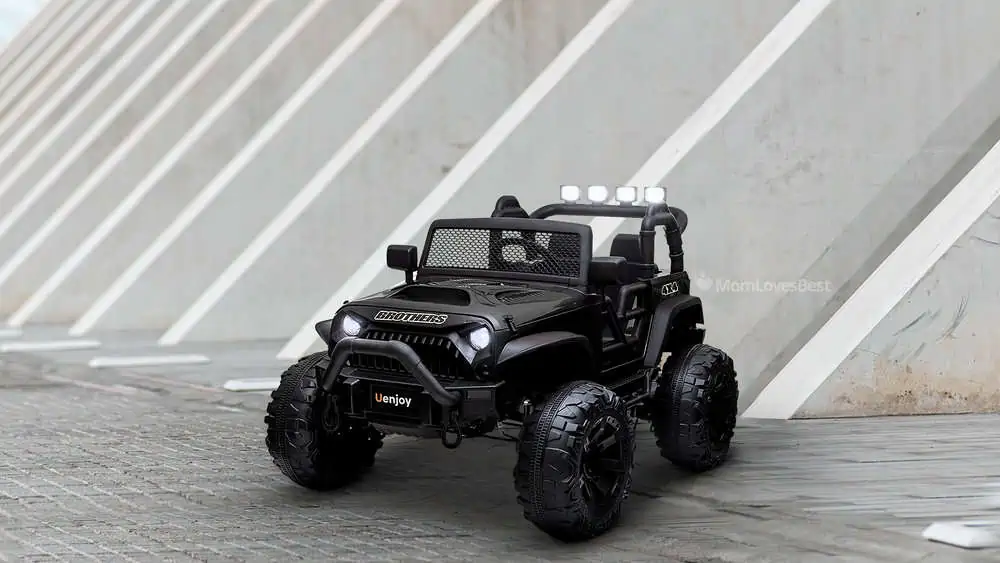 For beginners, we highly recommend having a look at this ATV from Uenjoy. It's a solid option for little riders who aren't confident with motorized vehicles.
You can control the ATV by using the remote, or your child can ride it by themselves. Either way, it's slow, which is good for newbies.
It's still a fun ride — your little one can listen to their favorite music via bluetooth connectivity, and it can also make realistic engine noises. The rider can go over an assortment of surfaces thanks to the suspension, but it's not for extreme off-roading.
What We Like
Three-Speed Motor
Parents are praising this ATV due to its slow speeds. It's good for young children who are learning how to ride, use a throttle and turn. You can switch between three slow-paced speeds to suit your little one's needs.
Bluetooth Connectivity
The rider can listen to their favorite tunes while driving around the backyard since this ATV has enabled bluetooth connectivity. Additionally, there's a shift lever and electric pedal for a realistic ride-on experience.
Good Suspension
Although this ATV isn't for heavy-duty off-roading, it does have a decent suspension system. Parents say it works well over grass and dirt roads. The suspension will work to minimize vibrations, helping your little one feel more comfortable and confident.
Parent Controller
If your child is still too little to ride by themselves, there's a remote control included in the package. If needed, connect it to the ATV, and you can operate the vehicle while your little one sits back and enjoys the ride. Keep in mind it requires two AAA batteries, which aren't included.
What We Don't Like
Vague Instructions
A few parents complained that the manuals are not so helpful at all.
Product Specs
Recommended age
4 to 8 years (1 kid)
1 to 3 years (2 kids)
Maximum weight
88 pounds
ATV weight
48.5 pounds
Motor
12-volt battery motor
Top speed
3 to 5 km/h
Our Ratings
---
Kid Motorz Kiddie Quad Pink ATV
Best ATV for Girls
For little girls, we found this ATV from Kid Motorz. It's bright and colorful, perfect for girls between the ages of 3 and 6.
Included with the quad are decals to decorate it how your little one pleases. This consists of dashboard decals.
The Kiddie Quad is quite sturdy to ride and will resist flipping over. It has a maximum speed of 1 mile per hour, which is nice for those who are learning.
Many parents say how much their children love it, praising the pace as just right for the age group.
What We Like
Super Fun
The Kiddie Quad sports pink and red colors, with cool decals. Down the sides are dashboard details, and even the wheels are decked out to suit the rest of the ATV.
Sturdy Construction
The four wheels rest on a strong front and rear structures to ensure a steady ride. The manufacturer claims that thanks to this, it's difficult to flip the vehicle over during turns.
Long Riding Time
The ATV comes with a 6-volt battery and charger. Once fully charged, your little one gets up to 60 minutes of riding time before needing a recharge. It's a considerable amount compared to many others that only last for 40 minutes or less.
Controlled Speed
You don't have to worry that your child will go too fast — the Kiddie Quad isn't extreme when it comes to speed. Its maximum speed is 1 mile per hour, keeping the rider safe.
What We Don't Like
Poor Steering
Some parents complained about the steering, saying it was quite poor.
Best for Indoors
It's not the best for outdoor use. The wheels don't do well on uneven surfaces, and due to the slow speed, it stops when going onto grass.
Product Specs
| | |
| --- | --- |
| Recommended age | 3 to 6 years |
| Maximum weight | 55 pounds |
| ATV weight | 10.14 pounds |
| Motor | 6-volt battery motor |
| Top speed | 1 mile per hour |
Our Ratings
---
How to Choose an ATV for Kids
---
ATV Safety Tips
In most cases, preventing ATV injuries starts with the rider, or when it comes to young riders, the parents. Here are some safety tips and rules you can and should implement when your child begins to ride (1):
Always wear DOT-compliant gear: This includes a helmet, long-sleeved shirt, pants, goggles, gloves, and over-the-ankle boots.
Keep off paved roads: Avoid riding on public paved roads, except when crossing safely and legally. Riding on the road with other cars can lead to collisions — remember, ATVs are for off-highway riding.
Never exceed the ride-on limit: Never let your child carry a passenger unless the ATV is designed for two. This can interfere with steering and increase the chances of flipping over.
Supervise: Children under the age of 16 should never be allowed to ride unsupervised. ATVs aren't toys, and accidents do occur no matter what speed they go.
Ride age-appropriate ATVs: Never let your child operate an ATV that's too big. Always choose one for their age group.
Teach safe speeds and appropriate places: Your child must know how fast they're supposed to go and where they're supposed to ride. Give them a speed limit that they should never cross.
---
Final Thoughts
ATVs are fun for children, and they offer great learning experiences for vehicle and road safety. However, when finding the best ATVs for kids, you must stay within your child's age range to ensure it's not too fast or heavy. Look for safety features like a speed limiter and a low maximum speed.
Before your child is ready to ride, ensure that they follow safety advice. Always wear the right gear, never ride on roads, don't exceed speed limits, or ride more than one on the ATV.
Also, never leave children under the age of 16 unattended while they're riding.
Thank You For Your Feedback!
Thank You For Your Feedback!