Everyone thinks that expecting baby number two is a walk in the park. You know what you're in for when it comes to the sleepless nights, thousands of diaper changes, and all the extra love to give. But, we often forget that it's a whole new experience for our firstborn, and it may even be a bit scary.
If your firstborn is young, one of the best ways of explaining the process to them is through talking and reading. Big sister and brother books use child-friendly illustrations and stories to better the understanding of what's coming.
Image
Model
Product Comparison Table
Features
Best Book Overall
You're the Biggest
Keepsake gift book
Colorful illustrations
Unisex
Best for Big Sisters
I'm a Big Sister
Paper-collage artwork
Rythmic sentences
Provides practical guidance
Best for Realistic Expectations
The New Baby
Funny & heartwarming
Quirky illustrations
Suitable for preschoolers
Best for Big Brothers
I Am a Big Brother
Cheerful images
Brief & lyrical text
Interactive & engaging
Best for Daniel Tiger Fans
Big Brother Daniel
Cute & adorable story
Colorful board book
Teaches responsibility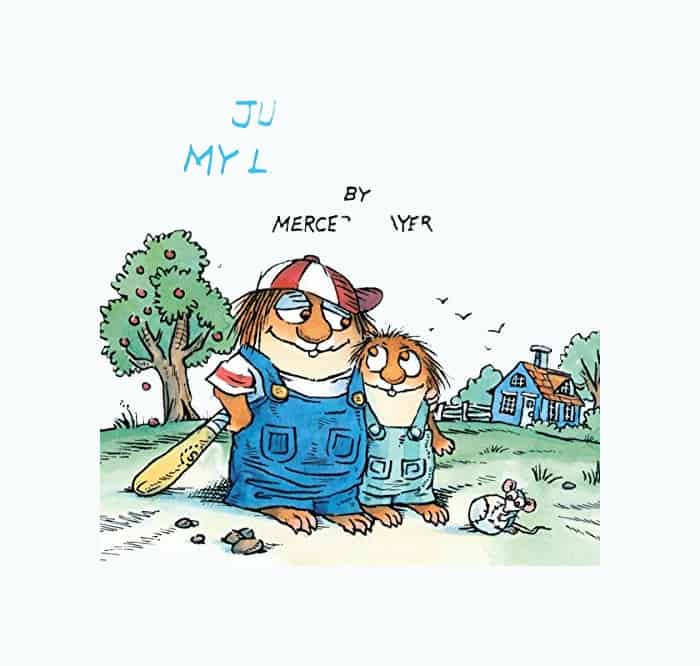 Best Little Critter Book
Just Me & My Little Brother
Suitable for brothers
Encourages sibling bonding
Appropriate for preschoolers
Best for Explaining Pregnancy
Hello in There!
Interactive book
Whimsical drawings
Has sturdy pages & flaps
Best for Families Expecting Twins
God Gave Us Two
A story book
Faith-based references
Affirms a child's uniqueness
Best for Young Toddlers
What Sisters Do Best
Intriguing illustrations
Cute story book
Promotes kindness
Best for Colorful Illustrations
My New Baby
A board book
Lively illustrations
Simple conversational text
---
---
The Best Big Sister and Brother Books of 2023
Here are ten of the sweetest big sibling books.
You're the Biggest
Best Big Sister and Brother Book Overall
You're The Biggest is an outstanding book, suitable for both big sisters or brothers-to-be. The short story is about two adorable foxes, where the biggest is discovering what it means to be an older sibling. Every page includes colorful illustrations without too much text, which is great for toddlers and preschoolers.
Parents like how wonderfully adorable the book is, saying it was just right for their firstborn.
What we love the most is the blank space in the front. This spot is for a personal message for your firstborn. You can write a comment from you or as a greeting from the new arrival.
---
I'm a Big Sister
Best Book for Big Sisters
For big sisters-to-be, I'm a Big Sister by Joanna Cole would make a fantastic addition to the bookshelf. The book was first published in 1997, but its illustrations and text make it timeless.
The story revolves around a little girl who has a new baby in the house. As you go through the pages, she'll contrast what she and the baby can do. More importantly, she also talks about how special she is to mom and dad, even with the new baby here.
Parents love how positive the story is and the colorful images that go along with it. It's also available for big brothers. The book is suitable for ages 4 to 8 years — however, parents note that it's better for toddlers and preschoolers.
---
The New Baby
Best Book for Realistic Expectations
Parents know firsthand how hard life with a newborn can be, and it's good to prepare the big sister or brother. The New Baby is all about explaining the real expectations of a newborn, with some fun in-between.
In the story, we follow Little Critter as his baby sister arrives. Throughout the book, he's helping take care of his sister, including diaper changes, rocking her to sleep, pushing the stroller, and tickling. It's all the things that older siblings can help out with.
Because it's a Mercer Mayer book, the illustrations are quirky and adorable. There are lots of colors, making it an attractive book for preschoolers.
---
I Am a Big Brother
Best Book for Big Brothers
When little boys become big brothers, they may need some extra TLC (tender loving care) to adjust. The book, I Am a Big Brother, will help provide as parents cuddle and read this to their boy.
It's a loving story of a boy who becomes a big brother and how he adjusts to his new role in the family. The boy expresses how happy he is about the new arrival and helps out when he can. He talks about the fun tasks and even the less pleasant ones, such as diaper changes.
The illustrations are vibrant to emphasize the sweet tale, and the text is rhythmic. It's a wonderful pick for toddlers and preschoolers.
---
Big Brother Daniel (Daniel Tiger's Neighborhood)
Best Book for Daniel Tiger Fans
My toddler loves Daniel Tiger, so this would be a fantastic book to introduce a new little one. It's a book version of an exceptional episode of Daniel Tiger's Neighborhood, where Daniel becomes a big brother.
In the story, we get to follow Daniel Tiger as he's learning what it's like to be an older sibling. He's happy and excited to help take care of his baby sister Margaret, but sometimes, big brother needs a hug, too.
The book is just as wonderful as the series. Each page has minimal text, which is ideal for keeping the attention of small children.
---
Just Me and My Little Brother
Best Little Critter Book
Not every day is sweet and problem-free with a younger sibling, and this Little Critter book touches on that. Just Me and My Little Brother is about Little Critter thinking of all the things he and his little brother will do. However, along the way, he discovers that sometimes they'll fight, and he may have to compromise.
The book isn't every parent's cup of tea, but we love it. It's not all about the sweet things and will touch on some issues. Fortunately, they get resolved in ways that preschoolers can understand.
---
Hello in There!
Best Book for Explaining Pregnancy
As every mother knows, those nine months of pregnancy can feel like years, so imagine what it's like for a preschooler. Hello in There! is all about the wonders of waiting for a new sibling to arrive.
In the book, we follow a young girl who's so excited about mom's pregnancy that she starts her big sister duties early. Through the belly, she sings songs, explains things on the outside, and much more. It's a breezy story with a good flow and gentle humor parents can relate to.
Some of the pages include flaps to flip and lots of fantastic drawings. Although it's a girl, the book is suitable for boys, too.
---
God Gave Us Two
Best Book for Families Expecting Twins
If you're expecting twins, the surprise ending in God Gave Us Two will fit right in. The story is about a sibling-to-be's worries as their mother is waiting for baby number two (and three).
The little cub will ask heartwrenching questions, including "Will you forget me?" and "Why do we need a new baby?" The parents reassure the little cub of their unchanging love.
The story is gentle and suitable for both boys and girls. The polar bears and their snowy home make it extra special for winter babies.
---
What Sisters Do Best
Best Book for Young Toddlers
In What Sisters Do Best, you get to read a story about what big sisters can do. Big sisters can teach how to ride a bike, swim, climb a tree, or start a game of tag. Most importantly, big sisters will be there when their younger sibling needs them.
The book celebrates sisterhood in the most adorable, lovable way possible. Plus, the intriguing illustrations make it irresistible to toddlers.
---
My New Baby
Best for Colorful Illustrations
Our last book of today is a sweet story of an older sibling's curiosity toward the baby. What do babies smell like? When will they walk, and what do they like to eat?
It's a whole new experience for the firstborn.
Throughout the story, you follow siblings-to-be as they look forward to the new arrival with both happiness and worry. It gives a realistic look at what's to come with vibrant colors, illustrations, and simple text. It's suitable for preschoolers and young children aged 5 years and up.
How to Choose Big Sister and Brother Books
Reading is one of the best things you can do for stimulating your child's mind or helping them make sense of upcoming changes.
But not all big sister and brother books are equally great. Many convey unrealistic expectations or are not at all relatable. Here are a few things to keep in mind:
Age appropriateness: Make sure the book is suitable for your little one's age and understanding. Books with a lot of text on each page aren't ideal for toddlers (1). However, they could be a good choice for older children who need more content.
Relatable to your family: Not all families prepare for a new baby in the same way. Some will include the firstborn in everything, while others don't. Look for a book that relates to your situation to avoid confusion on the part of the child.
Entertaining: You want the book to be fun to read, especially with small children. It's best if there is a good, rhythmic flow and some intriguing illustrations (2)
---
Setting Them Up to Be Lifelong Buds
Investing in big sister and brother books is a fantastic way of preparing your firstborn for the new arrival. Reading to your children is a proven way of developing understanding and becoming great learners. When it comes to this type of book, you have a vast selection, so there's something for every family.
When you're searching, make sure to consider the age recommendations of the book. With small children, always go with limited text and lots of images. Then make sure the story relates somewhat to your family to minimize any confusion and really drive home the point.
Thank You For Your Feedback!
Thank You For Your Feedback!