Are you longing for the convenience of disposable diapers with the benefits of cloth diapers? Are you looking for diapers that are good for your baby and are also kind to the environment?
Finding that perfect fit for your needs is important. Your baby will constantly be in diapers, going through about 3,000 diapers in just that first year alone.
Knowing that can increase the pressure you feel to find the safest, most chemical-free diaper for your baby's skin.
With Naty diapers, you can still use disposable diapers while minimizing your carbon footprint and reducing your baby's exposure to toxins.
---
What You Should Know Before Buying Natural Diapers
If you've been out shopping for diapers, you know there's certainly no shortage of diaper options on the market today. There are even several brands turning away from conventional chemicals and leaning toward natural materials.
This can make choosing diapers quite overwhelming, and you may need to try several options first before finding out what works for your baby and your family.
If you decide to go the natural route, there are several things you should be looking for in a diaper:
Fewer chemicals: The fewer synthetics, the more natural a diaper will be. Look for diapers that are free of fragrances, dyes, GMOs, chlorine, latex, phthalates, and other allergens and irritants.
Eco-friendliness: True eco-friendly diapers will be made with biodegradable materials and will have packaging that is recyclable.
Cost: Green diapers are usually more expensive than conventional ones. Find as natural as a diaper as you can that fits into your budget.
Softness: You want to make sure your baby is comfy, so you'll need a diaper that is ultra-soft, smooth, and perfect against your baby's skin.
Absorbency: If you're tired of dealing with leaks, then you'll probably just want the most absorbent option out there.
Fit: Every baby is different, therefore one diaper may fit your baby better than others. Find an eco-friendly diaper with a great fit around the waist and legs so you won't have to deal with leaks and blowouts.
It may be difficult to find the entire checklist in a diaper though, so you will need to choose what is most important to you and ultimately, what works best for your baby.
---
Product Overview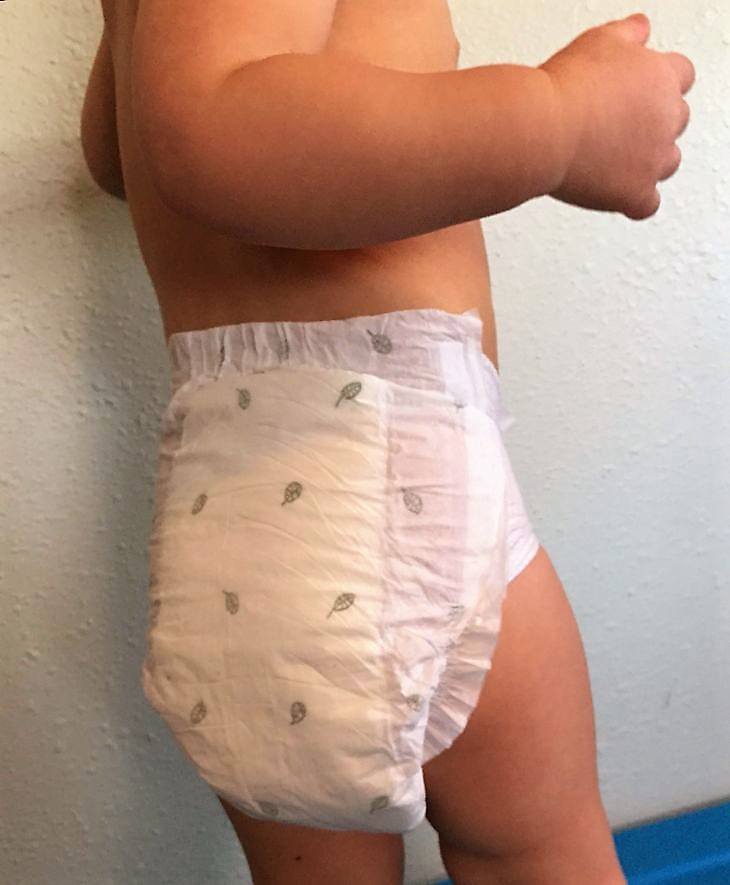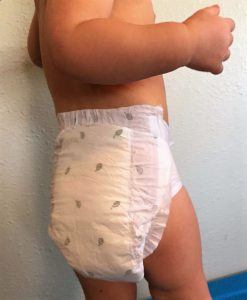 Naty disposables are eco-friendly diapers that are gentle on your baby's skin and kind to our planet. Made with biodegradable and natural, sustainable materials, they are pretty much the closest thing you'll get to cloth diapering without all the dirty diaper laundry.
They are beautiful, comfy, and green all at the same time, and you won't have to worry about your baby being exposed to harmful chemicals while wearing them.
These are a great option if you're planning on doing a combination of cloth and disposables or if you want to do disposables full time, but still want all the health and environmental benefits of cloth. They are also a great option to keep diaper rashes at bay if your baby has super sensitive skin.

Pros
Completely free of irritants and allergens.
Made with natural, biodegradable materials.
Breathable.
Good price compared to other all-natural brands.
Cons
No wetness color changer indicator.
Not available at most major retailers.
Only average absorbency.
---
Key Features and Benefits
1.

Eco-friendliness
You won't feel guilty throwing another diaper in the trash with Naty disposables. Naty is devoted to eliminating as much non-biodegradable material as possible in their diapers.
They use natural, plant-based compostable materials, like compost certified tissue and sugarcane. The leakage barrier is made with cornstarch instead of plastic, which has proven to be just as effective, but completely biodegradable. All materials are also 100-percent GMO free.
Most disposable diapers on the market are made with plastic, dioxins, and the absorbent gel, sodium polyacrylate.
These materials don't degrade well and will remain in our landfills for hundreds or even possibly thousands of years. They'll be polluting our land, water, and air with potential carcinogens and endocrine disruptors.
Naty is out there to help eliminate this problem.
2.

Health

Naty diapers aren't only a healthy choice for the environment, but they are also a healthy choice for your baby.

Take Note

"Naty makes the strongest effort to reduce the number of toxic chemicals against your baby's precious skin, and you'll notice that as soon as you open the package. There won't be any strange chemical-filled odors hitting you in the face like there sometimes is with large commercial brands.

These diapers are 100-percent chlorine-free, unbleached, and completely fragrance-free, making them a great option for even the most sensitive of skin. They are also free of other undesirable materials many mainstream diapers contain, such as phthalates, heavy metals, formaldehyde, and PVC.

A Real-Life Example: My niece, who struggles with eczema, had absolutely no irritation or rashes with these diapers. It was easy to see why these are certified by the Swedish Asthma and Allergy Association.
3.

Absorbency
Unlike most disposables, Naty leaves out the toxic sodium polyacrylate and sticks with wood pulp as the main absorbent. You do lose out on some absorbency because of this, but the health benefits are certainly worth it.
Overall, this diaper still has pretty average absorbency. I had to change my little one about every 2-3 hours to avoid leaks with these diapers. This wasn't a big deal for our family, as this is how often we change our cloth diapers.
These diapers probably aren't the best choice for overnight or super heavy wetters though. Due to their construction of biodegradable and renewable materials, if left on too long, the moisture will come through them, and you'll feel the wetness on the outside of the diaper.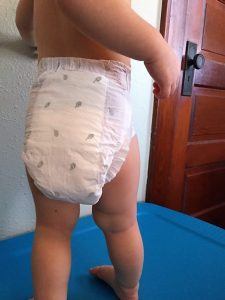 4.

Design

Naty diapers maintain a classy look with cute, simple prints, like flowers, leaves, and hearts. However, they don't contain a wetness indicator, which is a bit of a downer for some parents who like the convenience of that, especially in the newborn stage.

A diaper that fits well means fewer leaks and blowouts. The elastic gussets around the legs fit very well on my little one, and we didn't have any leaks.

These diapers do seem to go up the back quite a bit, but I could see this being a good thing in helping contain blowouts when your baby is exclusively breast or formula-fed. While these diapers fit extremely well on my baby, it's important to remember that every baby is built differently, and what works for one baby may not work for another.

One design fault I did find with these diapers is that the tabs seemed pretty weak. I didn't have any problems with the tabs falling off, but I could see them coming off if you were dealing with a wiggly baby and pulled on them too quickly or too hard.

They also don't seem to stick well if you have to readjust them. The tabs didn't stick again when rolling up a dirty diaper.
5.

Comfort

The inside of this diaper has a nice soft cloth feel to it. It seems like the closest you'll get to real cotton against your baby's bottom.

There is also a cornstarch film that helps keep baby dry, prevents diaper rash, and makes the diaper breathable, even on the hottest of days. The fit is super trim, making it easy for your baby to crawl, scoot, and climb.

My little one seemed super content wearing these diapers. They sure didn't stop her from climbing onto our kitchen table … yet again.

However, the outside of the diaper feels rough and scratchy, almost like your baby is wearing tissue paper.

A Blessing And A Curse

You can definitely hear when your little one is walking around, as the material is quite loud and crunchy sounding. But hey, at least you'll know when your baby is up to something!
---
How Do They Compare?
Bambo Nature vs Naty
Many moms love the Bambo Nature diaper's comfort, fit, and wetness indicator. However, if you are looking for diapers that are truly eco-friendly, you might be surprised to notice that on their ingredients list you'll see that they use polyethylene (PE) and polypropylene (PP) which are plastics and oil-based materials.
Seventh Generation vs Naty
If you're looking for a more budget-friendly green option, then you may want to check out Seventh Generation Free & Clear. Many moms like that these diapers are durable, absorbent, and easy to grab at most major retailers.
However, these aren't as kind to the environment as one would think, as they are not biodegradable and the packaging isn't recyclable. So if that is your primary concern, I would go with Naty.
Babyganics vs Naty
Babyganics is one of the more comfortable and durable options on the market when it comes to natural options. While these diapers are super soft, they could be better for the environment and your baby's health.
However, unlike with Naty, many natural-minded moms wish this brand would offer a full disclosure list of their ingredients and they are a bit leery that the diapers have a fragrant odor.
Andy Pandy vs Naty
Eco-conscious moms love that Andy Pandy diapers are made with bamboo, which is an incredibly renewable and sustainable resource. While these biodegradable diapers are an intriguing option for the environment, if you are on a limited budget or you have a heavy wetter, I would recommend sticking with Naty.
---
Back to Nature with Naty
If you're ready to ditch the chemical-filled plastics and get back to nature, you may want to give Naty diapers a try. These green diapers are gentle on your baby's skin, friendly to our planet, and kind on the wallet.
Have you tried Naty diapers? Did they work for you and your baby? Share your experiences with us in the comments below and be sure to share this review with your natural-minded mom friends.