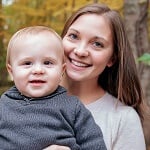 Melissa is a licensed pharmacist in multiple states, a mother of three, and a lifelong product guru and wellness enthusiast. Melissa's training in the world of pharmacy began with her undergraduate studies in biology and chemistry (where she also played collegiate volleyball). She then enrolled in the doctoral of pharmacy program which she graduated with her PhD.
Beyond her academic accomplishments and formal training, Melissa also served over three years as a clinical pharmacist for the Department of Defense, as well as another stint for one of the largest pharmaceutical prescription benefit managers in the world, gaining invaluable first-hand experiences.
Melissa's ability to dissect both the product as well as the chemistry and science behind it is her superpower, and helps inform the product evaluation process in our research and analysis. We are all grateful for the knowledge she brings to our readers and audience every day.
Melissa's Education & Training:
Biology and Chemistry, Catawba College
Doctor of Pharmacy (PharmD), Campbell University, College of Pharmacy & Health Sciences
Melissa's Work History & Experience:
Clinical Pharmacist, United States Department of Defense
Pharmacist, Express Scripts
Follow Melissa:
Articles Edited by Melissa Bartholomew