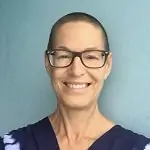 Dr. Gina Jansheski is a board-certified pediatrician with over 20 years of experience treating infants and children of all ages in many different settings.
After her residency training in general pediatrics, she pursued a fellowship in Developmental and Behavioral Pediatrics, choosing a program with a particular emphasis in autism spectrum disorders, genetic disorders, and child abuse.
She then entered the field of pediatric hospitalist medicine and became the medical director of her group of hospitalists. She was personally responsible for year-round, 24/7 coverage of a busy inpatient pediatric unit, newborn nursery, consultations in the emergency department, resident training program, procedural sedation service, pediatric hospice, founded a child abuse review team, and eventually she introduced a pediatric palliative care program, the first of its kind in her area.
Dr. Jansheski then moved on to another medical director position at The Painted Turtle, one of the Paul Newman Serious Fun camps for children with life-threatening medical conditions. This was another highly energized position with full responsibility for the medical care of children with kidney and liver transplants, hemophilia, spina bifida, immunodeficiencies, rheumatic conditions, skeletal dysplasia, cerebral palsy, and more, allowing them the chance to experience an authentic camp experience all year.
In her last years of practice, Dr. Jansheski decided to focus on outpatient services, working in a private office for a couple of years, and providing locum tenens temporary physician services in areas of need. She has been making the transition to a more volunteer-based lifestyle over the past three years, serving in primarily at an ashram in Rishikesh, India.
She has also devoted her time to a new charity that she founded, Helping Hands M.D. feeding street animals in Thailand and India. In order to maintain her flexibility to live abroad, participate in, and fund this charitable work, she has made the transition into medical editing and transcription through her new company, Helping Hands Transcription.
Dr. Jansheski has completed a certification in Medical Leadership through Pediatrix Medical Group. She is a graduate of the Harvard Palliative Care Education and Practice Program. Her interests have reached into the area of complementary and nutritional medicine, with an emphasis in development of the whole child, and she is a recent graduate of the eCornell University Certification Course in Plant-Based Nutrition.
Besides serving in India, Dr. J's volunteer work has taken her to Argentina and Bolivia, as medical staff for Rotaplast International, providing cleft palate surgeries to children in disadvantaged countries. She has worked in refugee and migrant clinics and has welcomed the opportunity to learn more about medical and child-rearing practices in other cultures.
She is a board-certified fellow of the American Academy of Pediatrics, is a member of the American College of Lifestyle Medicine and the Physician's Committee for Responsible Medicine. She holds active medical licenses in both Arizona and California.
Dr. Jansheski is very proud of her three grown sons, all who have served or are currently serving in our United States Military. She has also sponsored a young girl in India for the past 7 years, and one of the highlights of her life was to meet her for the first time in India last year. Dr. Jansheski has sold her home and given away most of her possessions to pursue a life of service. You can read more about her current life and charitable work at https://www.facebook.com/HHMDCharity/
Gina's Education & Training:
Doctor of Medicine (MD) from the University of Arizona College of Medicine, Tucson, Arizona
Residency in General Pediatrics from the University of Arizona Pediatric Residency Program, Tucson, Arizona
Fellowship in Developmental & Behavioral Pediatrics, The Children's Hospital, Denver, Colorado
Articles Reviewed by Gina Jansheski