Telescopes are one of the most accessible ways for kids to explore distant and not-so-distant locales. With a tube and a lens, they can explore the moon, the planets, and the stars, or watch as wildlife. And if you're lucky, your children will let you take a look, too.
There is a dizzying array of telescopes for kids, and the difference in price ranges for them is staggering. So, if you want to encourage your little explorer, we'll help you find the best telescopes for kids.
Image
Model
Product Comparison Table
Features
Best for Travel
Celestron Travel Scope Telescope
Highly portable
Extra eyepieces
Adjustable tripod
Best Beginner Telescope for Kids
Celestron 31036 AstroMaster LT 76AZ
User-friendly
East to set up
Includes cool accessories
Best Refractor Telescope
Emarth Refractor Telescope
Easy to use
Can be upgraded
Affordable
Best Budget Telescope
MaxUSee Kids Telescope
Moon mirror included
Easy-to-locate objects
Flexible accessories
Best for Astrophotography
Celestron Inspire 80AZ
Smartphone mount included
Easy to transport
Provides structure
Best With Equatorial Mount
Orion SpaceProbe II
Portable and compact
Great for the whole family
Bright viewing
Best for Viewing The Moon
NASA Lunar Telescope
Learning guide included
Extra eyepieces
Finder scope
Best Tabletop Telescope
Celestron 21024 FirstScope Telescope
Lightning fast set-up
Compact
Light and portable
Best Computer Controlled Telescope
Celestron AstroFi 102 Wireless Telescope
Flexible
Journey through the stars
Excellent for distance viewing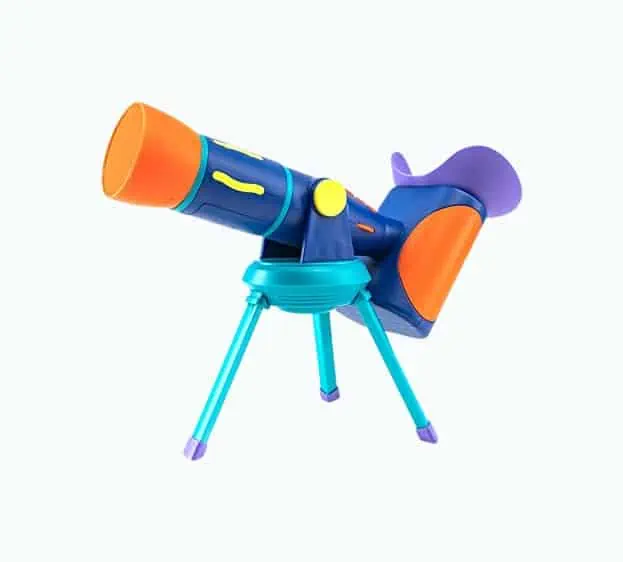 Best Toy Telescope
Educational Insights GeoSafari Jr.
Easy for younger children
Child-friendly design
Can be used any time
Review Methodology: At Mom Loves Best, we believe in providing you with thorough, hands-on analysis and assessments of products to help you make the best choices for your children. We evaluate each kids telescope from a user's perspective, applying professional criteria, standards, and benchmarks. Our reviews are based on first-hand experiences and data-driven research to measure, compare, and rank each product's performance. We identify key decision-making factors such as durability, clarity, ease of use, and educational value. Our reviews shed light on design choices and their effects on young astronomers. We're here to help you find the best kids telescope that stands out from its competitors, equipped with the right facts and evidence.
---
---
The Best Kids Telescopes of 2023
Here are our picks for the 10 best telescopes for kids of all ages and interests.
Celestron 80 mm Travel Scope Refractor Telescope
Best Kids' Telescope for Travel
The Celestron 80 mm travel scope is a portable refractor telescope that works well for viewing deep space objects and more Earthly targets. At only 3.3 pounds, it is light enough for your child to carry without an adult to help.
As a result, it is an excellent choice for the family whose child may want to take their telescope camping, hiking, or on longer trips and adventures.
The smaller telescope attached to the main scope is a finder scope. This is an important feature on telescopes in general, but can be especially so with a telescope for kids.
Why?
When you are looking at objects through a telescope, the smallest movement of the scope itself can cause you to lose sight of the object you were observing. Likewise, unless you have a sophisticated instrument that can be oriented according to specific coordinates, it can be difficult to locate a distant celestial object when looking through a telescope.
The finder scope has lower magnification which makes it easier to locate objects through. So, your child can find the object of their observation with the finder scope and then fine-tune the direction in which their instrument is pointing through the main telescope.
What We Like
Highly Portable
This telescope comes with a custom backpack designed to take the telescope, tripod, eyepieces, and smartphone mount. This makes it easy and comfortable to carry your telescope with you wherever you go.
Extra Eyepieces
The kit contains two additional eyepieces, as well as a smartphone mount for astrophotography, and downloadable astronomy software. The eyepieces provide some additional magnification, although not a great deal.
Adjustable Tripod
There is an adjustable height tripod allowing you to use it on the ground, on a table top, or at any height in between. That makes this telescope and tripod combo especially appropriate for traveling with children. Even the shortest of kids can have the tripod adjusted to a comfortable height for viewing the night sky, as well as Earthbound objects.
What We Don't Like
Not for Deep Space
With an 80 mm aperture, you may not be able to see as deeply into space as you want. This limits the Celestron's appeal to those who are looking for an entry-level telescope to encourage their child's blossoming interest in telescopes.
Product Specs
| | |
| --- | --- |
| Type | Refractor |
| Aperture | 80 mm |
| Includes | Two eyepieces, tripod, smartphone mount, backpack, software |
| Age Range | 5 years and older |
Our Ratings
Community Feedback
Best beginner telescope for those on a budget! As a complete novice, I found this telescope to be lightweight, portable, and perfect for planetary viewing. I've taken it car camping several times and the compact size made it easy to fit in with the rest of our gear. The tripod and finder scope could use some improvements, but for the price, it's hard to complain.
---
Celestron 31036 AstroMaster LT 76AZ Telescope
Best Beginner Telescope for Kids
The quick and easy, no-tool set-up of the Celestron AstroMaster means that this model can be out of the box and pointing at the sky in a matter of minutes. That's great for kids who are so enthusiastic they want to get started right away. It's also a plus if you're a busy parent who doesn't have much time to spare.
You also get the inclusion of a free download of the "SkyX First Light Edition" software that provides your child with access to printable sky maps, photos of celestial objects, and a 36,000 entry database.
What We Like
User Friendly
The panhandle control makes this model easy for children to move the telescope in all different directions through both horizontal and vertical plains.
You Don't Have to Be a Tech Genius
The Celestron AstroMaster doesn't require any tools or knowledge to set up. This makes it readily accessible to kids with the most technically challenged parents like me.
It Has Cool Accessories
The telescope comes with a sturdy tripod and two eye-pieces, one 10 mm and one 20 mm. There is also some astronomy software that can be downloaded to your tablet, laptop, or phone. This provides you and your child with some structure to your stargazing experience.
There is also a rather grandly labeled deluxe accessories tray. This is actually a plastic dish that is mounted between the tripod legs. The tray gives you a convenient spot to place your eye-pieces but you might want to set them there within a Ziploc bag to prevent them from becoming dusty.
What We Don't Like
Things Will Look Upside Down
When you look through the eyepiece of a reflector telescope, the image you see will be upside down. This is not an issue when looking at the stars, but some people might find it a problem for terrestrial viewing.
Product Specs
| | |
| --- | --- |
| Type | Reflector |
| Aperture | 76 mm |
| Includes | Tripod, astronomy software |
| Age Range | 5 years and older |
Our Ratings
Community Feedback
I'm impressed with the ease of assembly and the quality of the optics on this telescope. As a newcomer to astronomy, I found it incredibly lightweight and easy to put together despite my recent surgeries. The tripod and mount may not be perfect, but they were more than adequate for my needs. I was able to clearly observe objects both on Earth and in the night sky with minimal focusing. The telescope's ability to reveal stars not visible to the naked eye and provide a stunning view of Saturn's rings exceeded my expectations.
---
Emarth Refractor Telescope
Best Refractor Telescope for Kids
The Emarth telescope is a simple refractor model that comes with two additional eyepieces for greater image magnification. An excellent choice for an affordable, yet functional kids telescope, it is especially well-suited for children who are taking their first exploratory steps into the world of astronomy.
This one will give them enough clear objects that they won't be bored by the whole thing.
The tripod is sturdy but lightweight, and the carrying case included with the telescope makes it simple to store or take with you on vacation.
What We Like
Easy To Use
The finder scope makes it easier for children to point the telescope in the correct general direction and then focus more tightly on the celestial object they are viewing. It helps the process be more fool-proof, so they can enjoy it more.
Can Be Upgraded
Additional eyepieces can be purchased and attached for greater magnification. That means this telescope can be "lightly" upgraded, enabling your child to see even further.
Affordable
The Emarth is affordable enough to upgrade from if your child grows out of it and wants a better quality telescope.
What We Don't Like
Limited Potential
This Emath model is a great entry-level telescope for children who have shown an interest in telescopes but do not necessarily want to see deep space. The manufacturer's information says it's great for looking at the moon in detail but is not as good for viewing the detail of the planets.
You May Want A Better Tripod
The tripod supplied is only a small one, designed predominately for tabletop use, so you may want to buy another tripod.
Product Specs
| | |
| --- | --- |
| Type | Refractor |
| Aperture | 70 mm |
| Includes | Tripod, two eyepieces, case, finderscope. |
| Age Range | 5 years and older |
Our Ratings
Community Feedback
I recently purchased this telescope for my child and it has exceeded our expectations. The lightweight and portable design makes it easy to set up and the two included eyepieces offer various magnification options. We've been able to enjoy clear and bright views of the moon and stars, making it a perfect addition to our nightly routine.
---
MaxUSee Kids Telescope
Best Budget Telescope for Kids
A basic, entry-level telescope suitable for ages 3 years and up, the MaxUSee is a budget-friendly choice for the younger child. Since the target audience for this one is younger and it's more inexpensive, it doesn't have as many bells and whistles as some of the other telescopes on this list.
But it still has some features besides its price that make it a good pick.
This set includes two eyepieces, a tripod, a star map, and a moon map. The moon map is especially useful for identifying features on the moon's surface and giving focus to your lunar viewing.
The finder scope, with crosshairs, is useful for orientating the telescope before fine-tuning your focus. The two additional eyepieces provide you with a simple way to provide greater magnification.
What We Like
Moon Mirror Included
When you are observing the full moon, there can be a lot of glare. To combat this, the MaxUSee has a moon mirror that screws into the eyepiece. This reduces the glare and allows you to see sharper details.
Easy-To-Locate Objects
The built-in compass enables your child to point the telescope in a certain direction.
Flexible Accessories
MaxUSee has a range of telescopes with different apertures. If your child enjoys using this telescope and you find you want to upgrade, the accessories work across the range.
What We Don't Like
Limited Sky Viewing
To have a budget-friendly, kids' telescope, you have to give up some abilities. In the case of this entry-level MaxUSee, you give up being able to see objects further than the moon in detail. But it's a good starting point, and you can always upgrade later if your child continues to be interested in outer space.
Product Specs
| | |
| --- | --- |
| Type | Refractor |
| Aperture | 40 mm |
| Includes | Two eyepieces, tripod, finderscope, built-in compass, star map, moon map |
| Age Range | 3 years and older |
Our Ratings
Community Feedback
This telescope, while compact and seemingly ideal for children, has some limitations that may disappoint users. I found that the images appeared upside down, making it difficult to appreciate nature or stargazing as intended. Additionally, the tripod design could be improved for better stability, but overall, the telescope does offer some level of clarity for viewing distant objects.
---
Celestron Inspire 80AZ
Best Kids' Telescope For Astrophotography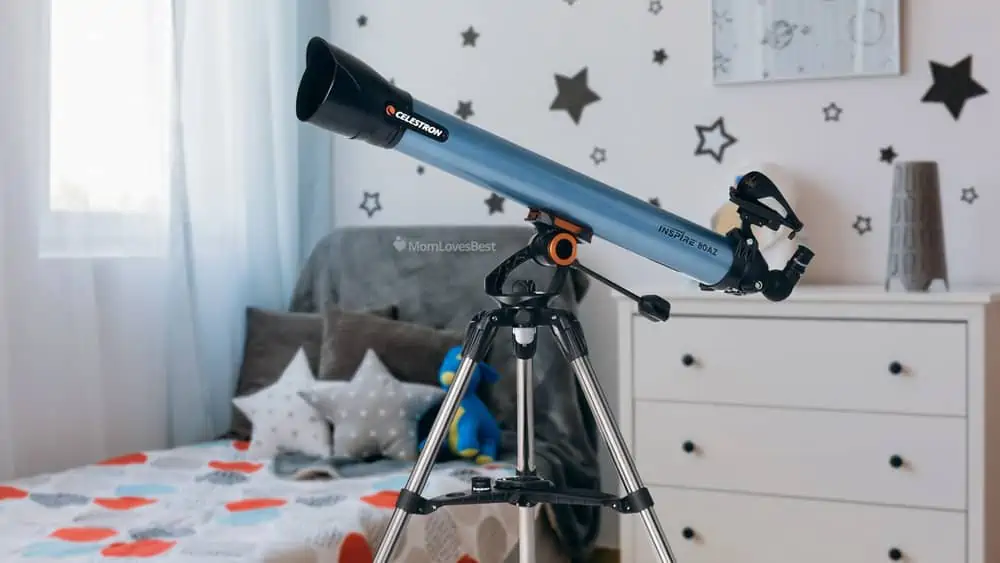 You've likely noticed there are a number of Celestron telescopes on this list, and there's a reason for this. Celestron is an established manufacturer of telescopes, microscopes, and binoculars and is well respected in the marketplace.
The Celestron Inspire 80AZ is an excellent entry-level telescope for those who want to begin taking photographs of their observations, especially if you will be taking the photos with a smartphone.
The smartphone attachment mount included with the Inspire will work for the majority of modern phones. Once the phone is mounted in the attachment, you can take photographs of any object you can see in the telescope.
To guide you through your explorations, you can download the Celestron Starry Night software. This free program, exclusive to Celestron, has a database of over 36,000 celestial objects, printable star maps, and moon maps. This is useful for answering your child's questions and giving some structure to your little one's exploration of the night sky.
What We Like
Smartphone Mount Included
The universal smartphone mount gives your child the opportunity to take dozens of photos of each object they find. They can then download their photos, edit them, and use them in a myriad of creative ways. Plus, instead of telling their friends about the cool things they've seen with their telescope, they can show them the proof.
Easy To Transport
The Celestron Inspire is lightweight, so it is relatively simple to pack and transport for day trips as well as longer adventures, camping, and more.
Provides Structure
The software is a useful educational tool that serves to give focus to your child's investigations of the sky. It can be easy for a child to become bored when looking through a telescope, but with specific objects to look for, your child can use the telescope with purpose.
What We Don't Like
Additional Eyepieces May Be Needed
This telescope is good enough to see craters on the moon, but will not give a good view of the outer planets. We purchased an additional 6 mm eyepiece for ours and that set-up is good enough to see some detail on Jupiter and the rings of Saturn.
Product Specs
| | |
| --- | --- |
| Type | Refractor |
| Aperture | 80 mm, but a 70 mm version is also available |
| Includes | Two eyepieces, tripod, finderscope, red LED flashlight, and an integrated smartphone adapter |
| Age Range | 5 years and older |
Our Ratings
Community Feedback
Got this telescope as a beginner and I've been quite impressed with its capabilities. The views of planets and the moon are fantastic, but it can be a bit tricky to find and track objects due to its slightly shaky tripod and focus knobs. Setting it up was easy, but I do recommend getting additional lenses and a moon filter for an even better stargazing experience. Despite some small flaws, this telescope has definitely fueled my love for astronomy and has been a great introduction to the hobby.
---
Orion SpaceProbe II 76mm Equatorial Reflector Telescope
Best Kid's Telescope With Equatorial Mount
A telescope on an equatorial mount lets you follow stars as they move across the sky. It moves on two axes, which means it may be a little more complicated to set up. But we think, and so do astronomers, that it's worth the extra time spent setting up. So when your little one finds a bright star, they can follow it across the sky with this telescope.
It has a reflector tube and slow-motion controls, making it a breeze to use. For kids that have a bit of experience with basic telescopes, this is a great stepping stone. It's fun for parents, too!
With this telescope, you can see everything in the night sky. This includes the moon, star clusters, planets, and more.
What We Like
Portable and Compact
This is a portable and compact telescope, making it easy to transport. This is great if you want to move it around your yard or even take it with you on a camping trip.
Great for the Whole Family
While this was designed with kids in mind and is definitely more suited to them, it's still great enough for the whole family. So if you're a keen astrologer or wanting to learn alongside your little one, this is a fantastic choice of telescope.
Bright Viewing
If you've been a little disappointed by other telescopes viewing abilities, then this will rock your world. Thanks to the 3-inch aperture tube, you will be able to view bright and clear images of the sky. This allows you to see the moon, star clusters, galaxies, and more.
What We Don't Like
Difficult Assembly
Due to this coming unassembled and the addition of the equatorial mount, this is a bit of a challenge to set up. Keep that in mind, so you don't experience the same frustration as some other customers.
A Learning Curve to Use
Although we think the equatorial mount is worth it, it's a learning curve to use. If you're used to basic telescopes or electric ones, getting to grips with the different axes is a bit of a challenge.

Product Specs
| | |
| --- | --- |
| Type | Equatorial Reflector |
| Aperture | 25mm and 10mm |
| Includes | Two eyepieces, MoonMap 260, red dot finder scope, adjustable tripod |
| Age Range | Not specified — we recommend about 8 and up |
Our Ratings
Community Feedback
I've been using this telescope with my kids, and they absolutely love it. The assembly was pretty straightforward, and we were up and running in about ten minutes. The build quality and optics are impressive, allowing us to see details such as moon craters. While the initial setup can be a bit tricky, the results are definitely worth the effort, making this telescope an excellent choice for amateur stargazers.
---
NASA Lunar Telescope for Kids
Best Kids' Telescope For Viewing The Moon
Billed as being a great telescope for beginners, this NASA lunar telescope is, as you might expect, specifically designed for looking at the moon. However, that doesn't mean it isn't suitable for other uses. You can use this telescope just as well for birdwatching, landscapes, and other terrestrial viewings.
It comes with a table-top tripod, which makes it an excellent option for those without a lot of floor or outdoor space where they can stand a larger, ground tripod.
It is branded as a lunar telescope because it has the right focal length for looking at the moon and seeing plenty of detail. However, other more distant objects in the sky can not be seen as clearly. So, you can't take a look at Saturn's rings through this telescope.
So, if you are looking for an all-purpose astronomical telescope, you may be better off considering one of the other options on this list.
What We Like
Learning Guide Included
It comes with a comprehensive learning guide. The guide talks about telescopes and then focuses on the moon. Having been written specifically for this telescope, it is a child-friendly resource that is easy for smaller children (and their parents) to understand.
Extra Eyepieces
Two additional eyepieces give the option of greater magnification when you are observing a particular feature of the moon.
Finder Scope Helps Little Ones
The finder scope makes it easier for younger kids to find the moon before using the main scope to focus on a specific feature.
What We Don't Like
Not Great For Other Celestial Objects
Having been made for optimal moon viewing, you will not be able to identify constellations or view the planets through this telescope. It's just not powerful enough.
Product Specs
| | |
| --- | --- |
| Type | Reflector |
| Aperture | 60 mm |
| Includes | One tabletop tripod, one low-power eyepiece, one high-power eyepiece, one lens dust cap, a learning guide with instructions |
| Age Range | 3 years and older |
Our Ratings
Community Feedback
Got this telescope for my young stargazer, who easily learned how to use it independently. This telescope offers a captivating view of celestial bodies such as stars and the Moon, fueling my child's fascination with space exploration. One minor issue we faced was a missing level 1 lens, but the company's responsive and helpful customer service quickly resolved the problem. While the instructions can be a bit confusing, especially for first-time users, the overall durability and affordability of this telescope make it a worthwhile purchase. My child has thoroughly enjoyed using this telescope, and it has sparked their imagination and curiosity about the cosmos.
---
Celestron 21024 FirstScope Telescope
Best Kids' Tabletop Telescope
If your child will be using their telescope at home, and space is at a premium, a tabletop telescope may be the best choice. Rather than being on a tripod, this FirstScope telescope from Celestron has an altazimuth mount. You can think of this type of mount like a gun turret and it allows you to rotate the telescope in any direction.
This telescope is available in the FirstScope tabletop design, which has the names of prominent astronomers printed around the outside of the telescope tube. There is also a "Moon By Robert Reeves" edition with a moon design, and the basic design white telescope.
This is an excellent entry-level telescope that works well straight out of the box, but there are also plenty of accessories to enhance your experience. The addition of a 6.4 mm eyepiece allows you to see the rings of Saturn clearly.
You can start out with this telescope, and if your child develops a strong interest in the cosmos, you can add accessories rather than buy a new scope.
What We Like
Lightning Fast Set-Up
Quick and easy to set up. You can keep this in a cupboard or on a shelf and have it out on the table and in use in a matter of moments.
Compact
The compact tabletop style makes it ideal for those who do not want or need the hassle of a full-size tripod.
Light And Portable
The telescope is light, even with the stand. You can use the scope as a handheld instrument. That means you can take this with you on trips and look to the sky without a table on which to stand it.
What We Don't Like
Separate Accessories Kit
There is a smartphone mount and an accessories kit available, but it would have been nice if everything was available as a complete package.
Product Specs
| | |
| --- | --- |
| Type | Reflector |
| Aperture | 76 mm |
| Includes | One 20 mm eyepiece, One 40mm eyepiece, stand, dust cap for lens, a free copy of Starry Night software (download) |
| Age Range | 4 years and older |
Our Ratings
Community Feedback
I've had the opportunity to test out this telescope before gifting it to my neighbor's 8-year-old son. Initially, I was disappointed with the optical issues and poor eyepieces, but after some adjustments to the secondary mirror, the views improved significantly. While this telescope doesn't provide Hubble-quality images, it offers decent views of brighter celestial objects, the Moon, and larger planets, making it perfect for sparking curiosity in young minds. It's easy to carry, simple to set up, and a great introduction to the night sky for youngsters.
---
Celestron AstroFi 102 Wi-Fi Wireless Telescope
Best Computer Controlled Kids' Telescope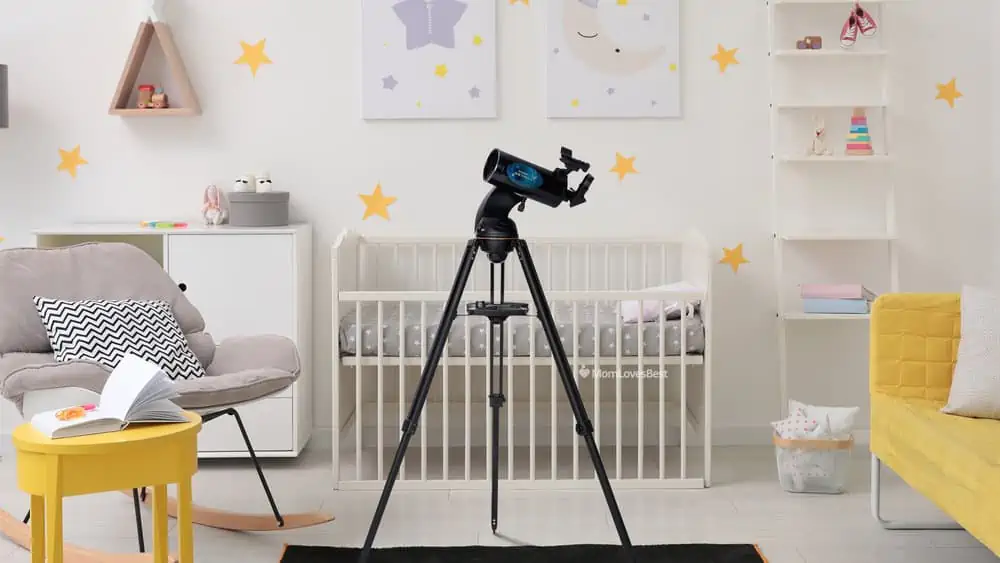 One problem many people encounter when using a telescope is how to find the celestial object they are looking for. That's where the Celestron AstroFi comes in.
This wireless controlled telescope finds the objects for you. Just download the free Celestron SkyPortal app to your phone or tablet, and you're good to go.
When you find an object in the night sky that you'd like to observe, you point your smart device at the object and tap the screen. Your device will display information about the object while your telescope turns and orientates itself so you can look directly at the object through the scope.
The wireless connection is strictly between the telescope and your device, so you can use them together in more remote locations where you cannot get a cell phone signal.
What We Like
Flexible
You can still orientate this telescope by hand. When you do so, you can use the app and the telescope will calculate its position. Then the app will display information about the object you are looking at.
Journey Through The Stars
"Sky tours" can be programmed into the telescope so you can decide ahead of time what you want to view through your telescope.
Excellent For Distance Viewing
The telescope itself is powerful enough to see the rings of Saturn, Jupiter's great red spot, detailed views of the moon's craters, the Orion Nebula, the Hercules Globular Cluster, and much more.
What We Don't Like
Not Cheap
The Celestron AstroFi is the most expensive telescope on this list. That might put it out of reach for some people's budgets. However, it is an excellent choice if you are looking for a new telescope for your established little astronomer who has demonstrated a continued love of space.
Product Specs
| | |
| --- | --- |
| Type | Reflecting |
| Aperture | 102 mm |
| Includes | Star Pointer finder scope, two Kellner eyepieces, mirror star diagonal, tripod |
| Age Range | 5 years and older |
Our Ratings
Community Feedback
I've been using this telescope for a while now, and it has definitely exceeded my expectations in terms of build quality and functionality. The all-metal construction makes it durable and reliable, while the Skyportal app and Wi-Fi connectivity make aligning and tracking celestial objects a breeze. However, I did experience some Wi-Fi connection dropouts, but I was able to find a simple workaround that solved the issue for me.
---
Educational Insights GeoSafari Jr. Talking Telescope
Best Toy Telescope for Kids
This telescope is designed for the tiniest of space explorers. Rather than being an actual working telescope, the GeoSafari Jr is a telescope shaped slide viewer and speaking toy.
"Xploration Outer Space" host Emily Dawn Calandrelli is the voice of the talking telescope. Your child inserts one of the 24 slides included with the telescope, presses a button, and Calandrelli shares some interesting information about the celestial object on the slide. There are five facts for each slide.
Your child can use quiz mode and answer one of the pre-programmed questions.
What We Like
Easy For Younger Children
The "squint free" eyepiece is easy for little ones to use. Instead of having to close one eye and put the other eye to the scope, your child can look through the two-eye eyepiece.
Child-Friendly Design
Brightly colored and appealing, this telescope is big and chunky to withstand rough use by little hands. The tripod keeps this scope steady, but is unlikely to be damaged if it's knocked over.
Can Be Used Any Time
As you do not look through the scope to the stars, the Geo-Safari telescope is not dependent on the weather. Instead, you can view the slide images, supplied by NASA, at any time.
You won't have to explain to your young child about how they can't look at a particular celestial object right now because it is the "wrong" time of the day or year.
What We Don't Like
No Additional Slides Available
It's not an actual telescope, and you're limited to the 24 slides which come with it. It would be nice if there were some expansion packs with additional slides.
Product Specs
| | |
| --- | --- |
| Type | Not an actual telescope |
| Aperture | n/a |
| Includes | 24 slides |
| Age Range | 4 years and older |
Our Ratings
Community Feedback
Best telescope-like toy for young space enthusiasts, this product offers vivid images and fascinating facts about our solar system. My experience with the device has been positive, as it kept my kids engaged and entertained while also being educational. The interactive quiz feature adds an extra layer of fun and helps children retain the information they learn. However, I did notice some issues with lens alignment and clarity, which could be improved for an enhanced viewing experience.
---
Is It Worth Getting A Telescope for Kids?
The first thing to consider is whether it's your idea or theirs. If it's your child's idea, it's worth getting one. Supporting your child's wish to explore, learn, and imagine is one of the best things you can do.
If it's your idea because you want to stimulate an interest, first test the waters by exploring wildlife, space, or other environments with them in other ways.
If you're still on the fence, ask around to see if anyone you know has a telescope suitable for kids that you can borrow. Or, you could consider buying an inexpensive telescope to test the waters and upgrade to a more sophisticated model later if appropriate.
Types of Telescopes
When you begin looking at telescopes for kids, you'll discover they come in three different types.
Refractor Telescopes
A refractor telescope is the most basic kind you will see. They are essentially a tube with a lens at one end and an eye-piece at the other.
The lens at the far end is convex. It bends the light coming into the telescope and focuses it to a small point on one side of the eyepiece lens. The eyepiece lens then spreads the light out again, across the retina of your eye, making the image look much bigger than it really is (1).
This type of telescope is suitable for looking at objects in the sky, and here on Earth. If you're looking for a telescope that is an all-rounder, can be used by the entire family, and works for stargazing as well as it does for viewing the city, a refactor is the way to go.
However, there is a trade-off. Refractor telescopes are not the best for viewing objects in deeper space.
Reflector Telescopes
Reflector telescopes use two mirrors set at angles within the telescope and one lens instead of two lenses. Mirror one is concave and reflects the light to a focal point on mirror two. This second mirror reflects the light to the eyepiece where the image is spread out across your retina in the same way as with a refractor telescope (2).
Reflector telescopes are better for looking at distant objects than refractor telescopes. However, reflector telescopes are not great for viewing closer objects. Therefore, they're not ideal for looking at objects on Earth.
Compound Telescopes
Compound telescopes use both lenses and mirrors to magnify the image.
These telescopes can be used for both Earth and space viewing. They also have superior image quality.
However, as you might suspect, this superior image quality comes at a higher price. The price tag may mean that they might not be the best choice for a kid's first telescope.
How Do I Choose A Telescope For My Child?
There are several elements to consider when you are choosing the best kids' telescopes.
---
FAQs
There are several questions that everyone seems to have when they are considering a telescope for their child. To save you the time and trouble of searching the internet for answers, we've answered the basic questions here for you.
---
A First Step
Telescopes are an excellent way to support your child's education. Not only can they discover more about the world around them, but they can look out into the stars beyond our planet.
Nurture your child's inquisitive nature and get them a telescope. You won't regret it. You'll be opening up a whole new world to them.
Thank You For Your Feedback!
Thank You For Your Feedback!