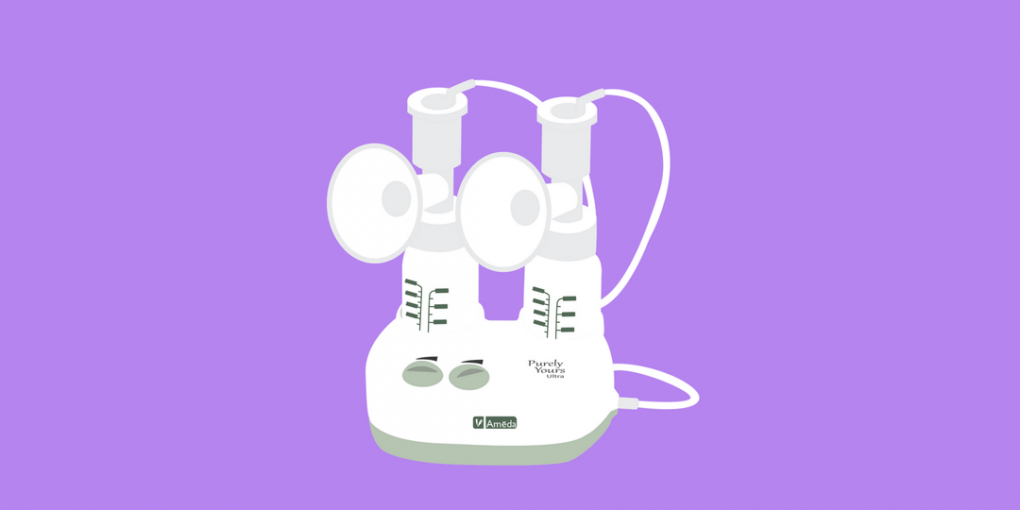 Ameda Purely Yours Ultra Review (2018 Edition)
Choosing a car might be an easier decision than breast pump shopping. There's so many features to consider, and if you choose incorrectly, you might sour yourself on the whole breastfeeding experience.
If you're considering Ameda, a popular breast pump brand, you'll want to read this Ameda Purely Yours Ultra review to see if this pump lives up to its hype.
---
Product Overview
Moms who don't have much time on their hands for pumping would be best off buying a double electric pump, like the Ameda Purely Yours Ultra, if they plan to express milk several times a day.
This closed system has a Proven Airlock Protection feature to safeguard your baby's health by keeping bacteria, viruses and even mold away from the breast milk you are pumping.
This set includes:
the breast pump unit
the milk collection system
a tote
a cooler bag
flanges
a power adapter
ice packs
milk storage bottles
Inexpensive for a double electric pump.
Comes with a lot of accessories.
Easy to clean.
Closed system.
CONS
Tends to lose suction over time.
Noisy pumping experience.
---
Key Features and Benefits
This is a closed system pump, and it uses the HygieniKit Milk Collection System
Large easy-to-use dials
Can be used for double pumping or single pumping
You can control the pumping phases, suction and speed
Two built-in bottle holders
Portable and lightweight
Every part that touches your breast milk is BPA free and DEHP free.
Comes with a small cooler and ice packs
You can use the pump with an included power cord or with 6 AA batteries.
The pump can also be used with a car adapter that can be bought separately.
1.

It's Easy to Use

The Purely Yours Ultra pump is simple to figure out how to operate. Although it comes with instructions, you shouldn't have any trouble figuring out which parts go where.

The built-in bottle holders are a great feature because the bottles used with some pumps are easy to tip over and spill. There's nothing more frustrating than going through the time, expense and trouble of pumping, and watching all your hard work vanish right before your eyes when your collection bottle accidentally gets knocked over.
2.

It's Very Portable

Although this pump is a little loud so it might not be a great option for pumping breast milk at work, it is extremely portable.

Because it is so lightweight and easy to pack up, it's a good option for taking with you on vacations or weekend getaways.

If you choose to pump at work and you don't like to draw attention to yourself, you might want to invest in the car adapter so you can express without having the telltale noise of the pump let everyone know what you are doing.
3.

It's Safe & Easy to Clean

The system employs a silicone diaphragm which stops milk from flowing into the pump's tubing. That means there is less chance your milk will become contaminated during future pumping sessions.

The HygieniKit has been approved by the FDA as a way to keep breast milk separated from outside air. It has Proven Airlock Protection to keep your breast milk safe and untainted.

The closed system is a big perk because it amps up the safety of your breast milk for your baby. Plus, it makes cleaning the pump easier because fewer parts touch your breast milk – unlike some other pumps where milk sometimes flows back into the tubing. Less cleaning time makes for a happier mom.
---
How Do They Compare?
If you plan to be pumping for a long time to come, you might like that this pump doesn't seem to lose suction over time.
If you want to pump milk at work and on the go, you may prefer the S2 because it is quieter.
If you're on a tighter budget, this might be the right pump for you as it is a lot more affordable.
If you need to pump at work or in public, you might like the fact that this pump allows you to express milk while fully clothed.
If you are looking for something cheaper, this pump is a good choice.
---
Who Should Buy This Pump?
Double electric breast pumps that provide enough suction to get the job done can be expensive. If you don't have enough suction while breastfeeding, you won't express as much milk and it might eventually cause you to kick breastfeeding to the curb.
Purely Yours Ultra offers the suction you need at a middle-of-the-road price.
The closed system ensures you won't spend all your free moments during the day taking your breast pump apart and cleaning it.